¿Qué hacer cuando algunas ropas tejidas ya no nos queda?
What do we do when some woven clothes no longer fit?
No hay un hábito que nos diga qué se puede hacer en esos casos. Por lo general estas son regaladas, pero una vez que se vuelven viejas por el uso ¿qué hacer?.
Las redes nos llenan de diversas imágenes para inspirarnos en estos temas. En el grupo de #needleworkmonday también realizan diversos trabajos. En lo personal tengo dificultad en tejer prendas de vestir; recuerdo que intenté tejer un par de medias y solo me quedé en la base, sentía que no avanzaba y no sabía cómo darle forma a las prendas…Al final las destejí para convertirlas en un vestido, un bolsito y una cangurera para una muñeca.
There's no habit of telling us what to do in such cases. Usually these are given away, but once they get old from use, what to do?.
The nets fill us with various images to inspire us on these themes. In the #needleworkmonday group they also do various works. Personally, I have difficulty in weaving clothes; I remember that I tried to weave a pair of socks and only stayed at the base, I felt that I was not advancing and I did not know how to shape the clothes... In the end I unweaved them into a dress, a bag and a kangaroo for a doll.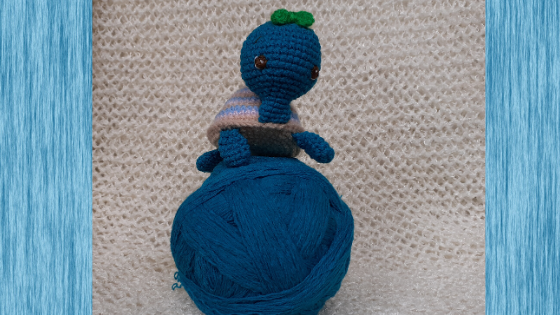 Como ahora tejo amigurumis, destejí un buzo para obtener material y tejer esta tortuguita. Cierto, la lana es delgada por eso junté 3 hebras y logré un grosor menor a 2 milímetros. Por varios días estaba pensando qué tejer con ese color de lana hasta que vi el video tutorial de "ByPetus" (dejaré el enlace al final). También estoy pensando utilizar ese color de lana para el cabello de una muñeca amigurumi.
As I now yew amigurumis, I unweave a diver to obtain material to weave this little turtle. True, the wool is thin so I gathered 3 strands and achieved a thickness of less than 2 millimeters. For several days I was thinking about what to weave with that color of wool until I saw the "ByPetus" video tutorial (I'll leave the link at the end). I'm also thinking about using that wool color for the hair of an amigurumi doll.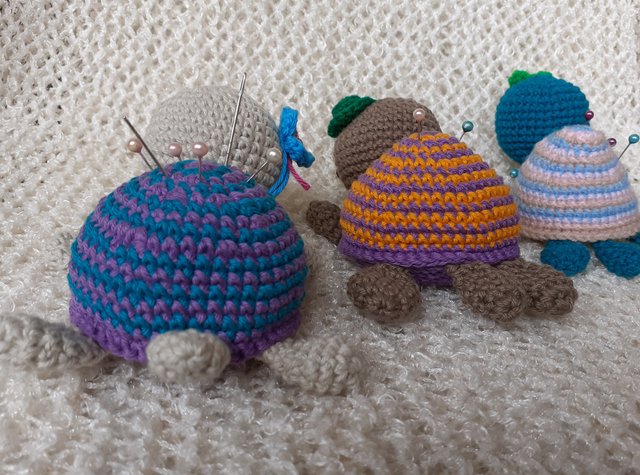 Vamos por los materiales:
Lana acrílica / Acrylic wool
crochet Nº2 / craft Nº2
aguja punta roma / blunt point needle
napa siliconada / siliconated nappa
hilo de bordar / embroidery thread
tijera / scissors
alfileres / pins
internet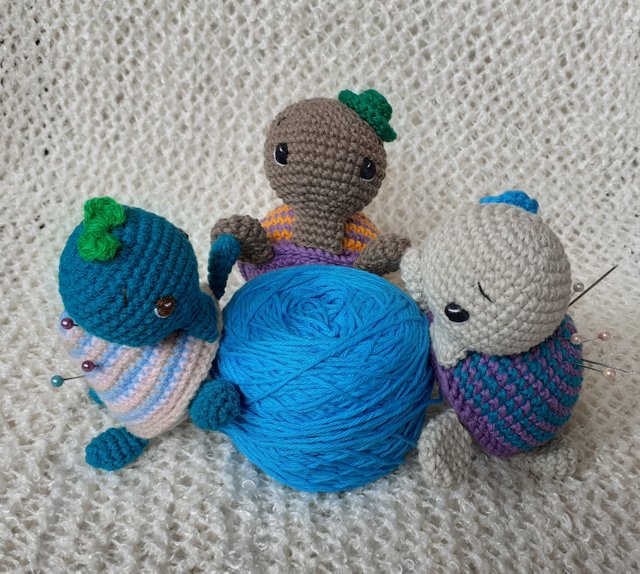 Tejer la cabeza y extremidades no son complicados, mas si lo es el caparazón, aunque tejerlo varias veces hace que sea sencillo (figura 1). Una vez tejida la base, esta se unió al caparazón (figura 2). Ante de unirlo por completo rellenarlo con napa siliconada y colocar una base de plástico. En este caso no coloqué dicha base, por eso quedó esférico (figura 3), debió quedar recto…Aunque se parece a las pelotitas anti estrés, jaja.
Knitting the head and limbs is not complicated, but the shell is, although knitting it several times makes it simple (figure 1). Once the base is knitted, it is attached to the shell (figure 2). Before joining it completely, fill it with siliconized nappa and place a plastic base. In this case I didn't put the base, that's why it was spherical (figure 3), it should have been straight...Although it looks like the anti-stress balls, jaja.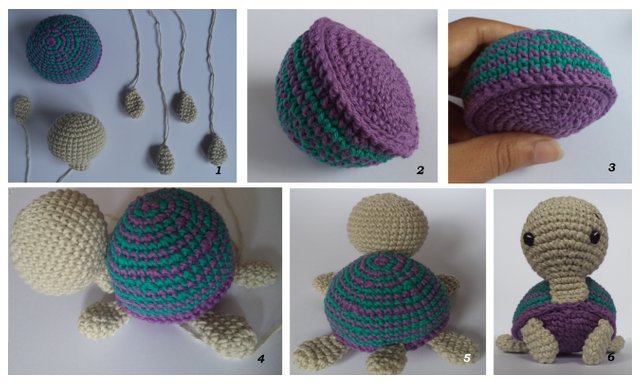 Sigue la diagramación con la ayuda de alfileres esperando a ser cosido (figuras 4 y 5). El bordado de los ojos fue con hilo de bordar negro y blanco. Las cejitas son opcionales, yo les coloco las cejas a todos los amigurumis porque creo que es indispensable para todo ser vivo, aunque a veces no se note (figura 6).
Follow the diagram with the help of pins waiting to be sewn (figures 4 and 5). The embroidery of the eyes was done with black and white embroidery thread. The eyebrows are optional, I put the eyebrows on all the amigurumis because I believe that it is indispensable for every living being, even if sometimes it is not noticed (figure 6).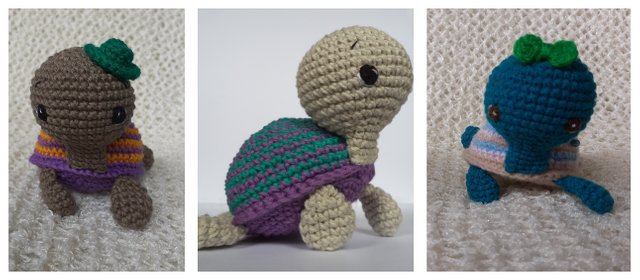 Al final tejí 3 tortuguitas.
I finally knitted three little turtles
¡…Hasta la próxima!
See you next time!
  Dato curioso: Este amigurumi es bueno para practicar el cambio de color cuando se teje.

Enlace:

►Encuéntranos en: