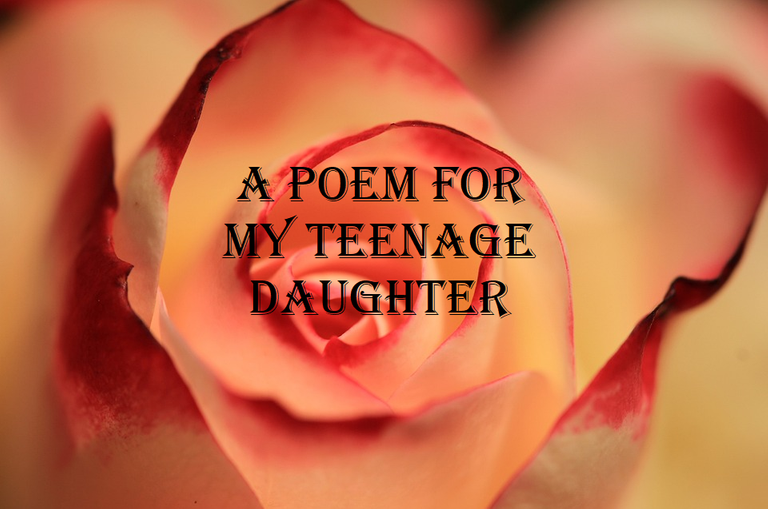 Source
My oldest daughter is a teenager now
I wrote this poem for her for when she will read it in the future, and also because it's therapeutic to me. Thanks for reading.
Feelings of pride
A heart filled with love
Endless tears
Pain can't be shaken off
Tears keep coming
I miss you so
I feel torn
It's hard to cope
Memories last forever
In my mind, I hold you tight
When you see me in your dreams
Know that it's really me, alright?
You are a teenager now
I wish for you to explore life
If it were up to me
I would be there with motherly advice
Whenever you miss me
Or are in need of some wise words
Think about me really hard
And answers shall be heard
I try connecting with you quite often
In the same way
Writing helps me cope as well
Especially, when I can't bear the pain
I can't explain
Why things are the way they are
I wish I could trust me
But I can't
I refuse to tell you lies
I have been forced to do that in the past
You deserve to know the truth
And the truth is really hard
For now, I will take all the blame
It's actually an act out of love
To keep you safe
And for that, I have no shame
If you ever doubt my love for you
Because other people tell you lies
Memories will set you free
My beautiful and smart child
I wish your day is filled with happiness
Let me take care of the tears
You focus on being a teenager now
I wish you many more years
Today we buy a cake
And sing a song for you
Even if we are miles apart
We all think about you
I'm with you whenever there's the sun
Snow, storm or pouring rain
One day we will be re-united
And hold each other again
Live your life
Have many dreams
One day I will help you achieve them all
No matter how extreme
I will not hold you back
Living your life to the max
Instead, I will help you explore the world
And offer you some "life hacks"
Have a wonderful day my child!
Love from Budapest