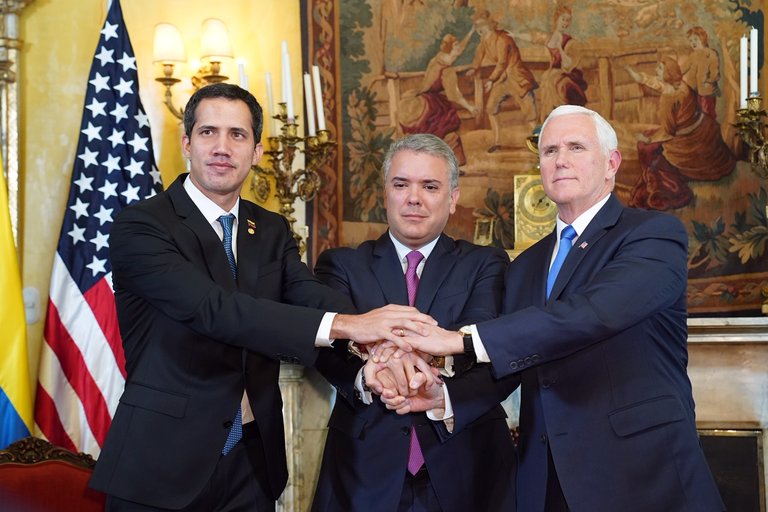 international affairs
A scandal is brewing in the Popular Will party of Juan Guaido.
Reports of senior members of the Popular Will party and Guaido's representatives embezzling large sums of humanitarian funds and spending these donations on luxury goods and lavish parties are beginning to emerge.

At the centre of the growing scandal is Juan Guaido's chief of staff and members of Popular Will, USAID funding, and Richard Brandson's Live Aid concert.

As senior members of the US government were in the midst of ratcheting up tensions with a full court press of state propaganda to trigger regime change in Venezuela, Guaido's representatives in Columbia were living lavishly off humanitarian funds.

The fraud scheme was revealed through leaked receipts and documents obtained by Colombian intelligence as part of an ongoing investigation. The receipts Avendaño published show more Guaidó's representatives blew more than $125,000 on luxury goods and personal expenses, including nearly $40,000 on expenses in April. Avendaño has yet to publish all of the documents he received, so the total that was stolen remains unknown.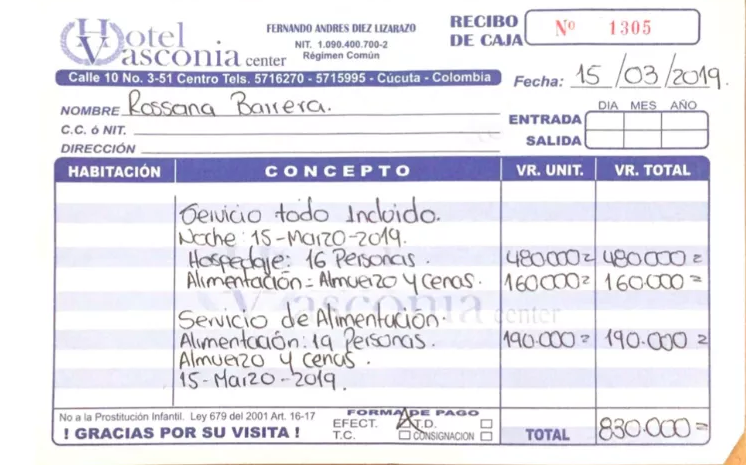 ---
The Columbian town of Cucuta is ground zero for the scandal being brought to light. The town, bordering Venezuela, was the site of the February 23rd Live Aid (type) concert championed by Virgin Group billionaire Richard Brandson. The concert itself was (billed) as fundraiser to raise millions for humanitarian aid and feed the starving people of Venezuela.
Not far away, a bridge at the border between Columbia and Venezuela and one that had never been opened in its existence became the focal point of the international media. Trucks carrying 'so called' international humanitarian aid were set ablaze on the Columbian side of the bridge while Venezuelan troops stood by and watched the chaos unfold. While war mongers Pompeo, Bolton, Rubio and Abrams (an actual war criminal) howled for the aid to be permitted into the country the mainstream outlets were quick to blame the Venezuela government for torching the aid trucks. Never mind the fact that the humanitarian aid was not requested, or that US sanctions on Venezuela are a giant contributing factor, or that the country was receiving aid from other nations at the time of the much publicized bridge drama, thanks to the great reporting from The Grayzone it was revealed that the hooligans within the opposition and regime change supporters were the ones responsible for setting the humanitarian aid trucks on fire as the Venezuelan army blocked access into the country.


These did not age well: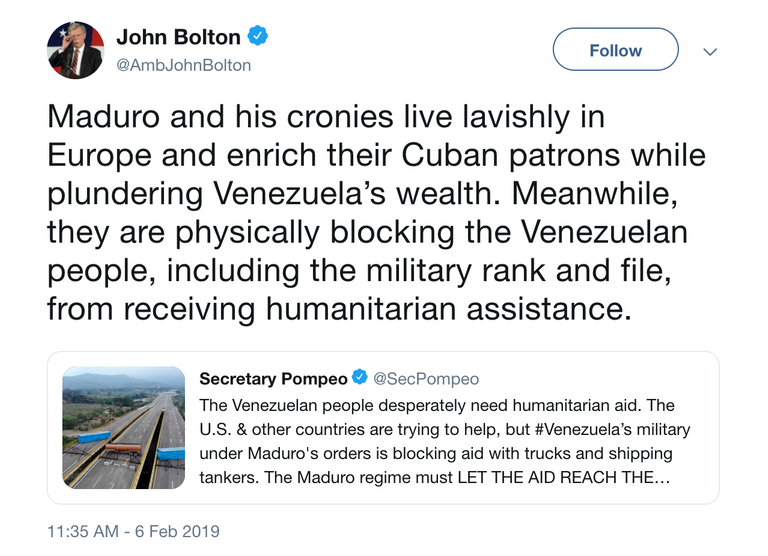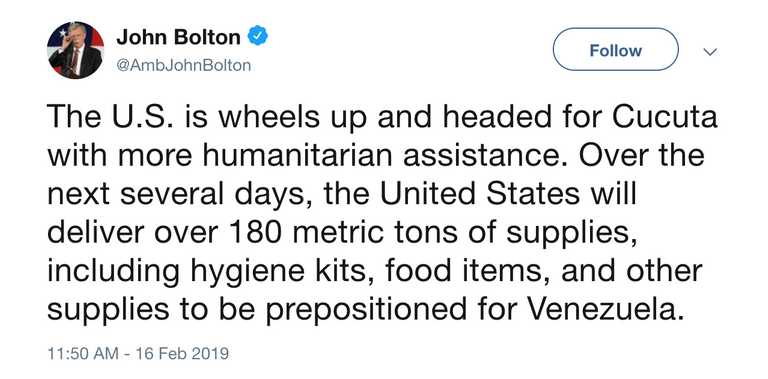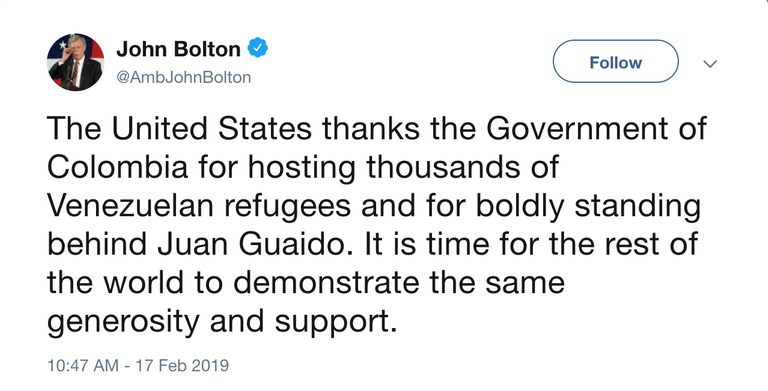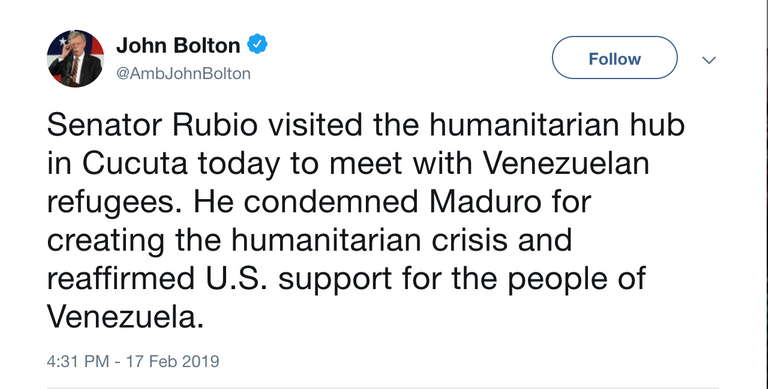 Imagine All The Propaganda


In a massive piece of propaganda, Richard Brandson organized a Live Aid concert in the town of Cucuta to raise money for the starving people in Venezuela.

Reflecting the hollowness of Branson's manufactured Live Aid concert complete with a cringe inducing cover of John Lennon's "Imagine", Guaido has been exposed as having anemic support amongst the general population and working class Venezuelans who, until recently, had largely never heard of Juan Guaido.

Branson professed that his last minute Live Aid event would raise $100 million for the humanitarian cause, but it was never clear as to how these funds would be distributed and to whom. As it turns out, the Venezuelan Live Aid concert raised only 2.5 million dollars according to its organizers.

Despite the massive propaganda campaign to usher in another disastrous US intervention, support for Guaido's coup has fizzled out dramatically.

The event was also suppose to coordinate closely with the delivery of humanitarian aid to Venezuela which ultimately became the border bridge truck burning incident.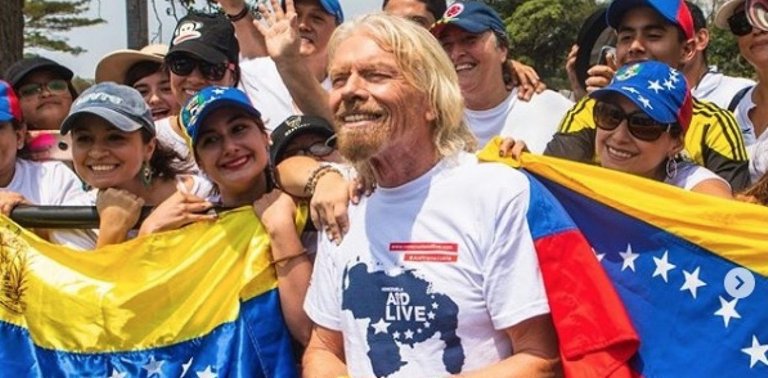 Metro Ecuador


Cucutagate

On March 21st, Juan Guaido's chief of staff Roberto Marrero was arrested by Venezuelan authorities for plotting terrorist attacks. Marrero's replacement as Guaido's chief of staff, Rossana Barrera along with another Popular Will official, regional coordinator Kevin Rojas, are the individuals at the heart of the embezzlement scandal.

While the aid truck fiasco at the border is considered to be a major setback for pro-interventionist and regime change backers heralded the defection of a few hundred Venezuelan soldiers to Columbia as a resounding success.

Guaido and his supporters envisioned that they would orchestrate a flood of defectors to the opposition side and cause the collapse of the Venezuelan army's command and control structure. In order to bring this to fruition, a wide range of promises were made to potential defectors:
amnesty
employment
medical care
free lodging
schooling for their children
Chilean officials also offered one-year Visas and a chance at permanent residency to Venezuelan forces.

Initially, defecting soldiers arriving in Cucuta were put up in 9 hotels at a cost of $30,000 a night. Guaido's own Humanitarian Aid Coalition, the Columbian Ministry of Foreign Affairs and the UNHCR pledged to jointly cover the expense.

However, over the next several weeks the funds promised to support the Venezuelan deserters quickly evaporated and by May Guaido's representatives ceased communicating with the soldiers.

The cash that was used to entice desperate soldiers and would-be mercenaries to defect became a slush fund for the US-backed coup leader and his gaggle, who spent it lavishly on hotels, expensive dinners, nightclubs and designer clothes. As Guaidó's gang lived the high life, he covered for their fraud, keeping his lips sealed until it was exposed through a leak by the Colombian intelligence services.

As the coup to overthrow Maduro stalled, Guaido's small opposition forces of deserter troops remained in wait in Cucuta but Popular Will only ended up paying for 2 of the 9 hotels used to house the troops. This did not go over well with the Columbian government and the UNHRC who were also expected to share in hosting the force. At the same time, the soldiers themselves become increasingly disillusioned and complained that Popular Will was not keeping up their end of the bargain.
Guaido's "army was small but at this point it had left a very bad impression in Cucuta. Prostitutes, alcohol, and violence. They demanded and demanded," the report said.

Mint Press News

Barrera and Rojas even fraudulently inflated the numbers of defectors from 700 to 1,450 soldiers in order to secure a larger amount of funding to embezzle and spend at will.

The pair reported to the Popular Will party in Caracas that they had covered the expenses of 7 of the 9 soldier hotels but, in reality, the majority of the hotels had huge outstanding bills, one unpaid hotel debt was said to be $20,000. Meanwhile Barrera and Rojas were spending close to $1,000 per night on their own hotels and at Columbian nightclubs.

Quoting PanAm Post editor-in-chief and anti-Maduro journalist Orlando Avendaño, who originally broke the story, Popular Will representatives splurged humanitarian funds on self-indulgence.

"About a thousand dollars in drinks and meals. Clothing expenses in very expensive stores in Bogotá and in Cúcuta. Vehicle rental reports and hotel payments at surcharge. Silver flowing. A lot of money"

The Grayzone

By mid-May, looking to keep their freewheeling lifestyle afloat Barrera and Rojas attempted to host a fraudulent charity dinner at an upscale restaurant in Bogotá to raise money for the Venezuelan defector soldiers and their families. They even created a fake email account for Humberto Calderon Berti, Juan Guaido's "ambassador" to Columbia and sent invitations to foreign embassies and staff. Another complete fraud, but this time it was thwarted when Berti's office caught wind of the event and made it clear to potential attendees that they were not behind the event. As a result, the phony charity dinner was cancelled. Word had spread throughout the Columbian government of the frauds being committed by the Popular Will representatives and Barrera and Rojas were quietly stripped of their positions.


Damage Control

The Hindu
metro ecuador

Although "interim president" was well aware of the hedonistic debauchery going on under the Popular Will flag in Columbia, Guaido continued to stand in solidarity with his representatives throughout the period in question. Yet, only now as the scandal threatens to spill into the public space Guaido and his "ambassador" are taking to social media calling for "transparency" in a desperate attempt to control the narrative. Taking to Twitter Guaido and Berti actually admitted to they had been aware of the scandal for months and had ordered an investigation into the matter thanks to Columbian intelligence they had received.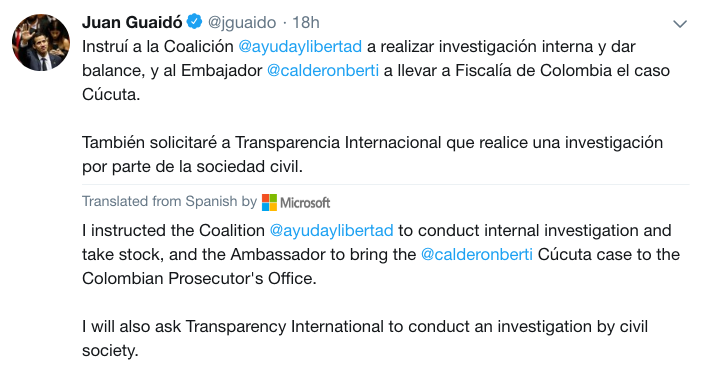 The scandal goes even deeper as PanAm Post is reporting that the food aid being stored in Cucuta is rotting away and that it's likely that the food will be burned in order to cover-up the fact and create a separate scandal. Grayzone reporter, Dan Cohen, relates that rather than burning the food, the aid could have been used to feed the scores of desperate Venezuelans already in Cucuta and on the Columbian side of the border.

After breaking the story on the Popular Will scandal, Avendaño, the PanAm Post editor, is coming under heavy fire for exposing Guaido and his corrupt cohorts.

"It has cost me, it has deeply hurt me, to publish something that, I knew, would have immense consequences. But I would never have forgiven myself that I had known that some traded in the misery of others, and not published it."

https://thegrayzone.com/2019/06/17/from-coup-leaders-to-con-artistry-juan-guaidos-gang-exposed-for-massive-humanitarian-aid-fraud/amp/?__twitter_impression=true
"Humanitarian" Ploy

This scandal exposes the ploy to use humanitarian aid as a political tool in an international regime change operation. From the actions of the Popular Will officials it's plain to see that they care nothing for humanitarian causes and removing Maduro for their foreign financial backers is their only concern, aside from lining their own pockets. If the coup were to have been successful, rest assured we would have seen rampant corruption on a grand scale. Guaido and his ilk or not revolutionaries, they're manufactured cut outs.

After the spectacular failed coup attempt by Guaido and his supporters, it appears that the CANVAS trained, self-proclaimed interim president and western pawn's days are numbered. The Popular Will's shelf life mirrors the rotting humanitarian food aid sitting idle at the border. Guaido and his party will likely continue to sour in the eyes of their western backers and their "popular" support will likely disintegrate simultaneously.


---