Probably more and more of you are going into quarantine. Some self-imposed, some by government decree. In my case, I haven't been tested for Covid-19 and don't have any symptoms (yet), but I'm over 60, male, and I have at least one of the pre-existing medical conditions that's been identified as a risk factor. Pretty soon though, the lockdowns that started in China and are spreading across Europe will make their way to the Western Hemisphere.
In a bunch of American states schools, restaurants and bars have already been ordered closed. Here in Minnesota, things have moved a little slower; tomorrow will be the first day of compulsory school closures. Restaurants and bars are still open here but have already had business drop off as this sign I saw while out for a (social distanced) morning constitutional suggests: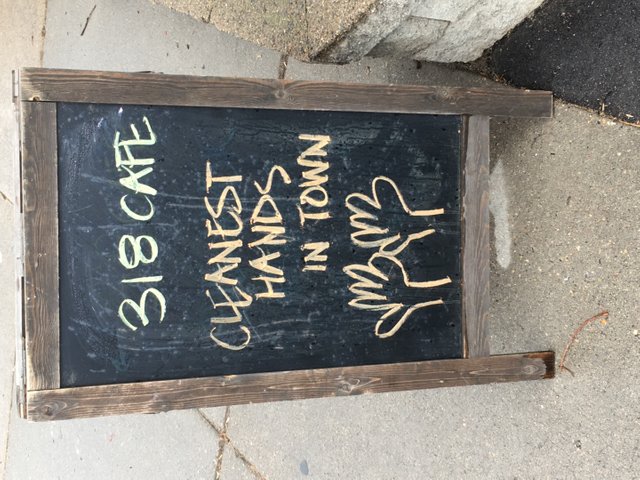 Almost 3 years a Steemlandian and I still have trouble with portrait-orientation pics?
The number of cases is exploding exponentially and it's becoming more and more likely that hospitals will be overwhelmed. This from a Bay Area emergency room doctor:
Despite near-daily reports from Italy of WWII-era triage decisions, shortages of key equipment, PPE, etc – we are still operating as if we can add a couple shifts to the schedule and otherwise operate normally. We're not isolating URI patients from other patients in the waiting room, nor keeping them out of the "clean" areas of the hospital. We still have zero ability to test anyone who isn't critically ill. We're still using PPE for individual patients, discarding it, then using a new set for every patient. This would obviously be appropriate under any other circumstances, however we have recently been told that we will run out of PPE, most likely masks, within several days.
There are reports coming out of South Bay that hospitals there are inundated in covid patients – but everything is being kept hush-hush for no discernible reason. All the staff I work with (MD, RN, tech, etc) are quite certain that we are headed for a catastrophe of somewhat epic proportions. Some people in the news have been saying we can do it better than Italy – I think the opposite is likely true. We have less beds per capita than any other industrialized society, and a completely inadequate number of ventilators, prone beds, ECMO circuits, perfusionists, etc for the wave that seems to be coming.
How are the working poor going to deal with this? Especially ones who have small children whose schools are closed. The jobs that the working poor have are among the least likely amenable to "work from home" options. And if they lose their jobs, how many will be able to collect unemployment compensation even if they're eligible for it? Anecdotally, my brother (63 with a compromised immune system) works for Minnesota's state unemployment bureaucracy which uses antiquated systems that don't support a work from home option. He's elected to self-quarantine by staying at home using his banked five weeks of PTO. A rising number of unemployed relying on short-staffed administrators of the U.I. system is a recipe for a bad outcome.
So far at least, The Powers That Be seem to be hoping that central banks will provide lots of liquidity to the financial system, as if lower interest rate were a panacea. If all you have is a hammer, everything looks like a nail. But I wouldn't be surprised if helicopter money was coming in the not distant future. We've already had a Republican Senator float the idea of helicopter money and even Larry Kudlow didn't dismiss the idea out of hand.
Various world leaders are being anything but helpful. Here in America, Fearless Leader is in denial. Belarusian President Alexander Lukashenko in encouraging tractor therapy and Turkmenistan's bat-guano insane President has recommended inhaling smoke from a burning desert-region plant called Peganuma harmala.
I expect that we're heading for some kind of lockdowns in America with restrictions on travel. Given Fearless Leader's penchant for authoritarianism, I would not be at all surprised to see curfews imposed too.

Post beneficiaries:
5% - @davedickeyyall
5% - @steemchiller