I have no idea how long my self-quarantine will last. It's open-ended. But I'm hoping that the 14th century won't be the model.
Venice created a special council to reduce the outbreak… and one of their first decrees was to ban infected (or suspected) ships from docking.
Plus, any traveler who arrived from a plague-infested area was required to isolate themselves for a period for 40 days, or quaranta journi in Italian. This is the origin of the word quarantine—it's a reference to the 40-day isolation period during Bubonic Plague. (source)
File this one under Ironic:
"Coronavirus Conference Gets Canceled Because of Coronavirus"
I spent another day mostly at home but accompanied my wife on a shopping run for mostly non-perishable food (I stayed in the car).
We've all seen stories about runs on everything from toilet paper and paper towels to hand sanitizer and cleaning supplies. James Wesley Rawles (yeah, okay, he can be a bit extreme) thinks food is going to be the next thing to have supply issues.
…in a matter of weeks, if this does hit the United States and propagate the way I expect it to, we're going to see shortages of storage food first and then pretty much all nonperishable foods off the store shelves. And then, at the very late stages, people will even be cleaning out the perishable foods to take home to freeze.
And there's already been a report here in the United States that Costco – they have a mail order arm where you can do an internet order for item either for pick or delivery – they've completely sold out of their storage food packages.
But some of this is already starting. Check out the frozen foods section of the Madison, Wisconsin Costco.
At extremes, this becomes hoarding, but there are some very valid reasons for stocking up, even after this first round of craziness ends. As this Washington Post article suggests, there may be some tough times coming up:
The companies that feed America and provide basic staples are bracing for labor shortages as the novel coronavirus pandemic intensifies, which could leave them without enough workers to manufacture, deliver and unpack groceries in stores in the coming months.
As the virus spreads, supermarkets and distribution facilities face a difficult choice: how to keep shelves stocked with essentials while keeping their workers safe.
Fun times ahead.
Unrelated to anything, I haven't had a beard for decades but started growing one in December. Hmmmm, I guess there was a reason I haven't had one, it's starting to bug me. My wife likes it but I think it's got to go. A pic for eternity on the Steem blockchain: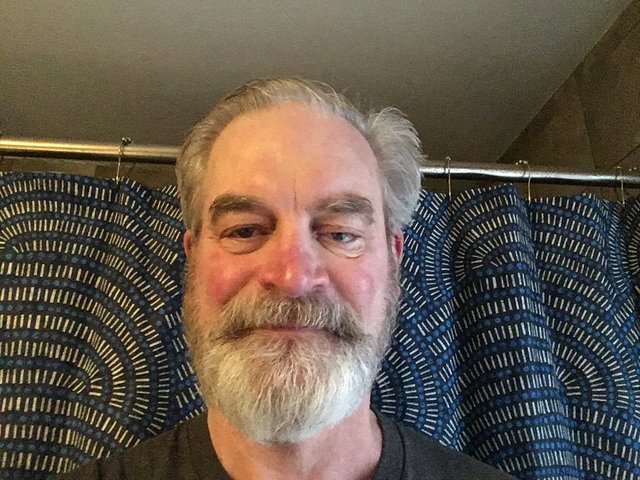 Post beneficiaries:
5% - @conradt
5% - @steemchiller