It's going to be an unusual Fourth of July around here. The town where I live usually has a great fireworks show, certainly the best of the many towns that surround Lake Minnetonka. It's an all-day affair. We've usually gotten there early to stake out a prime viewing site right on the lake. Spread out blankets, chairs, coolers, umbrellas, a small tent. Bring our own food and buy from vendors. They go all out, one year the Minnesota Orchestra played, another there was an air show. We live close enough to walk, but thousands of people drive and when the finale is done, there's traffic jams for more than an hour afterwards of people leaving the festivities.
But not this year.
The show was canceled due to the pandemic. We'll be out on the back deck drinking craft brews and sangria, watching my stepdaughter and her boyfriend being pyromaniacs with semi-tame fireworks, nothing like the M-80s and cherry bombs that anybody could buy when I was a kid.
I've noticed that some people are conflating social distancing and the lack thereof with the use of masks and the lack thereof. Spend any time on social media and you'll see people complaining that their liberty/freedom is slipping away because they're being forced to wear masks but look how much the protests and/or riots spread the virus. What the complainers fail to notice is that most of those protesting were wearing masks. Infection rates in Hennepin County (home to Minneapolis) have dropped since the protests and oddly enough are rising in "red" states where resistance to mask-wearing has been strongest. Go figure.
On a related note, I'm reading Colin Woodward's American Nations: A History of the Eleven Rival Regional Cultures of North America. A fascinating book that, among other things, notes that freedom and liberty aren't the same thing (more conflating), and that liberty (from the Latin concept of Libertas) was a core belief of the early Tidewater settlers but that freedom (from the Germanic Freiheit) was a core belief of the early New England settlers.
Understanding the distinction is essential to comprehending the fundamental disagreements that still plague relations between Tidewater, the Deep South, and New Spain on one hand and Yankeedom and the Midlands on the other.
Coronavirus News and Analysis: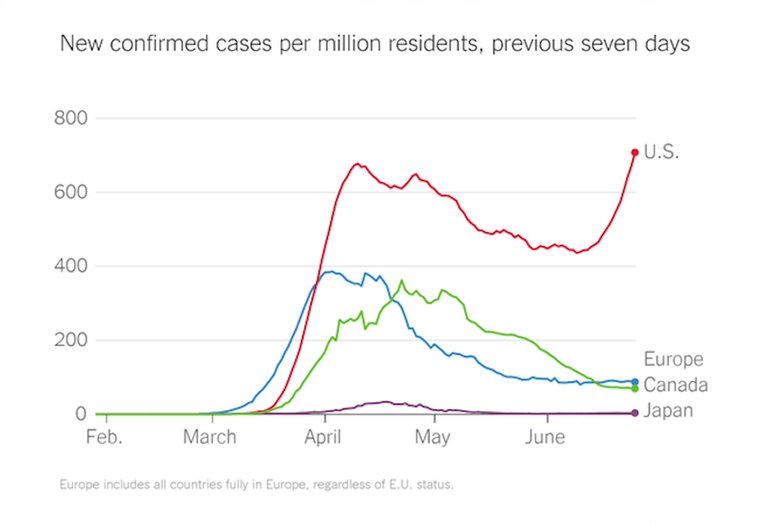 Source: Johns Hopkins University
Why do some COVID-19 patients infect many others, whereas most don't spread the virus at all?
Coronavirus Brings American Decline Out in the Open
The U.S. has long enjoyed a so-called exorbitant privilege as the financial center of the world, with the dollar as the lynchpin of the global financial system. That means the U.S. has been able to borrow money cheaply, and Americans have been able to sustain their lifestyles through cheap imports. But if enough investors -- foreign and domestic -- lose confidence in the U.S.'s general effectiveness as a country, that advantage will vanish.
If capital begins to abandon the U.S. and the dollar in large amounts, the currency will crash and Americans will find themselves paying much more for everything from cars to televisions to gasoline to imported food. Interest rates will be raised in an attempt to lure back investment capital, and the country might undergo a period of stagflation worse than the 1970s. Large-scale unrest would undoubtedly result and -- in the worst-case scenario -- the U.S. could collapse like Venezuela.
What you need to know about contact tracing apps and privacy
New York to require travelers from 16 states to quarantine. I have no idea how they plan to enforce this. Is it even remotely possible?
Patient 91: How Vietnam saved a British pilot and kept a clean Covid-19 sheet
The 42-year-old Scottish pilot spent 68 days on a ventilator, thought to be a longer stretch of time than any patient in the UK. He did so not in a hospital in his hometown of Motherwell, but in Vietnam's sprawling and hectic Ho Chi Minh City, with no close friends or family for thousands of miles.
2022: A Vaccination Passport. The EU Keeps Quiet Over Suspicious Documents
The push for some form of UBI seems to be gaining steam: These 11 Mayors Are Really Trying to Get Their Cities' Residents a Guaranteed Income
An Interesting Juncture in History
We've reached an interesting juncture in history, and I don't mean the pandemic. I'm referring to the normalization of extremes in the economy, in social decay and in political dysfunction and polarization.
Chris Martenson's latest: