I've decided to go into semi-quarantine mode. Not that I've tested positive for the Covid-19 virus (as of today, there are only two confirmed cases in my metro area), and I'm not sealing off the house with plastic sheeting and duct tape. But I am going to get serious about social distancing. All because I'm at higher risk of serious complications than folks on average because I'm over 60, male, and I have at least one of the pre-existing medical conditions that's been identified as a risk factor. But I'm not barricading the door; I'll still do things like take our dog for walks in the neighborhood.
I'm fairly well stocked up with food and basic supplies so won't be going to stores for a while at least. But others will be going in and out of the house. My step kids' colleges haven't cancelled classes (yet). I'm retired so don't need to go to work but my wife's still in the workforce. She sometimes works from home and I wouldn't be surprised if, at some point in the not-distant future, she's told to do so consistently. It's starting to look like this pandemic may be the Black Swan that sinks the world's economy, and she's in an industry that's potentially facing very tough times. "Bankruptcies are set to ripple across industries like wildfire. Mass layoffs will return with a vengeance. For certain industries — like travel, hospitality, and the shale oil drillers — this will be an extinction-level event for many players." Hopefully it won't come to that, but at least one country is getting out ahead of potential mass layoffs with an interesting policy move:
"Italy Plans Debt Moratorium to Cope With Coronavirus Lockdown"
And what's happening in Italy may be a glimpse into what could be happening in America a few weeks down the road from now. The virus is a time machine.
As part of getting ready for my quasi-quarantine, as I've been stocking up on supplies I've been noticing that some things are starting to be a bit hard to find. N95 and other masks haven't been on shelves for weeks now (this story about struggling Korea Air has an accompanying picture highlighting a truism). Masks can't be very effective if you don't wear them properly. And we've gotten very conflicting messages about them from our government. The Surgeon General practically screamed at people to stop buying them but we've given them away. On the one hand, Tump is downplaying the seriousness of the pandemic ("It will go away, just stay calm. Be calm. It's really working out. And a lot of good things are going to happen.") On the other hand, the CDC is much less sanguine.
It's likely that at some point, widespread transmission of COVID-19 in the United States will occur. Widespread transmission of COVID-19 would translate into large numbers of people needing medical care at the same time. Schools, childcare centers, and workplaces, may experience more absenteeism. Mass gatherings may be sparsely attended or postponed. Public health and healthcare systems may become overloaded, with elevated rates of hospitalizations and deaths. Other critical infrastructure, such as law enforcement, emergency medical services, and sectors of the transportation industry may also be affected. Healthcare providers and hospitals may be overwhelmed.
What's a half-assed #prepper to do?
Stock up, just in case. If "containment zones" are already starting to appear in America, I want to have as many supplies on hand in case my family ends up on the wrong side of a checkpoint.
Just today at my local grocery store, I noticed some items were running low. Rice for instance had some lonely-looking shelves in both the "regular" rice and beans section and in the Asian foods section: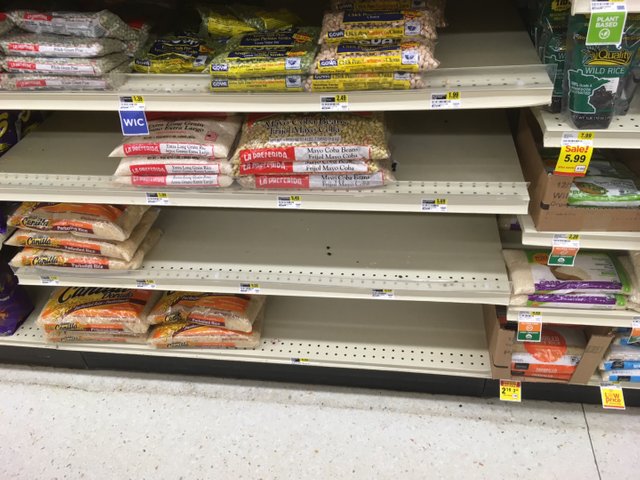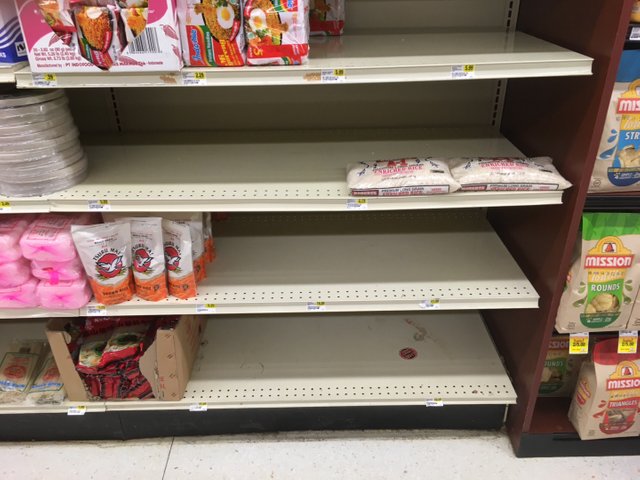 And I saw some picked-over shelves where there's usually plenty of sugar and bleach. Evaporated milk was available but the non-fat powdered milk shelf was empty: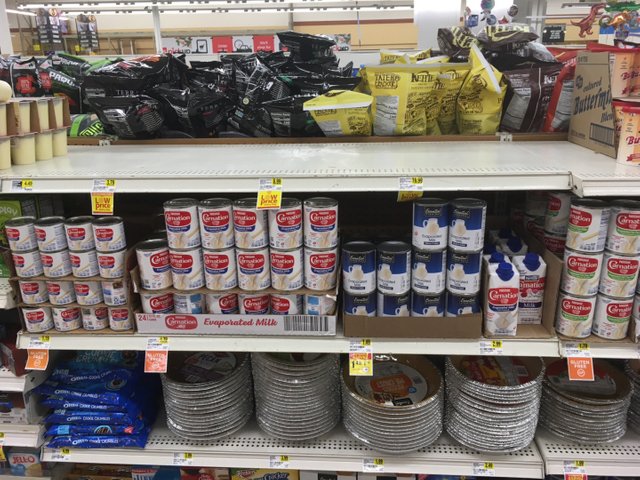 If you haven't already done some stocking up, you might want to consider it. And if Italy's an indication, we might not be far away from having overwhelmed hospitals, so consider getting some things that would be useful if you or a family member become seriously ill. Basics like OTC meds such as ibuprofen to help keep a fever in check, tussin to help control coughing, disposable gloves, Pedialyte or its generic equivalent, things like that. All easy to acquire now, most manufactured in China.

Post beneficiaries:
5% - @celestal
5% - @steemchiller
5% - @steempeak
Disclaimer:
I am not a healthcare professional or a registered financial advisor and I do not play either one on TV. Anyone foolishly considering anything in this "for information only" post as medical or investment advice is making a big mistake. Do not taunt Happy Fun Ball.