DAILY UPDATE - 126.258 World 22.747 EUROPE
Four new countries/territories/areas (Bolivia, Jamaica, Burkina Faso and Democratic Republic of the Congo) have reported cases of COVID-19 in the past 24 hours.

WHO Director-General in his regular media briefing today stated that WHO has been assessing this outbreak around the clock and we are deeply concerned both by the alarming levels of spread and severity, and by the alarming levels of inaction. WHO therefore have made the assessment that COVID-19 can be characterized as a pandemic.

The COVID-19 virus infects people of all ages. However, evidence to date suggests that two groups of people are at a higher risk of getting severe COVID-19 disease. These are older people; and those with underlying medical conditions. WHO emphasizes that all must protect themselves from COVID-19 in order to protect others.

On 10 March, the IFRC, UNICEF and WHO issued a new guidance to help protect children and schools from transmission of the COVID-19 virus. The guidance provides critical considerations and practical checklists to keep schools safe.
---
Always remember that protection is something that concerns everyone so:
Clean your hands regularly, either with alcohol-based rub or soap and water.
Keep your distance from someone who is coughing or sneezing.
And when you cough or sneeze, cover your mouth and nose with a tissue or your elbow.
Avoiding unprotected contact with farm or wild animals.
People with symptoms of acute respiratory infection should practice cough etiquette (maintain distance, cover coughs and sneezes with disposable tissues or clothing, and wash hands).
Key advice for older adults and people with pre-existing conditions:
When you have visitors to your home, exchange "1 metre greetings", like a wave, nod or bow.
Ask visitors and those you live with to wash their hands.
Regularly clean and disinfect surfaces in your home, especially areas that people touch a lot.
If someone you live with isn't feeling well (especially with possible COVID-19
symptoms), limit your shared spaces.
If you become ill with symptoms of COVID-19, contact your healthcare provider by
telephone before visiting your healthcare facility.
Make a plan in preparation for an outbreak of COVID-19 in your community.
When you go out in public, follow the same preventative guidelines as you would at home.
Stay up to date using information from reliable sources.
Stay healthy
Link to WHO source and full report below.
---
---
Report: 11.03.2020
---
---
General EUROPE overview: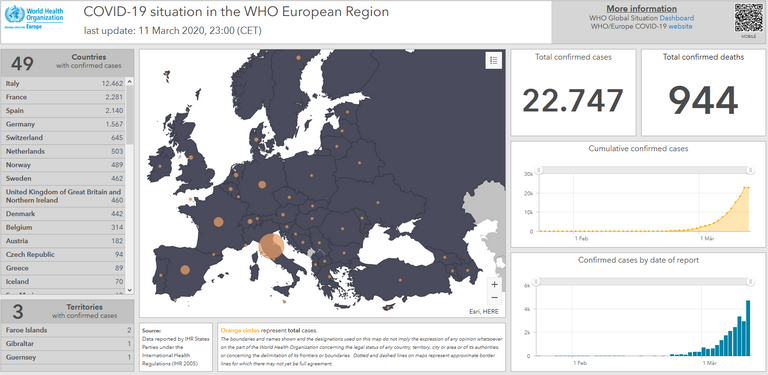 Distribution MAP: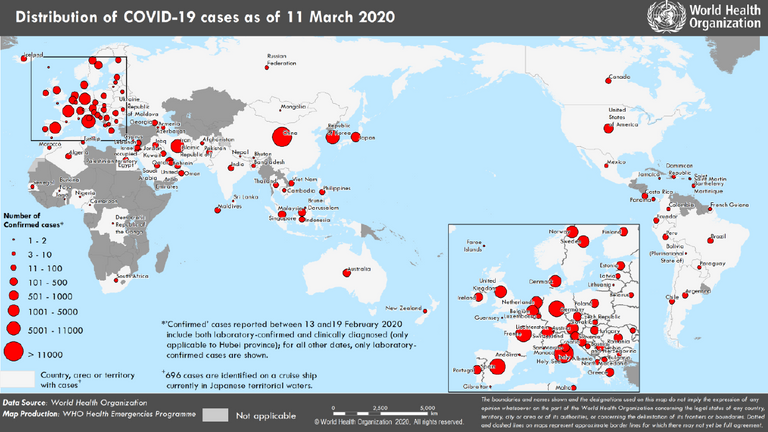 Highlights: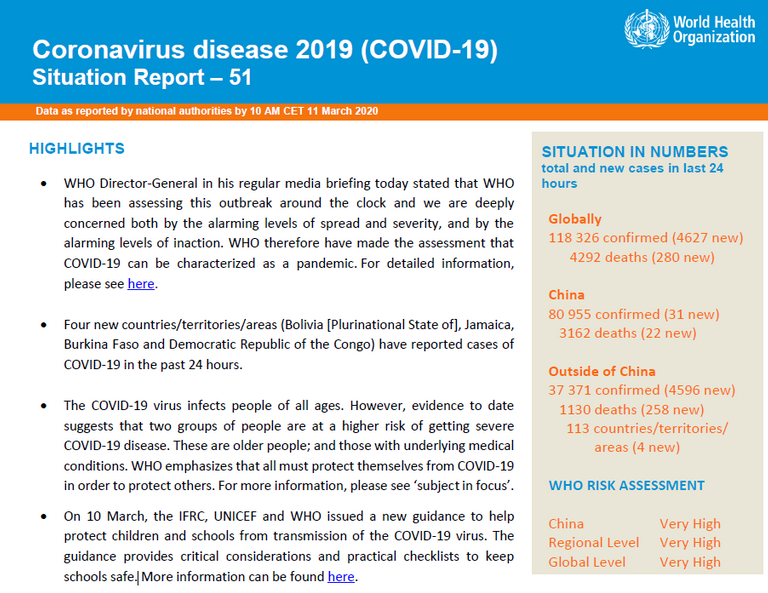 ---
Table with new cases by day:
| date | new cases | notice |
| --- | --- | --- |
| 11.03.2019 | 4627 | new countrys Bolivia, Jamaica, Burkina Faso and Democratic Republic of the Congo |
| 10.03.2019 | 4125 | new countrys Brunei Darussalam, Mongolia, Cyprus, Guernsey and Panama |
| 09.03.2019 | 3993 | new countrys Bangladesh, Albania and Paraguay |
| 08.03.2019 | 3656 | new countrys Bulgaria, Costa Rica, Faroe Islands, French Guiana, Maldives, Malta, Martinique, and Republic of Moldova |
| 07.03.2019 | 3735 | new countrys Colombia, Holy See, Peru, Serbia, and Togo |
| 06.03.2019 | 2873 | new countrys Bhutan, Cameroon, Serbia, and South Africa |
| 05.03.2019 | 2232 | new countrys Bosnia and Herzegovina, Gibraltar, Hungary, Slovenia, and occupied Palestinian territory |
| 04.03.2019 | 2223 | new countrys Argentina, Chile, Poland and Ukraine |
| 03.03.2019 | 1922 | new countrys Andorra, Jordan, Latvia, Morocco, Portugal, Saudi Arabia, Senegal, and Tunisia |
| 02.03.2019 | 1804 | new countrys Armenia, Czechia, Dominican Republic, Luxembourg, Iceland, and Indonesia |
| 01.03.2019 | 1739 | new countrys Azerbaijan, Ecuador, Ireland, Monaco and Qatar |
| 29.02.2019 | 1753 | new countrys Mexico and San Marino |
| 28.02.2019 | 1358 | new countrys Belarus, Lithuania, Netherlands, New Zealand, and Nigeria |
| 27.02.2019 | 1185 | new countrys Brazil, Denmark, Estonia, Georgia, Greece, Norway, Pakistan, Romania, and North Macedonia |
| 26.02.2019 | 871 | new countrys Algeria, Austria, Croatia, and Switzerland |
| 25.02.2019 | 908 | new countrys Afghanistan, Bahrain, Iraq, and Oman |
| 24.02.2019 | 715 | new country Kuwait |
| 23.02.2019 | 1017 | count of cases in Italy has doubled |
| 22.02.2019 | 599 | new hotspot in Italy, new country Lebanon and Israel |
| 21.02.2019 | 1021 | -------- |
| 20.02.2019 | 548 | laboratory-tested only new country Iran |
| 19.02.2019 | 1872 | - |
| 18.02.2019 | 1901 | - |
| 17.02.2019 | 2162 | laboratory-tested and clinic-tested |
| 20.02.2019 | 548 | - |
| 19.02.2019 | 1872 | - |
| 18.02.2019 | 1901 | - |
| 17.02.2019 | 2162 | - |
| 16.02.2019 | 1278 | - |
| 15.02.2019 | 1527 | new country Egypt |
| 14.02.2019 | 2056 | - |
| 13.02.2019 | 1826 | - |
| 12.02.2019 | 2068 | - |
| 11.02.2019 | 2560 | - |
| 10.02.2019 | 3085 | - |
| 09.02.2019 | 2676 | - |
| 08.02.2019 | 3419 | - |
| 07.02.2019 | 3205 | - |
| 06.02.2019 | 3722 | - |
| 05.02.2019 | 3925 | - |
| 04.02.2019 | 3241 | - |
| 03.02.2019 | 2838 | - |
| 02.02.2019 | 2604 | - |
| 01.02.2019 | 2128 | - |
| 31.01.2019 | 2008 | - |
| 30.01.2019 | 1753 | - |
| 29.01.2019 | 1528 | - |
| 28.01.2019 | 1739 | - |
| 27.01.2019 | 784 | - |
| 26.01.2019 | 694 | - |
| 25.01.2019 | 474 | - |
| 24.01.2019 | 265 | - |
| 23.01.2019 | 267 | - |
| 22.01.2019 | 32 | - |
| 21.01.2019 | 282 | - |
---
DASHBOARDS
---
WHO EUROPE Dashboard:
---
Johns Hopkins CSSE Dashboard:
---
What is the coronavirus? (2019-nCoV) by WHO