Ciao a tutti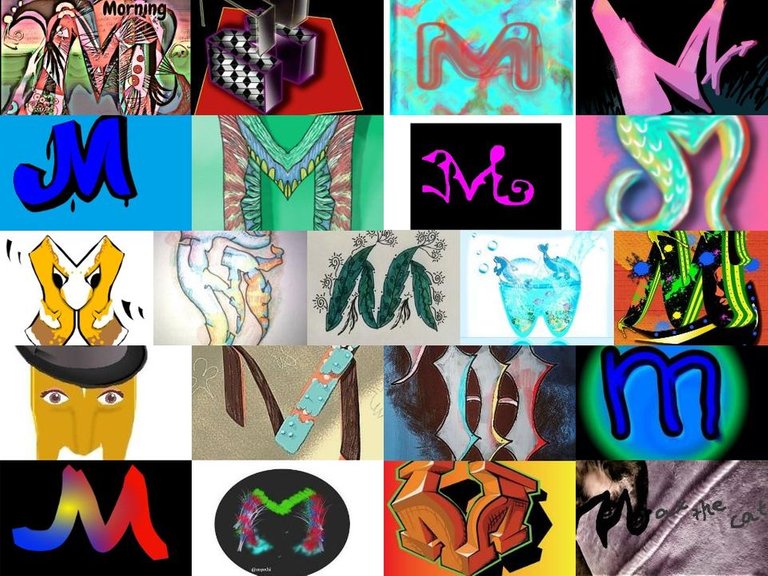 Contest Results-We draw the letter M
WOW !!! This week 21 participants ..... I am really very grateful for your creativity ...... arranging your designs to create the collage I really saw many styles, many colors and a lot of imagination ..... good !! !
I want to thank@girlbeforemirror for his nice comment under the contest post .... and also for having donated 6 Steem for the next contest .... I decided the prizes will be doubled ...
As in every contest ... below I will leave all your drawings, yours and the link to go and see the drawing ....
The drawings are put in chronological order, at the end I put the three winners
I disegni sono messi in ordine cronologico, alla fine mettettero i tre vincitori
Let's goo see these letters M
Dianadee

@dianadee
Elcorrecamino

@elcorrecamino
Cetb2008

@cetb2008
Khiabels

@khiabels
Giocondina
Dibujamos las letras M concurso

@giocondina
Cabalen
We Draw The Letter M, My Entry

@cabalen
Mariela53
Dibujamos las letras M concurso

@mariela53
Quatro
We Draw The Letters Contest: M

@quatro
Theithei

@theithei
Jadung

@jadung
Greenleaves

@greenleaves
Tormenta

@tormenta
Panksero

@panksero
Pokerm
We draw the letters M contest: Dressing up

@pokerm
Steempampanga

@steempampanga
Allyson19
We Draw The Letters Contest: M

@allyson19
Daniella619

@daniella619
Carlosluistoro

@carlosluistoro
Onyechi

@onyechi
Yangyanje

@yangyanje
Moz333
Max The Cat - We draw the letters M contest

@moz333
The results of this competition are:
Ran.koree