The Euro Jackpot results are online
From now on I'll post the winners on Saturdays and the new contest will come up on Sundays.
This week I did not win anything again with the lottery and only one participant had one number correct. But - as promised - we will have 5 winners :)
Here are the numbers drawn last night:

This week's winners are
@lammbock won one SBI, 10 UFM tokens and one UFM lottery ticket with lucky numbers 32
Additionally @omra-sky, @ronaldoavelino, @golddeck and @d-zero won one SBI, 10 UFM tokens and one UFM lottery ticket drawn with https://snackaholic.github.io/steemfortune/#.

You can also check the transaction here.
Here the UFM tokens sent to you:

Plus the UFM lottery tickets of course: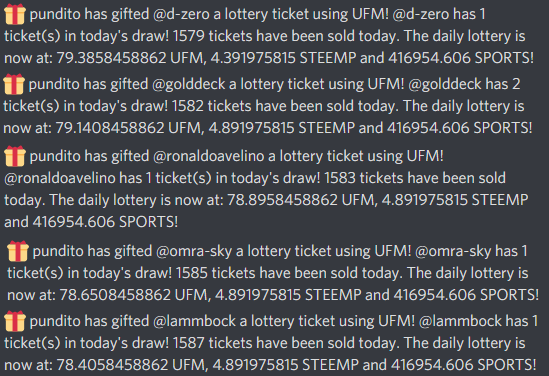 A big thanks again to @taskmanager for giving me the opportunity to include UFM tokens in my contest!!!
CONGRATZ to all winners!!!
Here you can watch the drawing on youtube
Make sure to come back tomorrow
I will not give up and bought a new ticket.
And do not forget: you only can win!
The resteemers of the contest will receive a vote on their comment for the bounty.
P.S.: If I forgot someone or something please let me know in the comments - I'm also only human :)
Transparency to check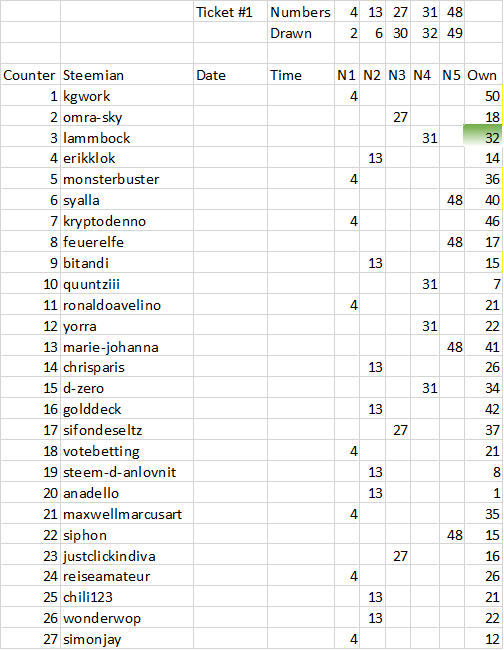 ---
STEEM ON!!!
Buying STEEM with fiat money or selling STEEM for fiat money is easy now! Low transfer rates and no need to go via other coins anymore! Check bitvavo and give it a try. Registration and transactions are super easy!

If you love dogs you might want to take a look at @dog-marley's stories.
If you love music you might want to take a look at @psionic-tremors' blog.

For free Bitcoins every hour click here
For free Bitcoins every 5 minutes click here
For free BTC Cash every 5 minutes click here
For free Dogecoins every 5 minutes click here
For free Litecoins every 5 minutes click here
For free Dash Coins every 5 minutes click here