I'm not a big fan of spiders! Are you?
On the other hand it's always interesting to get a close look at them, understand them better and creep myself out!
Announcing: The Spindly Spider Spook-fest Contest!
I came across a pleasantly plump spider today as it was feasting on a tender morsel right beside my front door. This grisly looking Araneae allowed me to get very close to it in order to take the sample shot below. 
Show Me Some Spindly Spooky Spiders....Up Close!
Here's my sample shot to get you started!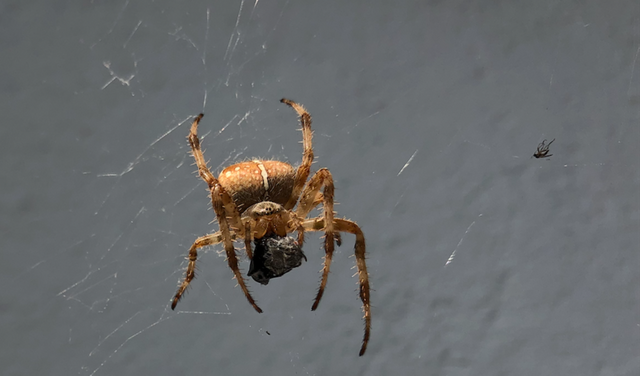 Lot's of details to be seen here to amaze, fascinate, spook and just generally creep out!
Now It's Your Turn! Let's Get Scary!
In this contest I want to see spindly, spooky spiders!
 Here Are The Contest Rules
Show me a photo of a weird creepy creature!
Post your photos in the comment section below
The photo must be yours NOT one that you find on the internet.
Maximum of 2 entries per person
If you make a post promoting the contest I'll try and give it an upvote as well
There will be at least 5 prizes of 1 Steem each 
The contest closes in 7 days
Bonus Prize!
I will transfer 2 Steem to the first person to identify the type of spider in my sample!
There is also another contest still open and it's a lot of fun:
The Old Dog Presents: The Weird Vending Machine Contest!
Do You Like Contests?
If you like contests and would like to see more of them here   on the Steem Blockchain please consider upvoting my posts. Contests  help our community so spread the word!
 
Until next time,   

@kus-knee (The Old Dog)  

Let's Succeed Together!