Welcome to Punday Monday!
FYI, new prize rules, see below.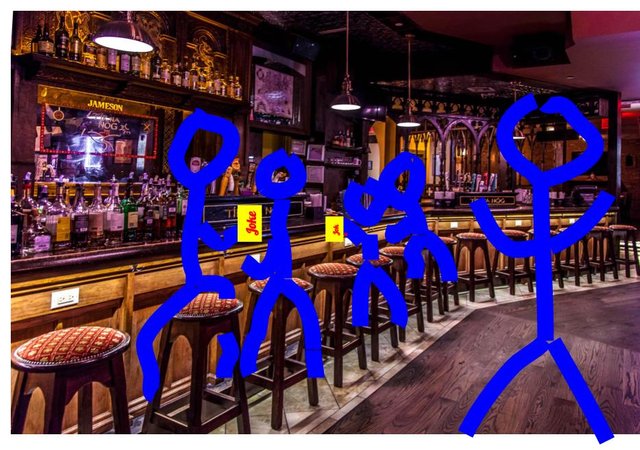 New To Punday?
Pull up a stool, order a spiked PUNch, and get to know some of the regulars. I'm your PUNtender, @improv.
How To Make a Pun
This contest is open to everyone. Here's a handy dandy guide on how to make a pun: Learn to Pun
Rules for the PUN-test:
If you hope to win a prize, your pun must be your original work
Puns must be relevant to the topic of the week to win a prize, but they can be very loosely related.
Last Week's Punday Monday:
Here is last week's Punday Monday, and all the puns that were eligible to win this week are in the comments!
Hang on to your PUNderwear. The Winners of This Week's PUNday Monday Are...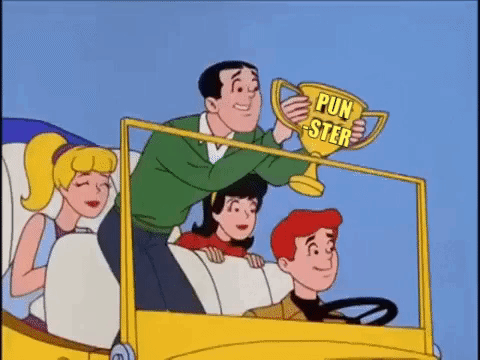 (GIF by @littlescribe)
Rookie of the Week:
Pocket Choice Awards:
I am of the opinion that there are four responses to creative works one doesn't like.
Constructive criticism. Help them get better!
Useful review. Help audience members know which of them will like and which won't like this piece.
Outdo them. Demonstrate to yourself and others what "good" looks like.
Keep it to yourself.
There is, however, only one way to respond to creative work one DOES like.
Send them POCKET.
What pun was your favorite?
https://steemit.com/pocket/@improv/4wbrhd-pocket-friday
No voters! Where's @paul.atreides? @mensa-sig? @richatvns and his posse?
---
POCKET Choice Winner's Circle Season One:
@aloha-creations, @professorbromide, @tcpolymath, @miniature-tiger, @lilygolightly, @chrisroberts, @stinawog, @f3nix, @doctorcrypto, @heroic15397, @littlescribe, @diebitch, @acolucky, @ablaze, and @paul.atreides.
POCKET Choice Winners' Circle Season Two:
@ablaze, @coinsandchains, @dollarsandsense, @doctorcrypto, @heroic15397, @littlescribe, @jk6276, @acolucky, @deceth, @richatvns, @wpkwolfe, @stanism, @lordoffaux, @blockingback, @theartofori, @rainite, @chrisroberts, @kharma.scribbles, and @mensa-sig
POCKET Choice Winners' Circle Season Three:
It's still season two.
Grand Prize (which isn't bigger than the other prizes, just grander):
Best Pun

Best Pun of the Entire Week
DRUMROLL PLEASE…..
@quantumdeveloper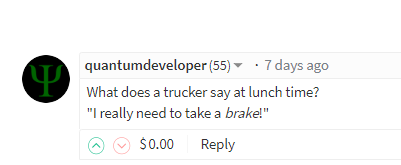 And What Prizes Do They Win, You Ask?
See @steembasicincome for details. I'll sponsor each qualified entrant for two SBI levels each week! Each winning entry will get an additional two SBI!
This week,
Our entrants were:
@quantumdeveloper, @jacuzzi
Our winners were:
@quantumdeveloper, @jacuzzi

This Week's Pun Topic Is: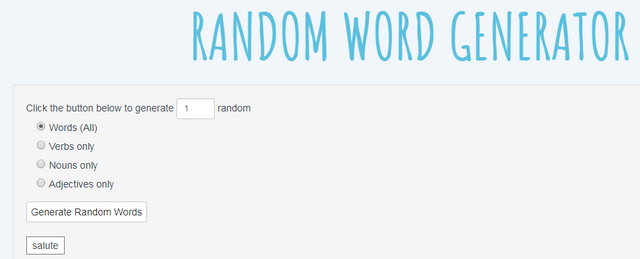 Salute
As in,
Why do the other vegetables salute the corn? Because no other vegetable outranks a kernel.
Awesome joke. Nonetheless, I think you can do better.
I'm So Good at Puns
If you've never punned before, it might seem like magic! You can do it, too! Learn how in My Free How-To Guide on Punning!
---
---
---
Sponsors, related content, prizes, and money
Sponsors!
I mean, am I a sponsor of my own contest? Yes? I guess? Also, because I'm involved in @freewritehouse and they've/we've hosted Punday Monday events over on that page, I'd like to suggest that they (we) are also a sponsor! Regardless, check out the @freewritehouse community!
Related Content:
Outside referral that benefits @improv.
Crypto.com:
If you're ready to sign up for and stake MCO to get their debit card with lots of perks (including earning interest on crypto!), please use my wife's referral code! We'll each get $50 worth of MCO. https://platinum.crypto.com/r/usfz8rprz6 (or the code is simply usfz8rprz6)