I love stories. And I love the inspiration that comes from a question, prompt or contest. I have found many new connections by participating. I would like to continue the fun by offering a contest of my own. So, in order to feed my story addiction, please tell me a story.
---
Contest
What is the oldest object you have in your possession? Share the story of this object with us.
Some thoughts to inspire you
What does it mean to you?
Where does it live in your home?
How did you come to possess it?
No upvote or resteem required, but, stories are fun to read so the more the better!
Leave a comment or make a post and link it to this post, please.
And because we love to listen to stories, all stories will be read aloud to my family and the winners will be chosen by entertainment and/or educational value. The top three stories will each earn a 1 SBI sponsorship to @steembasicincome.
The contest will be open for 7 days, and winners will be notified by reply comments.
---
My oldest object - my entry for @bengy's contest - your favorite childhood toy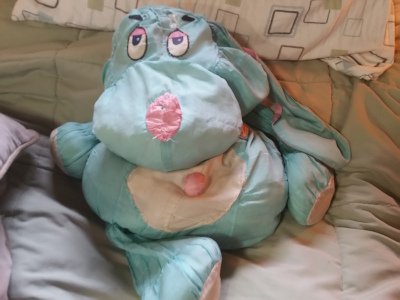 This is my Puff. He was a gift from Santa when I was maybe 6 or 7, and one of the oldest objects I own. When I dug him out of my childhood closet at my parent's house a few years ago, I was thrilled to discover that he was still relatively intact. He has been loved to pieces, and is missing an ear and a leg to show for it. My seedlings are interested in sewing, and so last year we endeavored to repair Puff. But the sateen fabric is so thin that those seams have again ripped. But that does not stop any of us from loving him. He lives on my oldest's bed part time, and on my own bed for the rest. We take turns "filling Puff with love," then trading that love back and forth for each other to sleep with. I adore him, even now. When I hug him, I am filled with the comforting feeling that only nostalgia and innocence can create. It is lovely to think about all that he has been through with me, and it is truly a gift to share something so special and important to me with my sons.
---
I am looking forward to learning more about you! Thank you for sharing your stories, and thank you @gingbabida for your inspiring contest - Proof of Engagement. There is still time to enter!
---
I am grateful to find a place with rich soil to grow a community. May we take root, and flourish together.
All artwork, photographs, and content are original and created by @bia.birch unless otherwise credited.