Community Support for a true SteemHuman - Get engaged to help yourself
This is another shoutout for one of my best friends on the Steem Blockchain - a guy I know since years before we even knew a Steem Blockchain will ever be created - I talk about Terry aka @surpassinggoogle
Marlians connects all tribes
His platform aka tribe is only a little part of an entire ecosystem that enables a lot people from across the world to communicate, create content and engage with the little chance to get rewarded. In several places of the world the Steem chain plays a crucial role for users to pay their bills and simply to survive. Terry is the heart of this initiative - being too modest he should take care about himself more but he always tries to support any other human being - different topic! Anyone that knows him please tell him as well to live and ignore some things - we NEED HIM!
Marlians - Join the Party!
Join Us On The 'Marlians.com Tribe' Discord-Server With 5400 Steemians. Let's Help You Build Your Noble Dreams.
In the near term, let's restore some life to our discord server! It has been cleaned up and reorganized. We now have a channel called '#marliansdotcom-general' whereupon we can foster relationships and stir discussions related to 'real human growth'. By means of the marlians.com ecosystem, we want to play an active role in the process of helping you build your noble dreams. Thus, we want to hear from you. Tell us of what you want and let's see how we can use our ecosystem and its resources to support your movement.
The discord currently has some 5,400 steemians and right on the server exists the potential to foster 'connections', find 'opportunities' and meet reputable 'great minds'.
https://discordapp.com/invite/wWrnSXK
Why use Marlians, when and how?
When Should I Use The #marlians tag?
We welcome and support 'all content-type' and 'all locations'. We value each human.
We are also about "uniting communities". This means that we will welcome and support content from other steem tribes and this is already in motion. We are a home and a close-knit family 'moving together' and this means that we will share "even our limited resources".
To this effect, we are evolving a portfolio in 'steem-tribes-stake' that we use to curate 'content from other tribes' found on 'marlians.com' and our portfolio currently looks like this:
Read more about Terry and his way to help others! Terry is @surpassinggoogle - a true human
Pretty sure everyone knows our Terry Boy @surpassinggoogle who has probably supported and recruited most Steemians here. A true community person, a guy that always thinks how to help others instead about himself. He created so many awesome things on Steemit - he was building #steemgigs #ulog and the #teardrops movement.
I know him since several years long before we thought about Blockchain or Steem(it) and he always was eager to help people - he was always driving that the world becomes a better place for every single individual. So he did on Steemit since he started. I try to keep it short - watch the video and simply consider all potential support for him. He is a man that usually does not call for help but he also needs helping hands. Usually he never relaxes and takes time to recover even I did recommend this so often - he is a beast in implementing program to for others only. But he can only help as long as he is able to. I did not understand why his delegation by @ned was pulled away - if anyone deserves a large one @surpassinggoogle is the one - no doubt.
I wanted to do this post since a while and not going into all details why Terry needs us as community now - feel free to check other posts that covers some of the issues he has to handle privately.
What can you do to help him help?
There least thing we can do is giving him support via encouraging messages and comments. Voting for his posts is the next easy way - what many others do including myself here is to donate all rewards from this post to him. If someone feels happy to donate directly do it. If you want him to continue supporting others via his Steemit project delegate some Steem Power.
If you want to support his witness "steemgigs", simply visit https://steemit.com/~witnesses and upvote "steemgigs" or simply click Here to do it on one click!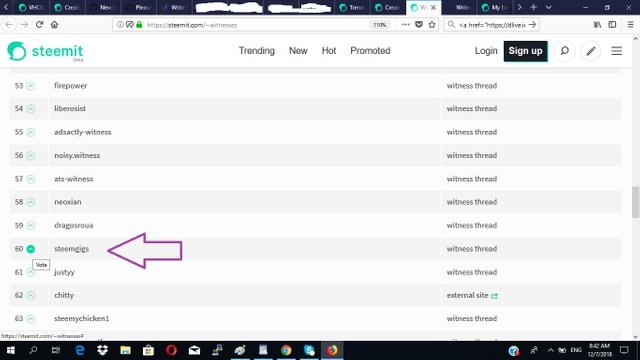 If you Donate - wait until HF21 is completed!
Thanks for Reading!