Got another "still waiting" email from the real estate agent today...but I'm moving forward with some of my planing anyways as I'll find another location if this one falls apart for some reason. Which leads me to this post and the help I need from Comic Book collectors.
I have an idea for custom cabinets for my toy and comic shop that I'm planning on opening in March of 2020.
My thought is to make cabinets that have a top layer of boxes at slightly higher then normal table height and then a shelf below that will allow for a second layer of boxes when needed. I will make a custom stand that can be moved along to pull the lower shelf boxes onto and give a short stool with wheels to so people can look at these boxes comfortably.
Excuse the quick sketch as it's not in perspective and not in perfect scale, but wanted to jot down the idea over worrying about it looking pretty.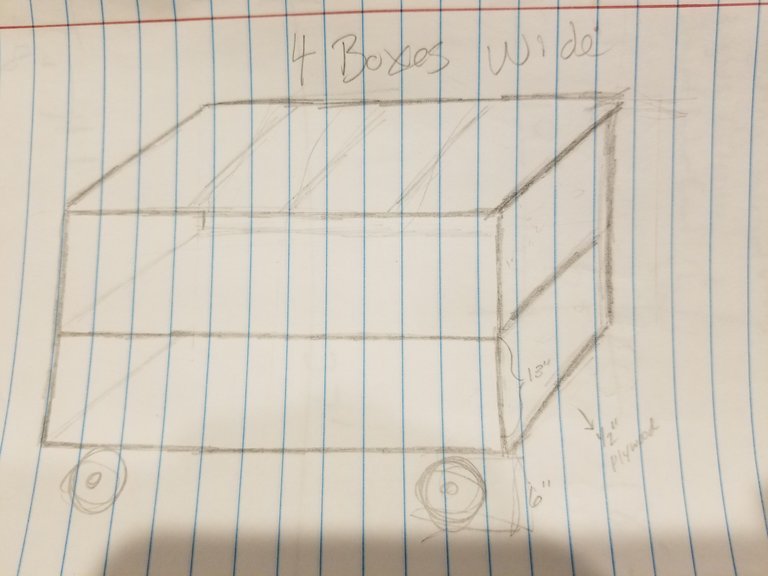 Oh and the cabinet you see has 2 shelves and the top. The top and the first shelf will be used at the store. These are on large heavy duty casters so I can load them straight onto a truck. When this happens I will need to be able to take the boxes on the top and put them into the lower shelf for transport. This will make my loading and unloading into comic cons MUCH easier. The ability to move these will also let me clear out the center front of my store and use it for events.
Do I make these cabinets short box or long box depth?
So size matters no matter what some little boys like to say, but in this case I'm not sure bigger is better.
A Short Box is 15" Long vs the Long Box comes in at around 27" long.
For tall people like myself a long box is easy to dig in, but I feel like a majority of people have a hard time getting to the far back of a long box. When I plan to have 40-80 long boxes worth of back issue comics on the floor at any given time it's a lot of digging around and I want to make sure my customers are comfortable. At the same time space is an issue...
So the advantage of a long box is less isle space for me. Back to back long box cabinets will take up around 5 foot of space and then each isle needs to be 3.5-4 feet.
With a short box the cabinets back to back will be under 3 foot wide and then the killer is the isles as it will require more isle space to have the same number of comics.
Weight
The other issue is weight. A short box is very easily moved around at 30 pounds (give or take based on era of comics), but a long box comes in at 50 pounds which is much harder to move.
The issue of moving them will come into play with the design of having a lower shelf that will have boxes on it. This box will need to be dragged out of the shelf onto the stand. At 30 pounds it's pretty easy to move around, but at 50-60 it's heavy.
So which way to go?
I hope I explained all of that clear enough that you can help out. If not please ask questions or please answer the couple questions below.
Do you think that a long box it ok to pull out onto a stand or is it to much weight?
Does it bother you to dig in long boxes vs short boxes?
Anyone that is into comics and has dug around countless boxes of comics over the years I can really use your help on this. Thank you!