in Realverfilmung war tatsächlich Yvonne Craig!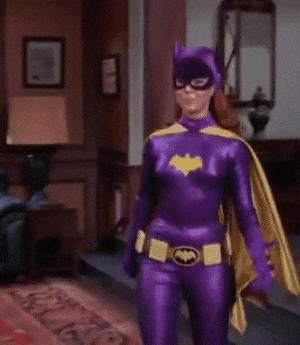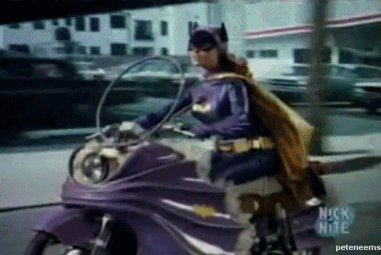 Im rückständigen Süden wurde uns ja TV- und auch Filmtechnisch ne Menge vorenthalten in den 80ern und 90ern. Kabel-TV hatten wir (meine Family) am Grossdorfrand ja nicht. "Meine" eigene Satelliten-Schüssel kaufte ich mir wohl dann Anfang der 90er. Ich kann aber heute nicht mehr einordnen wann das genau war. Jedenfalls zu Beginn ging gerade Astra 1B auf Sendung – bilde ich mir jedenfalls heute ein.
Das was ich damals sehen wollte lief im hinterwäldlerischen ORF nicht. Gut, total schlechtreden darf man den Staatsfunk ja nicht, denn vieles was für mich wichtig war wurde ja doch ausgestrahlt.
Jedoch konnte ich in tatsächlich noch jungen Jahren Serien wie
Wonder Woman (Lynda Carter)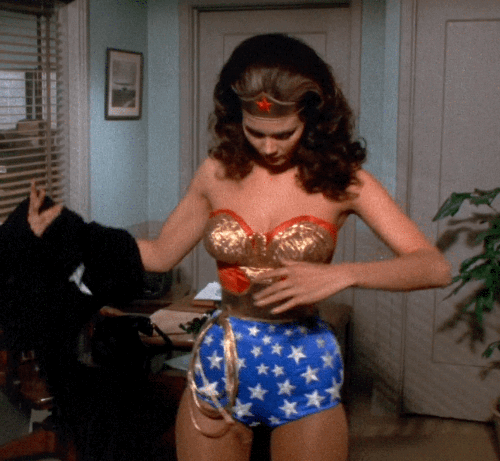 Hulk (Lou Ferrigno)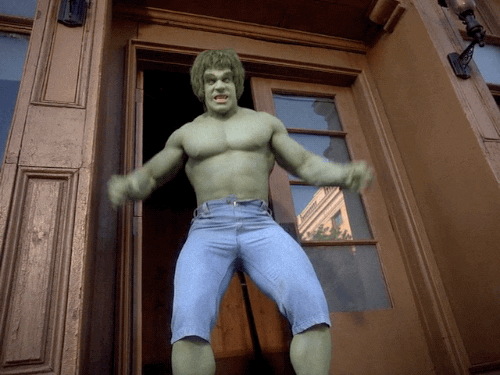 nicht sehen. Ganz einfach weil das damals nicht lief hierzulande. Leicht geändert hat sich das dann meiner Erinnerung im Jahre 1987 oder auch 88. Da fand eine Umstrukturierung des Nachmittagsprogramms statt. Plötzlich lief da dann Star Trek Classic und auch BATMAN. Der `66-BATMAN Adam West und Burt Ward als ROBIN. Meine Güte habe ich das damals gefeiert… :))) Da bin ich auch des öfteren früher aus der Schule abgehauen (an den notwendigen Tagen) – nur um das sehen zu können, denn mein erster VHS-Videorecorder wurde wohl erst 1989/90 erworben. Auf alle Fälle nach dem 26. Oktober 1989 – da startete der Tim Burton BATMAN-Film. Da war ich bei der Premiere im Grazer Annenhofkino live dabei :)))
SUPERGIRL (1984)

mit Helen Slater als Kryptonmädchen hatte ich nicht im Kino gesehen, wohl medientechnisch an mir vorübergegangen. Der Film war ja nicht wirklich gut – Drehbuch ist ein Totalverhau – aber immerhin besser als NIX.
Somit war Barbara Gordon /BATGIRL
performed von Yvonne Craig meine erste kostümierte Superheldin in Realverfilmung die meine Netzhaut streifte.
Ich habe mir vor einigen Tagen "a few" Episodes reingezogen. Und yoooo, schlecht war das nicht was die damals gemacht haben. Es ist halt ein eigener, etwas seltsamer Stil, dennoch GUUUT gealtert – jedenfalls für mich. Rollenklischees sind halt typisch 60er-Jahre, nicht das ich das sonderlich schlecht finden würde….,Diese heute allgegenwärtigen "Emanzen" die nicht mal ein Spiegelei fertigbringen…, ja die habe ich satt. Mir hat es fett Spass gemacht die alten Recken und Innen wiederzusehen, auch die altklugen, erzieherischen Sprüche sind in diesem Falle ja eigentlich GEIL.
Bin drauf gekommen weil Burt Ward ja nen kleinen Cameo-Auftritt im aktuellen "Crisis on Infinite Earth" – BIG BANG SUPERDUPER MEGA CROSSOVER auf CW hatte. 2 Episoden fehlen da noch, in 1- 2 Wochen isses soweit, dann kommen die Abschlussepisoden :)) Arrow und der Staffelstart von "Legends of Tomorrow" gehen dann auf Sendung. Wer wird alles überleben, wie wird das "Arrowverse" danach aussehen??
Fragen über Fragen, die bald beantwortet werden.
In diesem aktuellen Crossover gibt es ja noch viiiele geile Gastauftritte quer durch alle möglichen Serien und Filme:
Lucifer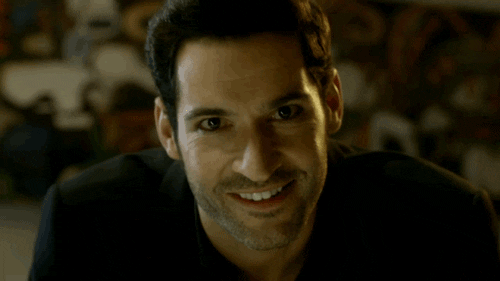 Jooo, der Teufel, aka Lucifer Morningstar höchstpersönlich in Gestalt von Tom Ellis wird auf Erde 666 besucht :)
Smallville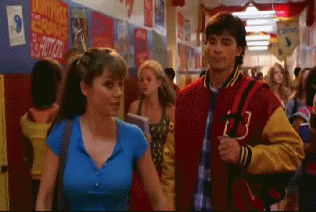 Tom Welling (Clark Kent) und Erica Durance (Lois Lane) sagen auch Hallo.
Birds of Prey
Ashley Sott als Huntress (Helena Wayne)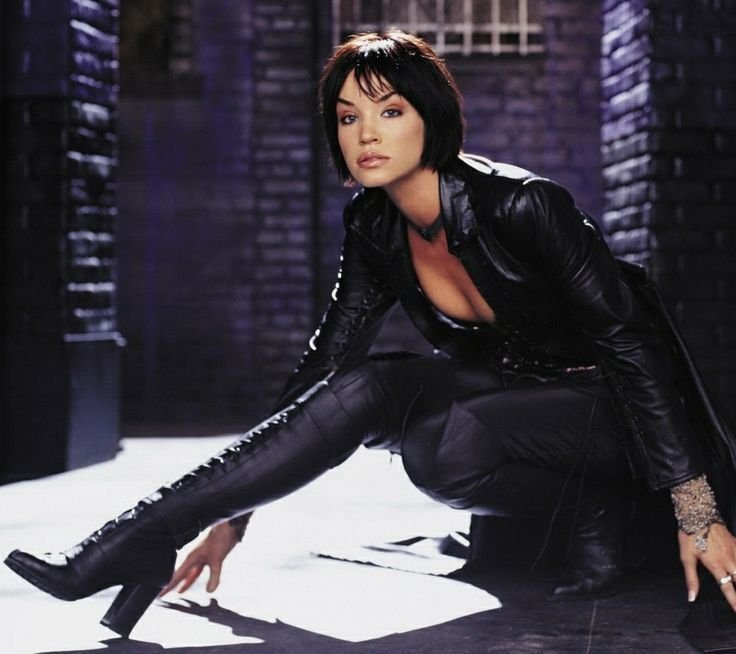 kriegt einen wohlverdienten Auftritt, auch Dinah Meyer als Oracle (Barbara Gordon/ früheres BATGIRL) ist dabei, aber nur verbal.
und, und, und. Da das sowieso niemanden interessiert…. - ich spare mir den Rest…
Noch einige Worte zu Yvonne Craig (R.I.P):
Leider ist auch Yvonne Craig bereits verstorben. Geboren 1937, schaffte sie es bis ins Jahr 2015. Da kann man ganz schön traurig werden, wenn man bemerkt wie viele bekannte Gesichter still und heimlich abtreten, unbemerkt weil sie nicht zur Hollywood A-Prominenz gehörten.
Eigentlich wieder ein Post für mich selbst, als Erinnerungsstütze für spätere Jahre. Man verzerrt ja viel mit den Jahren, anderes verwischt sich irgendwie in nie Stattgefundenes, manches vergisst man komplett, obwohl es einige Jahrzehnte zuvor noch irrsinnig wichtig war….. Also erscheinen mir solche Gedächtnisstützen in Blogpostform als relativ praktisch, denn ein klassisches Tagebuch führe ich ja nicht.
Vllt, war dieser @solomon-grundy -Post ja doch auch für zukünftige Historiker lesenswert?
@solomon-grundy bleibt momentan vom aktiven Posten her, derweilen weiterhin im Winterschlaf. Steemauto läuft ja wie bisher weiter, Token werden geclaimt, langsam wird gewachsen. Auch werde ich 50 % via Benefits von hier aus rüberschicken. Diese Idee übernehme ich mal frech von @condeas, denn er hat's so vorgeschlagen. Via Steempeak funzt das mit den Benefits ja prächtig wie ich gestern am Beispiel von @nextcolony mehr oder weniger LIVE miterleben durfte :))
Nicht, weil ich mich nicht um mehrere Accounts kümmern mag, sondern einfach nur weil ich hier potentiell mehr Leser erreichen kann. Geht ja nicht nur um Votes und Payout, sondern auch tatsächlichen Austausch, in Erinnerungen schwelgen ist ja auch hier das Salz in der Suppe. @solomon.grundy wurde gestartet als ich hier mit @meins0815 ja beinahe noch immer um die Auszahlung bangen musste. Seither hat sich eine Menge getan, warum sich da was geändert hat ??? Jooo, das weiss i auch ned so genau – is halt einfach so – ich freue mich einfach mal ausgelassen darüber :))))))))))
#comics ist einfach ein Themenbereich der in #deutsch nicht verbreitet, so gut wie nicht vorhanden ist. Scheinbar konnten sich die wenigsten ihre Kindheitshobbys bis in die Gegenwart rüberretten….
Habet Dank fürs LESEN :))
@meins0815 20200108
---
Sponsored ( Powered by dclick )