"Everyone has a plan until they get punched in the mouth".
This is a pretty famous quote by heavyweight boxer Mike Tyson when asked if he was concerned about his opponent's fight plan. I love making a good plan, but they never survive "first contact" with an enemy or just the changing circumstances of the outside world!
In the previous update post, I mentioned detailing a revision of plans I've previously blogged about, and here that is!
Time and Money...
The two factors that are always lacking, time & money... My initial intention was to publish the first issue of "I Thought It Would Be Zombies..." utilizing a traditional, full scale, offset printing press run. This type of printing is the most economical, but requires many copies to be printed to achieve a low cost per unit and has the greatest turnaround time.
In my pursuit of finishing up the first issue of this comic to be released at the Baltimore Comic Con on October 18th, I've overshot the date of completion I was aiming for, which a full print run would have necessitated to be manufactured in time for the show.
---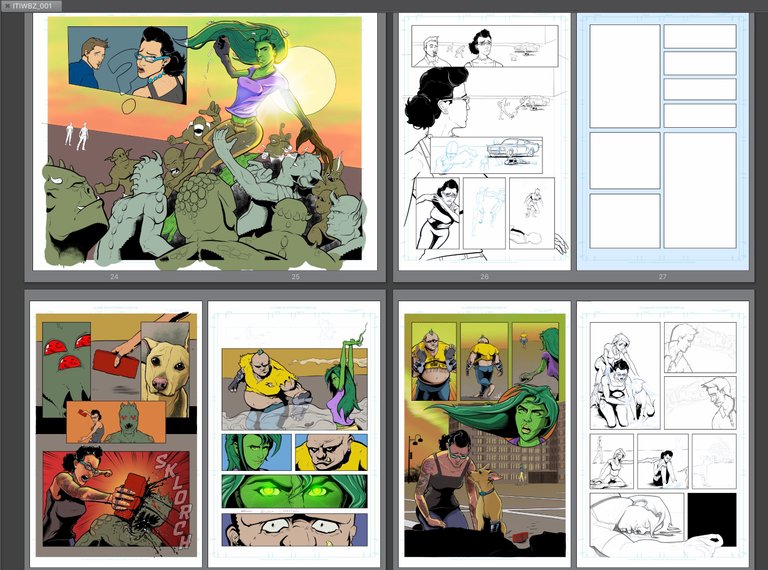 ---
Each day more and more pages push closer to being totally completed. I regularly share work in progress shots through Instagram and the @appics application. It's going to be a herculean feat over the next month to wrap the creative process up, but I have it in mind that failure is not an option. (don't worry, the blue toned page up there is reserved for advertising... so this block of pages is closer to completion than it seems!)
In order to get the printed product in hand in time for the show, I'll be utilizing a smaller "print on demand" style producer with a faster turnaround time. This will give me the ability to work up until the last possible moment... which I'm going to need!
The second part of the equation is money. The funding is not as robust as I'd hoped it would be when I started setting these plans in motion a bit over a year ago. The support through Fundition has been phenomenal and I know it will continue to be so into the future! However the ongoing cryptocurrency bear market and current low values of Steem have curtailed the efficiency of donations so far. I foresee a bright future for Steem. I have not cashed out any of the donations made to "I Thought It Would Be Zombies..." to date, and do not see it being wise to do so at this time given the present market. For the time being all donations are powered up and used to curate content, much of it within the comics and art communities that this project is a part of. The Fundition Campaign will continue with the intent that these funds will be used in the future to greatly help finance and sustain this growing creative business, and support other projects on Steem as well. In the interim though, I'll be funding initial expenditures totally out of pocket which is the other prime reason for utilizing a print on demand option and more manageable print run.
For those curious, here's the shopping cart full of goodies I'm eyeing up for order when the time is right.
---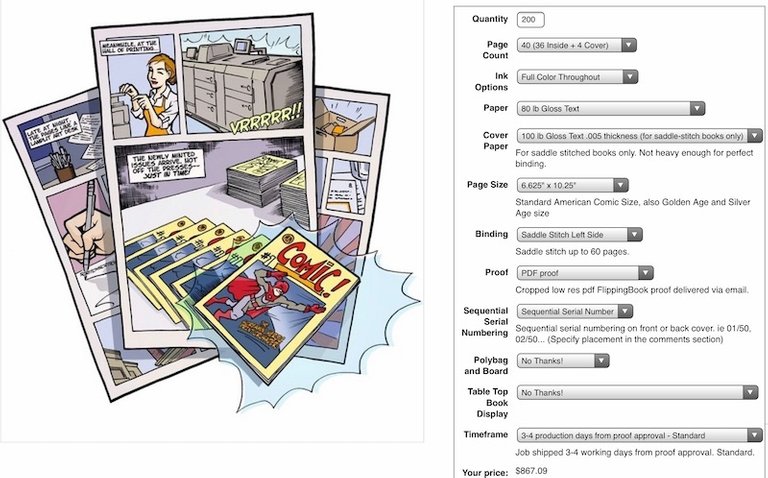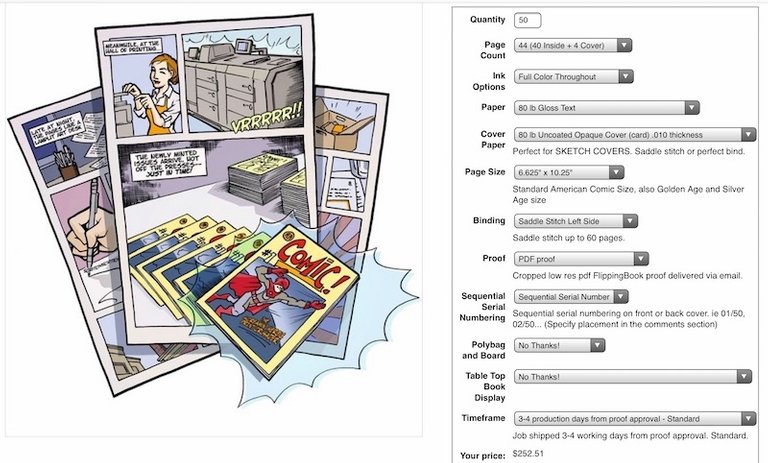 ---
Most important are the comics themselves. 200 copies, and an additional 50 copies with a blank sketch cover, a popular variant in the comic market nowadays which allows people to get one of a kind collectibles by having an artist produce an original hand drawn piece on the cover of their comic! Each edition will be numbered 1/200; 1/50 etc. to lend to the collectible feel of this revised short run approach!
At the price per unit that these comics will cost to produce, it is impossible to sell them wholesale and through comic shops at an acceptable price point. That's a big reason why fundraising will continue. Beyond just recouping costs, funds are still needed to do a separate full scale print run for the mass market following these limited first editions.
Even selling the first edition comics direct at shows, at a $4.99 price point, I'll be right around break even. Profitable sales will come if people opt to also purchase some original artwork in the form of the sketch cover version or smaller and more economical sketch cards.
---
---
Those sketch cards are the next item on the shopping itinerary and will provide patrons with an additional "price point" of item to purchase that just might fit their budget better than a full blown sketch cover.
Then comes the marketing materials....
---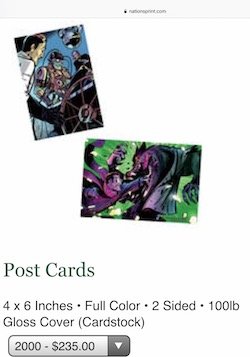 ---
The barebones marketing items consist of a professional looking banner display, and some handout postcards as well.
Whew... that's about $1600 of stuff to get up and running at my first show. That is a lot of money to me, but it's worth it. But please, keep hitting me with those beautiful upvotes on Steem and Fundition so that I can afford to keep making "I Thought It Would Be Zombies..." bigger and better with each issue and show to come!
I plan to use what platform I establish to promote Steem and Fundition within the comics community and aim to be a living, breathing example of what can be accomplished on Steem. I think it'll make a great marketing angle both ways, bringing increased interest to the blockchain and to my comic!
With this revised plan will also come changes to the Funditon Campaign Rewards Tiers. Rest assured they'll all be for the better. I'll update the campaign in the days to follow and make those iterations the focus of the next update... this one's already run on long enough, dontchathink?
- Bryan "the Imp" Imhoff
---
This is an official Fundition campaign update post to help fund the publication of the independent comic "I Thought It Would Be Zombies..." meaning your votes alone can help you earn rewards like a free copy of the comic and more! For more information check out https://fundition.io/ and the prior update articles for "I Thought It Would Be Zombies..."!
---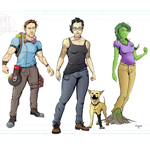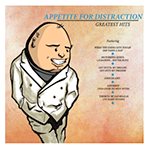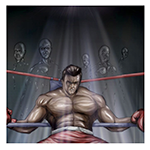 ---
@bryan-imhoff | @spottyproduction | @exploreunlimited
@steem-comic-con | @creatingcomics