Idea | Intro | << #blockchaincat >>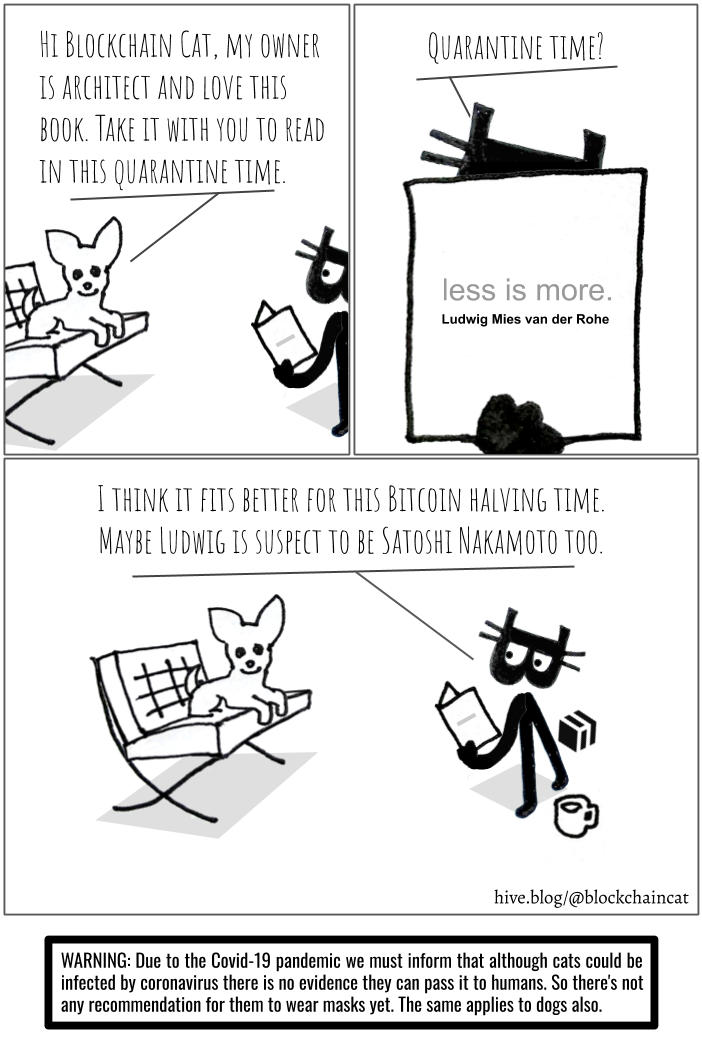 Hi hivers, here is one more adventure of Blockchain Cat in the Hive blockchain. After an amazing introduction made by Cheshire Cat, one of the most prestigious cat of the universe and mirror authority, as seen on the last post Through the Looking Glass, now it's time to borrow some books with another little friend. Reading is perfect in this Covid-19 quarantine simultaneously with Bitcoin halving time.
I'm not sure about reading books but for sure Blockchain Cat likes to play games, watch TV series and sports, furthermore that going shopping, to amusement parks, barbecues or travel to China and Japan is not recommended in the middle of a pandemics.
Many vets say that cats and dogs have previous exposition and immunity with coronavirus, it would be fine to meet each other. Previously Blockchain Cat already met with Zuck's dog and celebrated the Chinese Year of Dog with an inflation of canine friends. Now our friend is excited with the recommended book, maybe after the succesfull halving, it helps to continue its quest to decyphering Satoshi. If not, when planetary travel is banned why not to repeat that 2017 unforgettable trip: Going to the moon.
If you want to change the dialogues and images and create your own new stories with the Less is More book and Blockchain Cat, it's under Creative Commons attribution license. Anyone can edit, copy, display, distribute and remix the work if credit the original creator. To make new versions easier, there is a shared public Google Presentation file that you can copy, modify and edit the way you want.
May the nour be with you! Stay safe, thank you very much and good luck again!!
5/12/2020 @wagnertamanaha
Check this Blockchain Cat's adventure reflected on the other blockchain: Halving in Wonderland.
The author is also an user of Brave, Presearch and Minds, plus this story is bookmarked on Refind. In these sites you can browse, search, share images and links and earn cryptocurrencies. Log on to Hive and take rewards for your content too >>>
Idea | Intro | << #blockchaincat >>