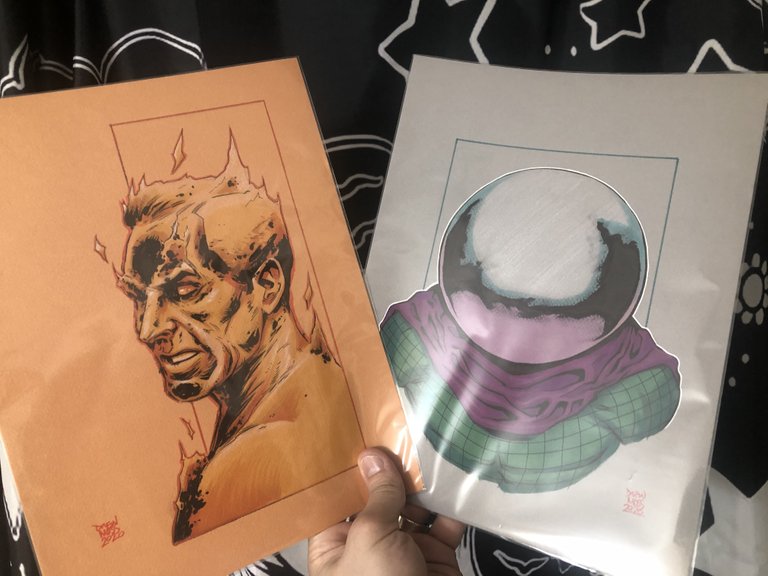 One regret that I have as far as my collecting habits go, is not getting involved in the original comic art game earlier. My business partner was smart and started hoarding his favorite artist's (Arthur Adams) works about 20 years ago and now is sitting on a very impressive and expensive stockpile. Me on the other hand...only got into the game somewhat recently.
While I look at everything as a financial investment, most of what I'm slowly accumulating is more for display because I actually like it. So it's very heavy on the Spidey front as he and his baddies are my favorites. My plan this year is to finally start framing some of these badboys up to hang throughout the house. Yes...I have the wife's permission. 😉
So today I'd like to show you my newest additions. Two new pieces that I'm happy to add to my ever growing collection are by a truly gifted human being by the name of Drew Moss. Drew has worked for some of the larger Indy publishers such as Dark Horse, Image, IDW, and currently for Dynamite on the title Red Sonja/Vampirella.
I first hooked up with Drew on Facebook when I saw he was taking on some personal commissions to help pay for some unexpected medical bills for his lovely wife. I opted immediately for one of my favorite baddie in Mysterio and added enough funds for a second surprise Spidey villain of his choice. He opted for Molten Man which is a very cool choice.
Drew was an absolute pleasure to conduct business with. He responded in a timely manner, we still chit chat to this day about a plethora of things, and I'm seriously thinking of commissioning a whole slew of these from him for Spidey's entire Rogues Gallery of villains. Just gotta save up the cheddar. C'mon Steem!!!
So all in all, I paid $150 shipped for the pair which I believe were done in copics. I was sent updates throughout so I could see the natural progression of the pieces which I appreciated as well.
The final result?!? Check these puppies out!!!
Super happy with these and appreciate working with a truly class act like Drew. Also glad his wife is on the mend as well!!! If you are interested in contacting Drew for a commission, he is active on Facebook. Shoot him a message! He comes highly recommended!!!
Thx for taking a peek!
Blewitt