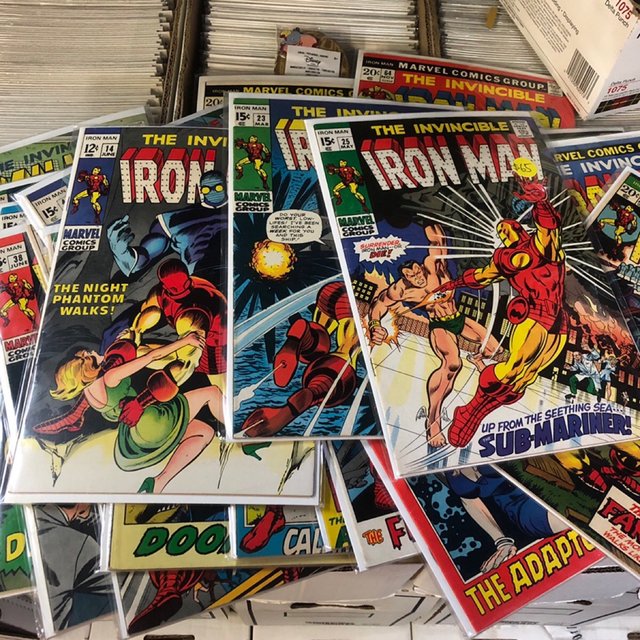 ---
I've had my shop for 11 years now and have worked in the industry for 2 1/2 decades. Today was a first...and I don't have many of those days anymore as most assholes have already done asshole like things. So when new assholes come in and partake in brand new assholey like shenanigans...it's kinda a shocker.
About 30 minutes ago, some fucktard comes in and starts rummaging through my back issues. He yanks out about 30 issues of Iron Man from issue #14 up to issue #65. These are mostly high grade issues and range in sticker price from $30 bucks upwards to $100 with the majority around the $40-$45 dollar range.
Cuntface McGillacuddy then asks if my prices are set in stone. I tell him it depends on the items but said if he was bringing up that stack, I'd take care of him with a tasty discount. I was thinking somewhere in the 30-40% off range depending if he took the whole stack or started plucking shit out. We do 2 big sales a year where we offer 50% off back issues, so going up to 40% on a stack of stuff that would have totaled over a grand was totally ok with me.
I didn't even get to state the numbers I was thinking because he then told me that he pays $4 bucks an issue at another shop up north. I told him I could go nowhere near that and that we were worlds apart. That he was better off getting them there.
Fuckface then insisted that my prices were outrageous and that he will just get them for $4 bucks each at the other shop. I just shook my head and said "great idea". He actually said "outrageous" twice...that's when I kindly told him that a stranger popping into a business and asking for 90%-96% off the price was outrageous.
We went back and forth for another minute with his smugness and entitlement just oozing out of his mouth and it took everything in me to not tell him to get the fuck out. This crackhead looking fuck did offer to put the books back but I just wanted him out of my store so I said that I got it and good day.
What a set of stones on this asshole. 90% plus discount expected...unreal.
---