ENG/DE
At the moment my guests and I are greeted with this sea of pink roses.
---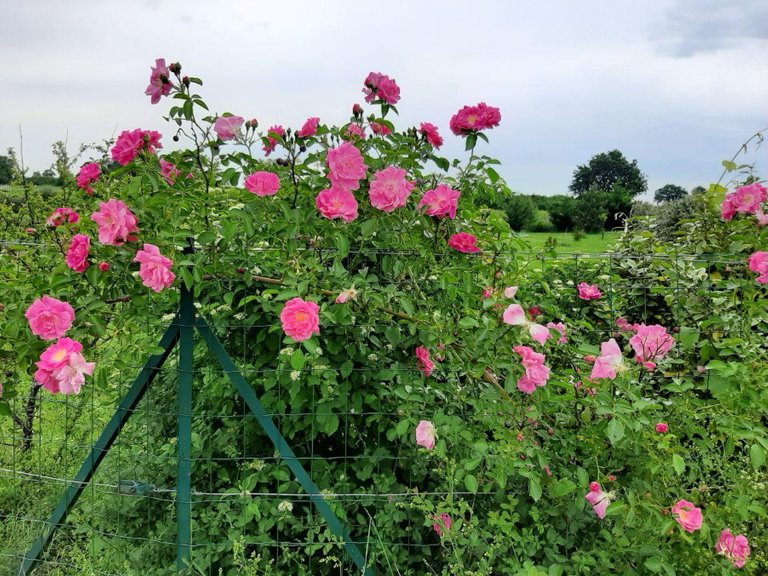 ---
I know that every colour stands for something specific, because Mother Nature, Gaia, has already thought this out.
Pink is the English word for carnation and the colour pink.
This colour is a mixture of white and red, it attracts attention and attracts attention.
The colour pink (Pink) with culturally different meanings:
in our culture pink stands for everything that is cute and sweet, so clothes for girls are classically pink, while the typical boy's colour is blue.
But this was not always the case. In earlier times, since the Renaissance, pink was considered the little red and this signal colour stood for everything masculine. So for many centuries boys wore pink clothes instead of blue nowadays.
Now the color pink (Pink) stands for everything feminine, gentle and romantic.
Pink is the symbol for love and wisdom and is therefore the main colour on many websites, brochures and advertisements that have something to do with marriage.
Current color/name Pink
We are also confronted daily with this colour or the name Pink, for example with the name of an apple variety Pink Lady, the character from the 70s Pink Panther or as a stage name for the American singer Pink.
At my garden fence the colour pink grows as a warm welcome!
your kizumo
all photos are self made or from my archive
---
---
Momentan werden meine Gäste und ich mit diesem Meer aus Pinkfarbigen Rosen begrüsst.
---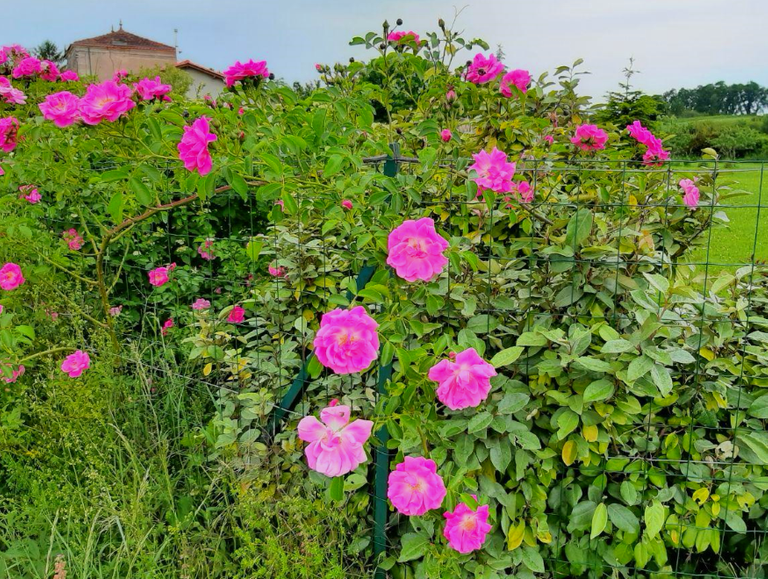 Ich weiss, dass jede Farbe für etwas bestimmtes steht, denn das hat sich Mutter Natur, Gaia, schon richtig ausgedacht.
Pink ist das englische Wort für Nelke und die Farbe Rosa.
Dieser Farbton ist die Mischung aus Weiss und Rot, sie fällt auf und zieht die Blicke auf sich.
Die Farbe Rosa (Pink) mit kulturell unterschiedlicher Bedeutung:
in unserem Kulturkreis steht Rosa für alles was niedlich und süss ist, deshalb ist Kleidung für Mädchen klassischerweise Rosa, während die typische Jungenfarbe Blau ist.
Das war aber nicht immer so. Früher, seit der Renaissance galt Rosa als das kleine Rot- und diese Signalfarbe stand für alles Männliche. Viele Jahrhunderte trugen also Jungs rosa Kleidung statt heutzutage Blau.
Jetzt steht die Farbe Rosa (Pink) für alles Weibliche, Sanfte und für Romantik.
Pink ist das Symbol für Liebe und Weisheit und ist deshalb auf vielen Webseiten, Prospekten und Annoncen die etwas mit Hochzeit zu tun haben, als Hauptfarbe.
Aktuelle Farbe/Name Pink:
Auch sonst werden wir täglich mit dieser Farbe oder dem Name Pink konfrontiert wie z. B. mit dem Name einer Apfelsorte Pink Lady, der Zeichenfilm-Figur aus den 70er Jahren Pink Panther oder als Künstlername für die US- amerikanische Sängerin Pink.
An meinem Gartenzaun wächst die Farbe Pink als "Herzlich Willkommen!"
eure kizumo
alle Fotos sind selbst gemacht oder aus meinem Archiv