Today was time to enjoy some Trung Nguyen coffee made with the phin double layer filter. Trung Nguyen is one of the most famous coffee brands from Vietnam.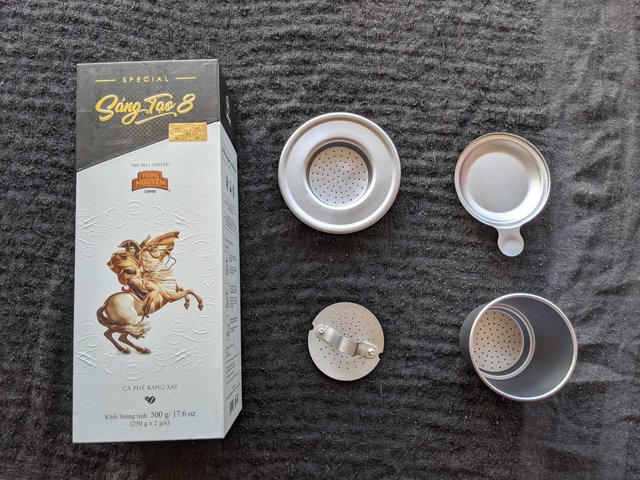 This blend is called "Creative 8". While I sometimes import Vietnamese Ca phe chon coffee for myself, this box was a gift. I was given this at a Christmas party a couple of weeks back where I played Santa for 30 or so school kids.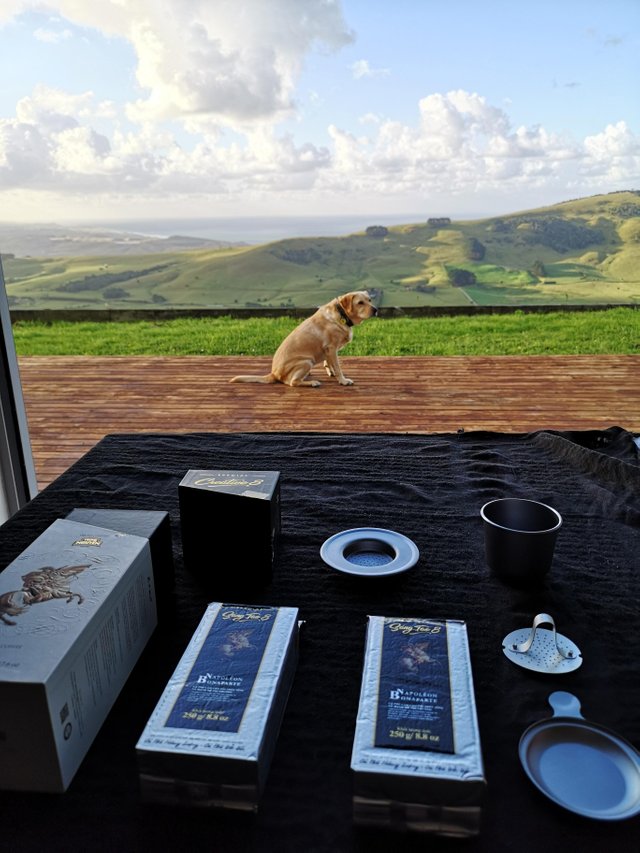 Mor-mor 沫沫 the Labrador sits out on the deck. It's much too windy out there for coffee. Inside the package are two vacuum sealed packages of filter grinds. The phin filter is less flimsy than the others I have and has a great brushed texture. I'd almost swear it was Titanium.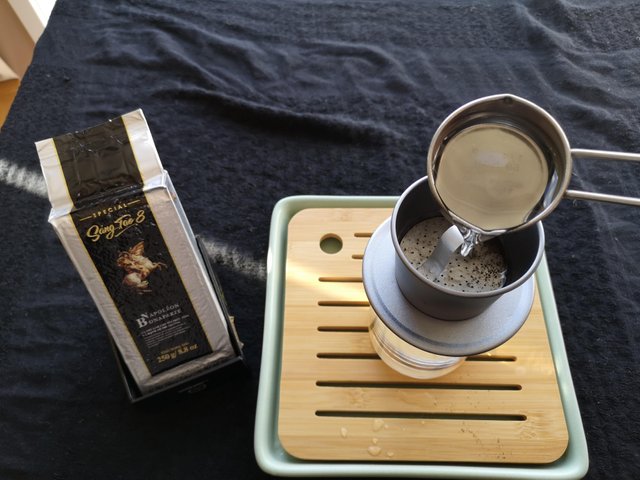 Add a spoon of sweetened condensed milk to the glass and build the filter on top. Put 20g grinds into the filter then pack it tight with the inner filter. Then, wet the grinds with about 20ml of boiling water.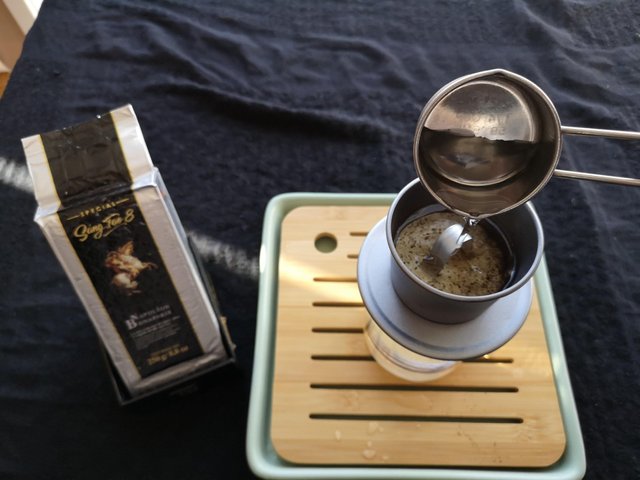 Now add 45ml of boiling water.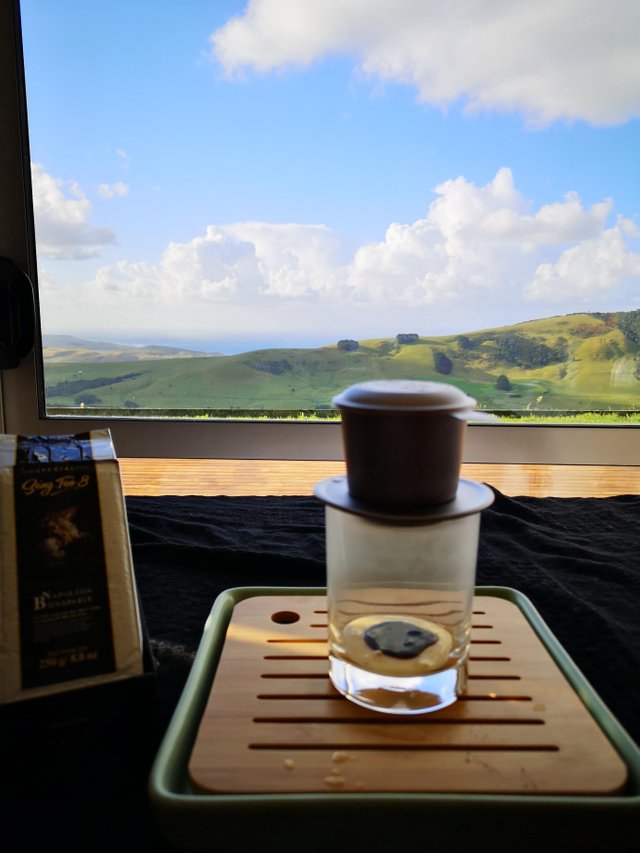 Add the cover to the filter. I like to slightly wet the lip of the filter body so a slight vacuum seal forms and slows the water through the coffee. Let the coffee drip into the condensed milk.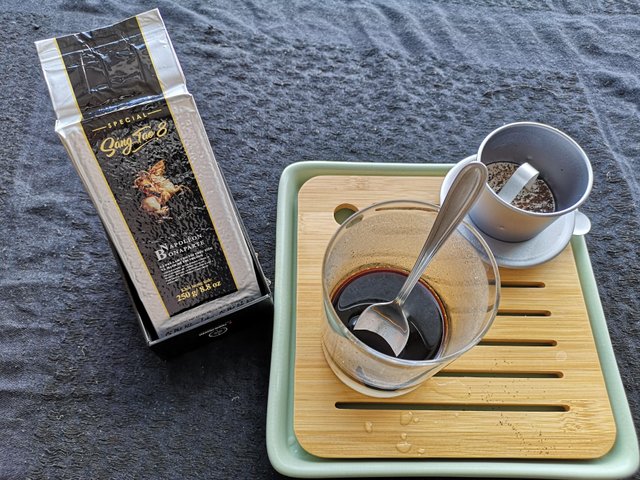 The filter lid doubles as a saucer to prevent coffee drips staining the table. Stir in the milk and it's time to drink.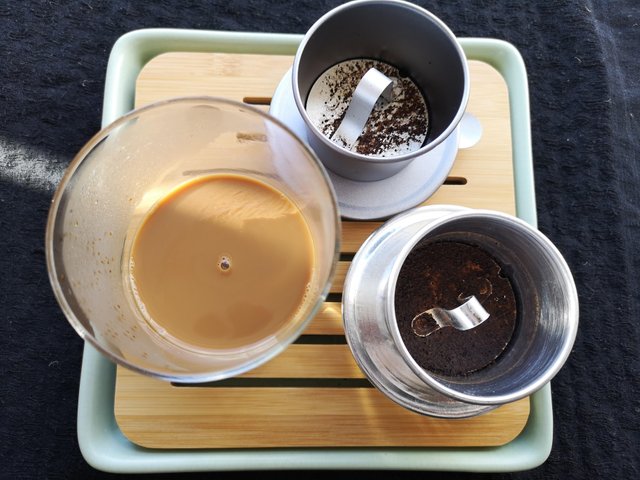 I made a mistake with the second cup. The grinds have over flown the inner filter. This is preventable by packing the grinds tighter, wetting the grinds longer and pouring the water slower. The result is a weaker with less smoothness, but more palatable to those that don't like French style coffees.
And now to round out the sensory experience with the perfect sound-track to watch the clouds roll past.
Flume - Rushing back (instrumental) video link
Delicious! Until next time.