What's up, Splinters! I hope everything is great and well.
---
BIG NEWS!!!
Guess everyone is kind of shocked this morning.
Tron is acquiring Steem Inc. and about to bond Steemit into Tron.
Steemit Inc. is a company, they have their assets to sell.
However, that doesn't really mean that STEEM is getting into Tron as STEEM itself is a blockchain, no one owns the blockchain except that person owns enough shares to do a fork.
Anyhow, this kind of big news doesn't really affect me playing Splinterlands.
I have recently purchased a few untamed packs to open.
But I am saving up until I got enough DEC to buy more legendary and gold potions.
As the community has been saying that they have a positive effect on getting good cards.
---
My main goal now has changed to accumulate DEC, and completing the daily quest is more like a side quest. My short target of DEC balance is 25K. As I intended to continuously contribute to the Guild.
---
重大新聞!!!
猜猜今天早上大家都有些震驚。
Tron將收購Steem Inc.,並將Steemit綁定到Tron。
Steemit Inc.是一家公司,他們有自己的資產要出售, 其實是天要下雨,娘要嫁人一樣,無法阻止。
但是STEEM本身就是一個區塊鏈,這並不意味著STEEM會進入Tron,沒有人擁有該區塊鏈,除了該人擁有足夠的股份來進行分叉。
無論如何,這種重大新聞並沒有真正影響我玩 splinterlands。
我最近購買了一些untamed包來打開。
但是我要存錢直到我有足夠的DEC來購買更多傳奇和黃金藥水。
正如社區一直在說的那樣,它們對獲得好卡有積極的作用。
---
我的主要目標現在已經改為累積DEC,完成每日任務更像是一個副任務。 我的DEC餘額的短期目標是25K。 因為我打算繼續為公會做出貢獻。
---
Today snapshot of DEC Balances
今天的 DEC Balances 快照
013020 - DEC Balance: 733
Wow reached the 25K target and now still growing! Keep it running!
---
As always here is my daily reward from the daily quest. Comment to this draw:
Ahhh few of craps ... At least there are some gold potions. I'll take that.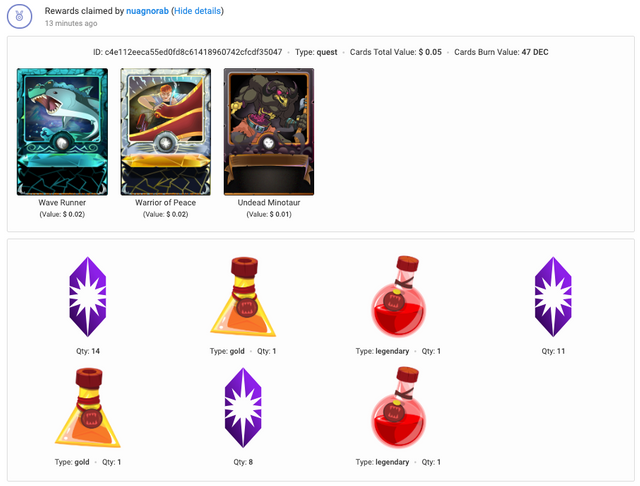 ---
Interested in one of the best Cryptos games that can earn coins while playing?
Splinterlands is fun and lets you earn crypto that can convert back to Steem, Tron and many more with the help of partner exchanges.
---
Splinterlands 很有趣,可以讓您賺取可以轉換成 Steem(STEEM) 或 Tron(TRX) 的加密貨幣 - DEC 。
對好玩而又可以賺幣的加密貨幣遊戲感興趣?
Come join us on Splinterlands! https://steemmonsters.com?ref=nuagnorab
---
Cheers