What's up, Splinters! I hope everything is great and well.
---
The corona-virus issue still remains. I wish everyone safe and healthy these days.
This is a world-wide issue now and I wish people whoever had any signs or symptoms should wear a mask and get medical attention nearby.
Anyhow, Splinterlands is always fighting for goods.
The game seems to get much more fun with a relatively high DAU compared to other Dapp games.
The change of the reward system makes it harder to get cards from the daily quest but giving potions and DEC as part of the reward.
I foresee the card value will go up in terms of DEC and the Steem value of DEC will drop as there is more supply.
---
My main goal now has changed to accumulate DEC, and completing the daily quest is more like a side quest. My short target of DEC balance is 25K. As I intended to continuously contribute to the Guild.
---
新型肺炎病毒問題仍然存在。 希望這些天大家安全健康。
現在這是一個世界性的問題,我希望任何有症狀跡象的人都應該戴口罩並在附近就醫。
無論如何,Splinterlands一直在為商品而戰。
與其他Dapp遊戲相比,因為有相對較高的DAU,多人參與令到遊戲更加有趣。
獎勵系統的變化使得從日常任務中獲取卡牌變得更加困難,現在藥水和DEC作為獎勵的一部分。
我預言,隨著供應量的增加,卡的價值將隨著DEC的增加而上升,而DEC的Steem值將下降。
---
我的主要目標現在已經改為累積DEC,完成每日任務更像是一個副任務。 我的DEC餘額的短期目標是25K。 因為我打算繼續為公會做出貢獻。
---
Today snapshot of DEC Balances
今天的 DEC Balances 快照
013020 - DEC Balance: 14,783.702
Wow reached the 25K target and now still growing! Keep it running!
---
As always here is my daily reward from the daily quest. Comment to this draw:
Wow, with the reduction of the number of cards rewarding, I still receive a legendary for the day! Hurray! Guess the potions get the job done well.
And about 700+ DEC! Nice Draw!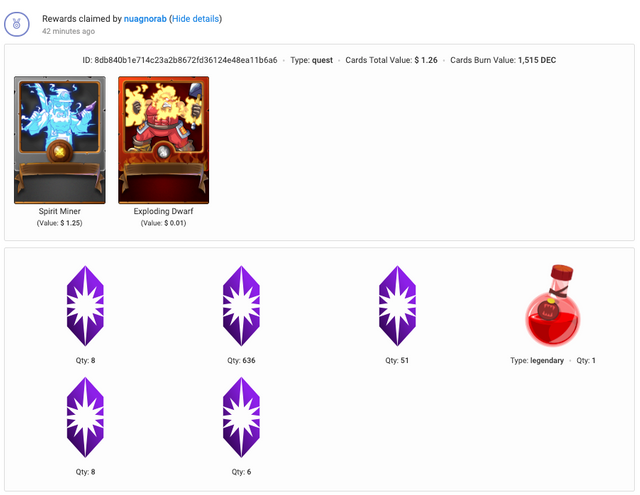 ---
Interested in one of the best Cryptos games that can earn coins while playing?
Splinterlands is fun and let you earn crypto that can convert back to Steem, Tron and many more with the help of partner exchanges.
---
Splinterlands 很有趣,可以讓您賺取可以轉換成 Steem(STEEM) 或 Tron(TRX) 的加密貨幣 - DEC 。
對好玩而又可以賺幣的加密貨幣遊戲感興趣?
Come join us on Splinterlands! https://steemmonsters.com?ref=nuagnorab
---
Cheers