What's up, Splinters! I hope everything is great and well.
---
Guess what!? I have managed to get to Diamond II this season!
What a blast! Now I am thinking on how to improve my decks in order to reach Diamond I.
Is it an easy task? I think not. But is it achievable? I think so!
Let me think of a way to improve my deck.
Anyhow, I wish everyone especially who are living inside mainland china stay healthy and safe during the outbreak of the new coronavirus.
---
My main goal now has changed to accumulate DEC, and completing the daily quest is more like a side quest. My short target of DEC balance is 25K. As I intended to continuously contribute to the Guild.
---
猜猜怎麼著!? 我已經成功在本賽季登上的Diamond II!
現在,我正在考慮如何改善我的牌組以達到鑽石I。
這很容易嗎? 我認為不是。 但這是可以實現的嗎? 我認為是!
讓我考慮一種改善我的套牌的方法。
無論如何,我希望所有人,尤其是居住在中國大陸的人們在新的冠狀病毒爆發期間保持健康和安全。
---
我的主要目標現在已經改為累積DEC,完成每日任務更像是一個副任務。 我的DEC餘額的短期目標是25K。 因為我打算繼續為公會做出貢獻。
---
Today snapshot of DEC Balances
今天的 DEC Balances 快照
013020 - DEC Balance: 17,941.666
Wow reached the 25K target and now still growing! Keep it running!
---
As always here is my daily reward from the daily quest. Comment to this draw:
What! Two gold in a row?! Although it is just a common gold. It does worth some DEC. I'll take it happily.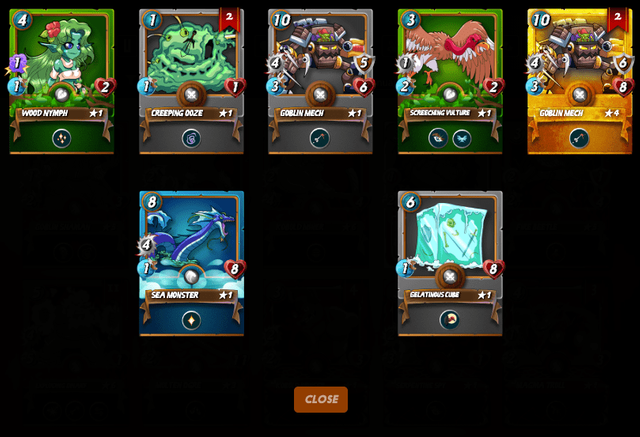 ---
Interested in one of the best Cryptos games that can earn coins while playing?
Splinterlands is fun and let you earn crypto that can convert back to Steem, Tron and many more with the help of partner exchanges.
---
Splinterlands 很有趣,可以讓您賺取可以轉換成 Steem(STEEM) 或 Tron(TRX) 的加密貨幣 - DEC 。
對好玩而又可以賺幣的加密貨幣遊戲感興趣?
Come join us on Splinterlands! https://steemmonsters.com?ref=nuagnorab
---
Cheers