I wrote a post yesterday about Christmas being cancelled due to a postal-worker strike in Finland. The lack of workers means the Christmas presents I want to send to @smallsteps cannot leave Australia via the postal service. See it here.
Anyway, I decided that cancelling Christmas due to the industrial action in Finland wasn't much of an option so I decided to investigate other options to get my gifts to the indomitable @smallsteps. [She's my niece in case you didn't know.]
I hit the DHL website and inserted the box dimensions and weight plus the to and from addresses and bibbety bobbety boo, it spat out a quote - Just like magic. You can see the image below.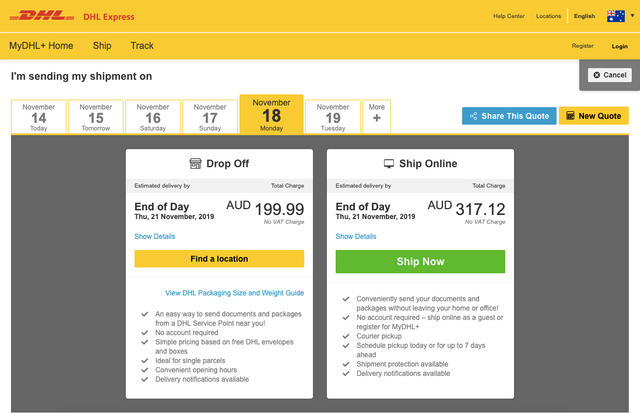 It's $199AUD if I drop the parcel to the DHL facility myself and $317 if they collect it from my address. This will get my nieces' Christmas presents to her on time to open on Christmas eve, which is when Finnish people do that sort of thing.
Aus Post will ship the package for $110 so the $199 with DHL represents an 80.90% increase in shipping costs.
If I use DHL then Christmas can proceed as normal and world-order can be restored.
Here's the thing...Yeah, there's always a thing.
The contents of the package cost Faith and I about $120. Add the $199 DHL shipping and the cost of @smallsteps gifts rises 165.83% - An acceptable increase? Hmm, not so sure.
For those of you who don't know @smallsteps, she's a little trooper. Her young life started off with some medical drama and that's revisited her a couple of times since her birth. She's a battler though, that's the Aussie in her I think, and she is as smart as hell! If her presents don't arrive for Christmas I think she'll understand and, to be honest, I fully believe she'd rather me save the shipping money so I can buy her more books, unicorns and dinosaurs. [Or fly there myself for @smallsteps hugs.]
So, I think we're going to wait out the postal strike rather than spend the additional money. It just seems wasteful to spend the extra cash and being wasteful is not something Faith and I feel comfortable with. I mean, it's not like she won't have other Christmas presents to open from my bro and @momone. We'll do a video-chat too and, quite frankly, I think @smallsteps would appreciate that more than presents anyway. She's good like that.
So, we are going to wait out the strike and hope our package makes it to Finland on time. She'll get her Christmas presents from us on time, or a little late, but I don't think it'll matter too much either way.
Christmas is back on y'all! Kind of.
---
Design and create your ideal life, don't live it by default
Discord: @galenkp#9209 🇦🇺
P.s. Thanks to @newageinv for offering me his frequent-flier-miles so I could fly myself and the presents to Finland. Much appreciated. I'll pass this time, but come July next year if the offer is still available... Lol.