EX-WITCH 3 - HOW TATTOOS RELATE TO OCCULT BLOOD RITUALS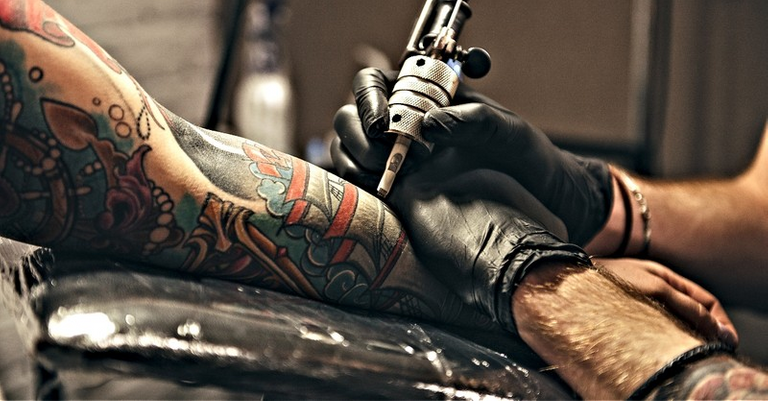 image credit
---
NOTE
THIS MESSAGE CAN BE REPRODUCED FOR EVANGELISM IN ANY FORM WITHOUT ANY ALTERATION OR AMENDMENT AND IT SHOULD BE SHARED FREE NOT FOR SALE. (IT CAN BE SEEN ON OTHER SITES)
NO TIME TO WASTE, JESUS CHRIST IS COMING
---
EX-WITCH 3
HOW TATTOOS RELATE TO OCCULT BLOOD RITUALS
---
As old-school theologians and hipster believers debate the biblical commands not to tattoo the body, a deeper truth lurks.
Ex-witch Beth, who herself has a handful of tattoos, says one cannot ignore the similarities to occult blood rituals.
"A blood ritual is a satanic ritual that is done as a covenant or pact. There are at least two people involved in this type of ritual. The person who is shedding their own blood, and the person who is invoking a demon and its power," Beth writes on her blog, The Other Side of Darkness.
"The person who is shedding their blood is the recipient in this transaction. They are giving their blood (life) in order to receive some sort of benefits, such as life, prosperity, fame, fortune or power. The cuts are now an open doorway for the entrance of evil spirits (demons) (that) you have granted permission. By agreeing to and participating in the shedding of your blood, you have (given) the devil a right to you. Often people who participate in a blood ritual also give over rights to future generations," she continues.
Beth recognizes a tattooed body is not necessarily one and the same as blood rituals. Even Christians who passionately serve Jesus have tattoos to mark their faith.
But one cannot ignore the parallels between tattoos and blood rituals.
"However, you are piercing your skin with a needle between 50 to 300 times a minute. You are also shedding your blood, and you are making a choice to pierce your skin and shed your blood," Beth writes.
"You also have to consider the person who is doing the tattoo. Where are they at religiously or spiritually? If they are another religion or hold spiritual beliefs of the New Age or occult, what does the tattoo mean to them? The one who holds the tattoo gun is the one who is shedding your blood. That is a very powerful position over you. If they are praying over you to their god or goddess, how does that affect you while you are openly submitting to them shedding your blood? Does it really matter if your tattoo is of a cross or a Bible verse in this case?"
---
---
Now that you have heard the Message, What are you going to do with it?
Ignore? Reject? Disbelieve? Accept? Or Repent?
GOD BLESS YOU AS YOU SURRENDER TO JESUS WITH ALL YOUR HEART. BE BLESSED
SALVATION MESSAGE
If you wish to escape the eternal fiery burning torment of HELL FIRE in order to make HEAVEN, you must accept Jesus Christ as your Lord and personal saviour today because tomorrow is never promised. You must restitute and confess all your sin unto God and also ensure you joined " a Bible Believing Church
for more spiritual growth" However, if you are a Christian and still indulges in various kinds of sins such as. Envy, anger, unforgiveness, lying, hatred, malice, murmuring, gossiping,
stealing, taking or giving bribe, exams malpractice, fraud, smuggling and robbery. Perhaps you into masturbation, fornication, adultery, prostitution, Lusting after MONEY and SEX, abortion, lesbianism, homosexuality, kidnapping, ritual killings and assassination; You must confess and repent today. Perhaps you into drunkenness, fighting and quarrelling, alcoholism, smokers, divorcee, polygamous marriage, occultism. Consultation of native doctors for charms making.
PRAYING in the name of MARY or any Saints or Angels, BOWING DOWN or HONORING THEM. You must renounce all these abominable and plead for God's mercy. Perhaps as a woman, you still given-in into vile affection "CHANGING THE NATURAL USE OF YOUR BODY INTO THAT WHICH IS
AGAINST NATURE" Therefore indulging yourself into worldly fashions, dressing in transparent clothes, wearing of mini and tightly skirts or WEARING OF TROUSERS. Exposing your breast, lapse to seduce men. Painting tips, fixing attachments, weave-on, jewelries and earrings, wedding rings. Making-up, putting on extra eyelashes, piercing of noses, tattoos, nails fixing and body bleaching. You must repent, dispose and burnt them off and ensure you maintain your natural beauty because the unrighteous shall not inherit the kingdom of God.
AFTER READING THIS TESTIMONY IF RIGHT NOW YOU HAVE NOT GIVEN YOUR LIFE TO JESUS CHRIST TODAY, BETTER TAKE A STEP OF FAITH AND BE ON YOUR KNEES AND SAY THIS PRAYER:
Lord Jesus, come into my heart, for I acknowledge I am a sinner, forgive me all my sins, wash me with your precious blood, cleanse me with your precious blood, I believe you died for my sins, save my soul, Lord Jesus, as from today, I make the decision to serve you with all my heart, give me the grace to stand and overcome sin, write my name in the book of life, Thank you for saving me, Thank you, Jesus, for forgiving me all my sins, In Jesus Name. AMEN
If you have confessed this prayer with faith please call this number +27814390084 for further spiritual growth in Jesus Christ.
For questions and contribution, please comment below, and your questions will be responded to, God bless you as you ask your questions, all questions are acceptable, remember it is for correction and learning......
Remember; Your soul is precious and was costly purchase by the Blood of Jesus Christ and you can't afford to lose "yours" in Hell for Billions and Trillions of years in ETERNITY for mere pleasure and fashion of this world that PASSETH-AWAY.
God bless you as you do so, please share...and save a soul today............................................
For Prayer, Salvation, Healing and Counselling Call/Whatsapp: +27814390084
PLEASE CLICK THE SHARE BUTTON TO SHARE TO SAVE AND RESCUE SOULS FROM HELL
---
---