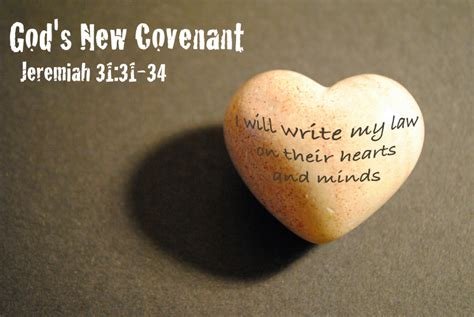 Jeremiah 31:31-34 KJV
[31] Behold, the days come, saith the Lord , that I will make a new covenant with the house of Israel, and with the house of Judah:
[32] Not according to the covenant that I made with their fathers in the day that I took them by the hand to bring them out of the land of Egypt; which my covenant they brake, although I was an husband unto them, saith the Lord :
[33] But this shall be the covenant that I will make with the house of Israel; After those days, saith the Lord , I will put my law in their inward parts, and write it in their hearts; and will be their God, and they shall be my people.
[34] And they shall teach no more every man his neighbour, and every man his brother, saying, Know the Lord : for they shall all know me, from the least of them unto the greatest of them, saith the Lord : for I will forgive their iniquity, and I will remember their sin no more.
Many believers today have been blindfolded through wrong belief system. God wanted to be in all believers and not to give us the Word through any prophets or any apostles.
The old covenant was written on wooden tablet and because of the veil, people could not detect when glory and power were fading away. Christ came to establish the new covenant that will be written on every person's heart and not the wooden tablet.
This new covenant that Christ established with His life was to help us realise that the veil can be removed and hearts of men can be fully possessed of the Lord to do His will through the help of the Holy Spirit. Christ want us to be mobile Churches everywhere we go including our offices, shops, schools, and the likes, and at the same time He want us to also be a mobile threat to the kingdom of Satan in order to depopulate it.
The good news is that if you have broken your relationship with the Lord, God who forgave the worst Israelites their sins will definitely forgive you of your sins. The veil upon your heart can be lifted when you hand over everything to God and you will obtain a total freedom from sin today. Give God your heart today so that your heart will not give you away unnoticed.
The tablet of wood is not fit to carry the power of the new covenant. Jesus Christ is calling for your heart and not just your head. Turn your heart over to Jesus Christ today.
I pray God will take away from us every resistance to carry Christ Jesus.
Thanks for Dropping By !
Best regards
fatherfaith