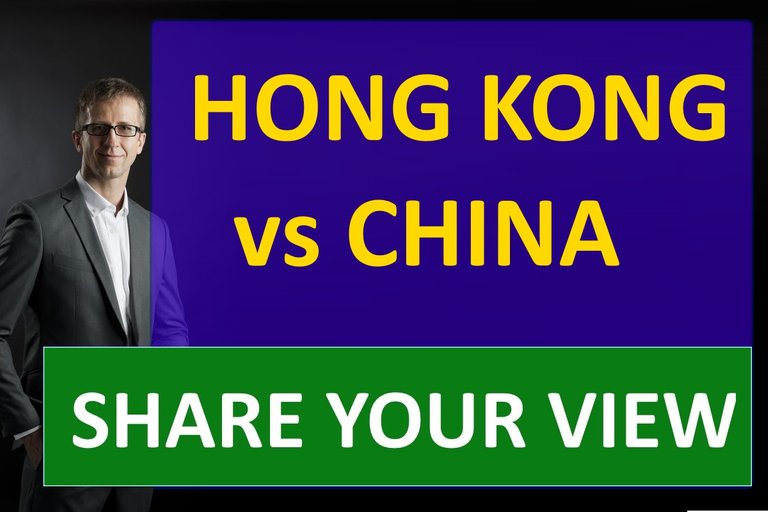 INTRODUCTION

Dear readers, this is surely one of my shortest publications lately and I won't take much of your time. I reckon even a likely majority of you might not even pay much attention to this growing conflict between those two powers and may not even have an oppinion on this particular topic.
However I'm hoping that some of you may see the bigger picture related to the current tension between Hong Kong and mainland China. I can only hope that you will share your opinion with me, as I'm trying to make sense of the events unfolding in that part of the world.
For the past few days, a large number of Hong Kong citizens were protesting against the growing Chinese influence. At some point the crowd of protestors reached almost 2mln people, which would make this "event" the biggest I've ever heard about. For that reason alone it's worth paying some minor attention.
I'm not going to go deep into reasons behind those protests and goals that some parties might want to achieve. What's obviuos is that China encountered its first real resistance and if Hong Kong will fail then the message to the world should be clear: we are unstoppable right now.
The eyes of entire world should be directed towards this conflict.
Mainland China and G20

"China will not allow G20 to discuss Hong Kong, says foreign minister ".
And that's about it. I'm not sure if China ever had that much power and influence, to be capable of impacting G20 in such a way. And that surely is a scary thing.
I usually keep my distance from politics and I wouldn't dare to discuss the policies of the US or EU openly with others. However I'm not planning to visit China anytime soon in my lifetime and luckily I still feel safe discussing those topics from a "very safe distance".
SAFETY OF THE WESTERN WORLD

The question I would like to ask today is: how long can we (western civilization) feel comfortable and safe, knowing that the political expansion of China is speeding up. We are already complaining about our current authorities and social media giants and we're pointing out growing an online censorship and control over western population ... just imagine how much worse could it be if China would "dictate standards". I found it terrifying.
I strongly believe that if Hong Kong fails and will be left alone by other countries in this struggle, then Hong Kong will be remembered as last real power that could stop or at least slow down this expansion.
SHARE YOUR VIEW

Obviously I'm fully aware that access to any "real" information is very limited and I may have misjudged the entire conflict and potential results. Perhaps some of you have your own opinion on that particular issue and would like to share it with me?
I would also like to repeat my initial question: "What if China can't be stopped?". How do you guys imagine world with their values and way of ruling being forced upon us?
I read, upvote and reply to all comments.
Yours
Piotr