While chatting at Walmart, I became aware of dire issues in Chile. Once in a while I take a break from the news, especially when I'm busy. This week, I had some time to dedicate to crypto, and thought global protests as good as any to write about.
adapted from NBC News clip
CHILE COULD BE PIVOTAL FOR GLOBAL CHANGE
With the uprising in Chile joining heated protests seen throughout the world,
#HOPE
for change is growing. How serious are global economic and civil liberty issues? We might soon find out. Consider Chile's pivotal role to the issues in the United States right now.
ABC News recently published an article entitled "Protests Force Chile to Cancel Summit Where Trump Planned to Meet China's President". On November 16 and 17, Chile was scheduled to host the Asia-Pacific Economic Cooperation (APEC) summit in Santiago. With domestic issues for Xi (Honk Kong protests and end to voting) and Trump (impeachment inquiry and growing political divides), cancelling a public gather among UN leaders will certainly adversely impact both nations in the eyes of the world.
APEC'S cancellation illustrates the instability of the world irregardless of the two most powerful national agendas.

QUICK GLOBAL PROTEST RECAP
Fair warning: I do not have the time or money to cover these protests in great length.
That said, here are a few tidbits I put together with some free moments.
NBC News Now reported on global protests. It found the following: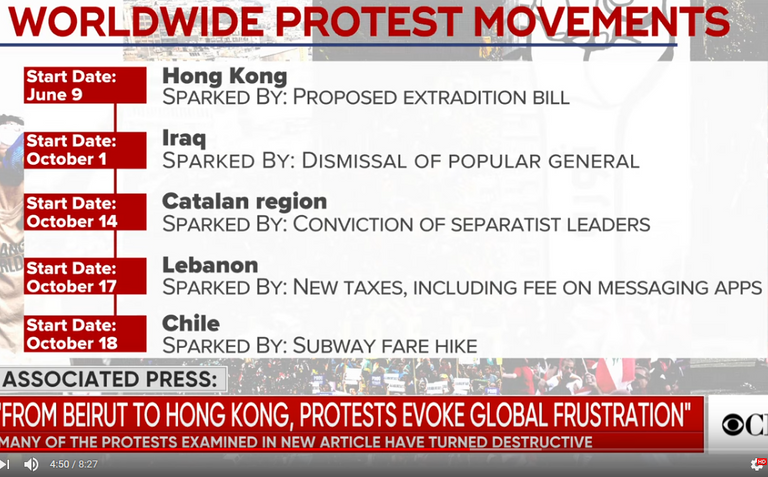 adapted from NBC News clip

THE ESTABLISHMENT OF A GLOBAL MOVEMENT
There is indeed a global movement emerging. It is one that invariably includes the United States. The
#Joker
character, as a symbol of these destitute conditions, was discussed in an article by
CNN
(below). An individual in Lebanon was captured amidst the action in a Joker (headline image) outfit by
NBC News Now
.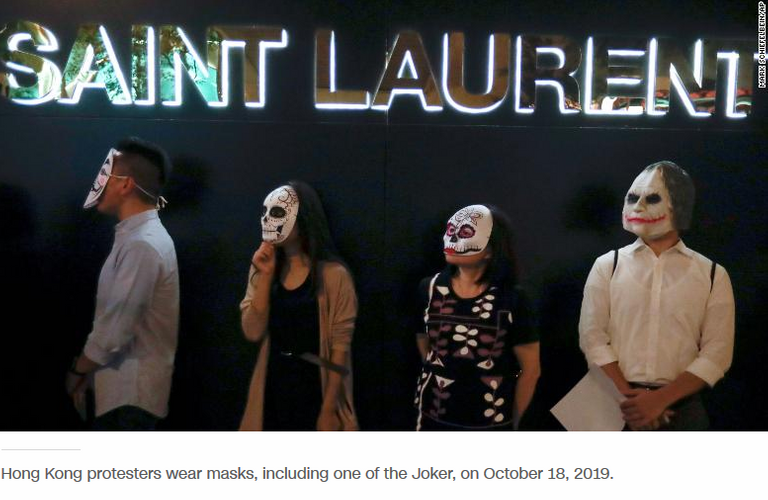 adapted from CNN
And as CNN's Jessie Yeung commented on October 29:
Halloween is just days away -- and with "Joker" smashing box-office records, it seems inevitable that throngs of film fans will dress as killer clowns for the festivities that await.

IS THERE AN END IN SIGHT?
The issues in #HongKong are ongoing following the recent retraction of an extradition bill that is said to have been the greatest igniter of the citizen movement. As expected, protests continue even with the territory's leadership in question.
Hong Kong authorities on Tuesday barred high-profile pro-democracy activist Joshua Wong ... 23, said he was the only person among a pool of 1,100 candidates prevented from participating in the upcoming district council elections on Nov. 24...

#HOPE: WE ALREADY SEE CHANGE!
The International Business Times reported that eight members of Chile's Cabinet were replaced. This amounts to a third of new decision makers. One must wonder if the nations President seeks to maintain control through an exoneration of the other two-thirds.
More drastic change occurred in Lebanon:
Lebanon's Saad Hariri Has Resigned. But Protesters Still Aren't Content -
Hand Holding chain in Lebanon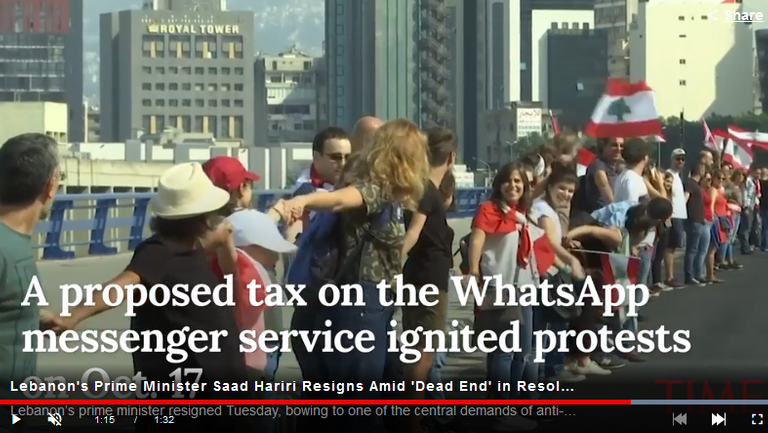 adapted from Time Magazine
Remember Hands Across America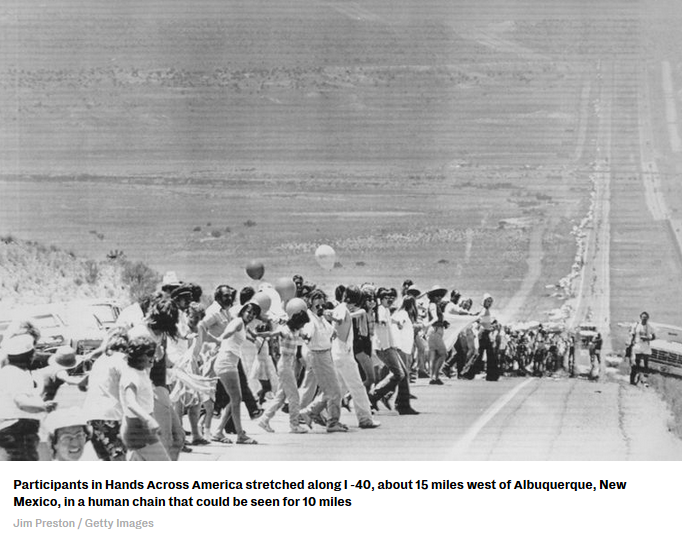 adapted from Esquire

FINAL THOUGHTS
Remember, this is just a list of notable protests. Other happenings like #Egypt's crackdown on journalists, ongoing issues in #Ukraine, the #MiddleEast, and talks of impeachment are just as ignitable.
Did I mention #Venezuela in all this. No? Well, you can find out a lot more through #HOPE. Here are a few recent links and names involved in the movement to minimize the unnecessary downward spiral of death due to economic futility.
@achim03, @alokkumar121, @crypto.piotr, @cyberspacegod, @djennyfloro, @edgarare1, @flash07, @fucho80, @gandhibaba, @guruvaj, @honarparvar, @jadams2k18, @juanmolina, @lanzjoseg, @mariusfebruary, @neavvy, @reverseacid, @yonnathang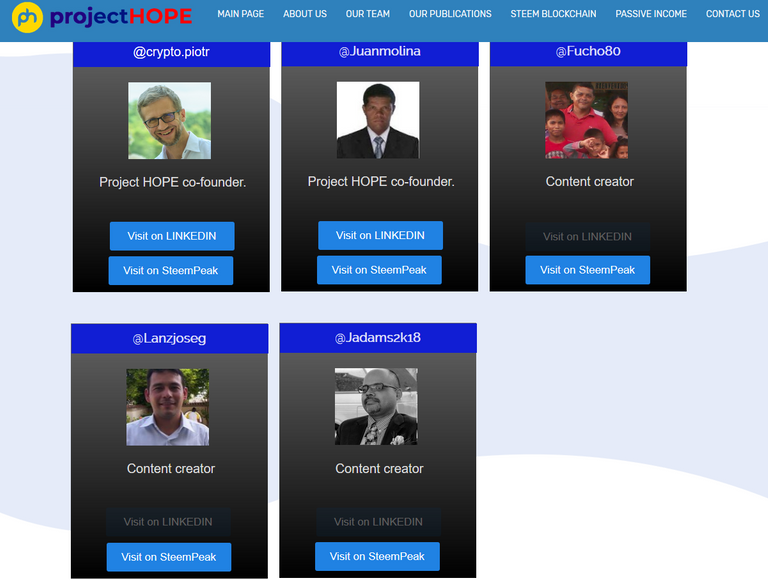 adapted from ProjectHOPE