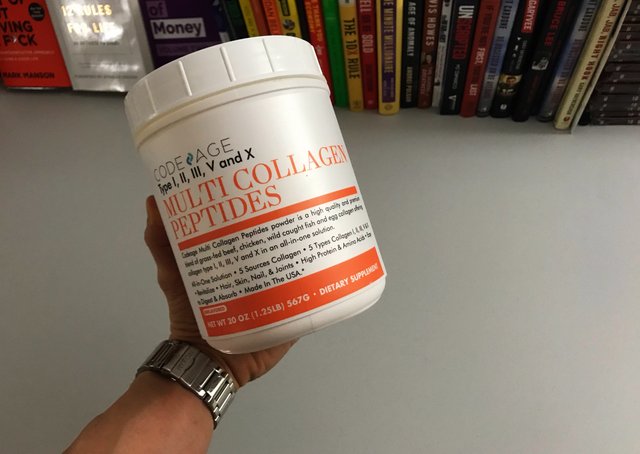 As many of you may already know, getting older (over 40+) kinda sucks. Our bodies tend to produce "less of everything" to repair or heal itself. 👴 👵
That's why I'm so heavy into supplementation...
Is it necessary for everyone? Probably not for the "average joe" but if one wants to feel and look better, its a must in my opinion. 💁‍♂️
As a guy who works out (somewhat lol), I tend to have joint issues from time to time. Yeah, I blame those damn stupid heavy weights I lift around. 😅
As we get older, our body produces less collagen of its own so supplementation is important.
I've been testing out a new Mutli Collagen Peptides supplement from Code Age. It states that Collagen can help you have better/healthier hair, nails, skin, joints, and bones.
Oh shit... who doesn't want that? I sure do! Half to a full scoop of this badboy should do the trick! 😅
If you're interested in taking a Collagen Supplement and want to feel and look better, I would go with the Code Age Brand! I've done my research and this is the best one yet on the market.
You can find it on Amazon if you want to try it out.
So yeah, aging can suck but if you do it the right way by taking care of yourself.... you can feel and look like you're in your 20's again (Maybe LOL) ...
Keep on STACKIN! 😎
~ Charles Fuchs
For those who's interested in following my "Content" and "Daily" Posts... you can just follow me @stackin to get my updates.
You Can Follow Me Here:
➡️ UpTrennd: https://uptrennd.stackin.co
➡️ Facebook: https://facebook.stackin.co
➡️ Twitter: https://twitter.stackin.co
➡️ Instagram: https://instagram.stackin.co
➡️ Steem: https://steem.stackin.co

PI NETWORK: Pi is a new digital currency you can mine on your mobile phone for free without draining the battery or using data. Use The Referral Code: ( stackin ) to be on my personal team.

Crypto.com: Get The World's First ELITE Cryptocurrency MCO Debit Card and we both get $50! NOTE: You must stake 50 MCO to get the $50 + 2% cashback on all purchases. Must use Ref code: ( mqanqykcym )
---