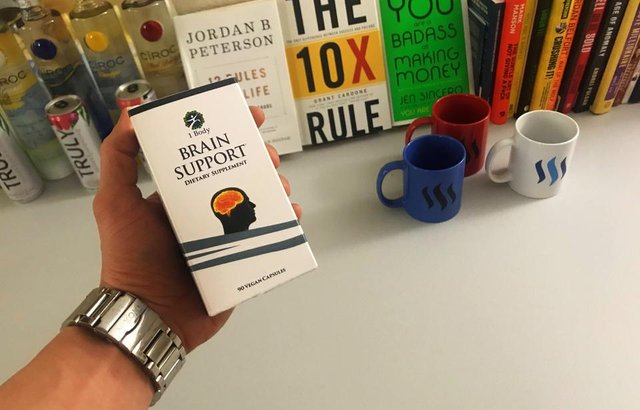 For many years, I've been a huge advocate for improved brain health. I'm always on the new lookout for things that can give me that advantage. 🧘‍♂️
One things comes to mind are called Nootropics. 💁‍♂️
What are Nootropics?
*Nootropics (/noʊ.əˈtrɒpɪks/ noh-ə-TROP-iks) (colloquial: smart drugs and cognitive enhancers) are drugs, supplements, and other substances that may improve cognitive function, particularly executive functions, memory, creativity, or motivation, in healthy individuals.
There are so many "Nootropic" products out in the market right now and it's pretty had for average people to know which ones are good.
Well thats why I'm here for lol... I recently found this product called Brain Support by 1 Body.
In my opinion, this one has all the best ingredients without any bullshit wasted toxic fillers in them.
When it comes to nootropics... my man focus is that the product must have these important ingredients:
---
Alpha GPC
Ginkgo Biloba
Lions Mane
Phosphatidylserine
Bacopa Monnieri
L-Tyrosine
L-Theanine
---
Confused what these items are and what they do?
Pretty simple, you can "Google" them. Many studies have shown that these nootropics work in blind studies.
Who doesn't want improved memory, focus, clarity, energy, and self-awareness? I sure do! I want every advantage that I can get these days. 😬
If you are interested in buying "Brain Support" from 1 Body you can easily purchase them directly from their website but it's far much easier to get them at amazon with free shipping.
If anyone has better "nootropics" that they take or recommend, list them below.... I'm always looking for new things!
Keep On STACKIN! 😎
~ Charles Fuchs
For those who's interested in following my "Content" and "Daily" Posts... you can just follow me @stackin to get my updates.
You Can Follow Me Here:
➡️ UpTrennd: https://uptrennd.stackin.co
➡️ Facebook: https://facebook.stackin.co
➡️ Twitter: https://twitter.stackin.co
➡️ Instagram: https://instagram.stackin.co
➡️ Steem: https://steem.stackin.co
Crypto.com: Get The World's First ELITE Cryptocurrency MCO Debit Card and we both get $50! Also earn up to 18% on all your crypto with the MCO Earn program! Must use Ref code is: ( mqanqykcym )
PI NETWORK: Pi is a new digital currency you can mine on your mobile phone for free without draining the battery or using data.
BYBIT: Want To Trade Bitcoin with 100X Leverage? Create Your Free Bybit Account 30 seconds and claim your $60 Welcome Bonus!