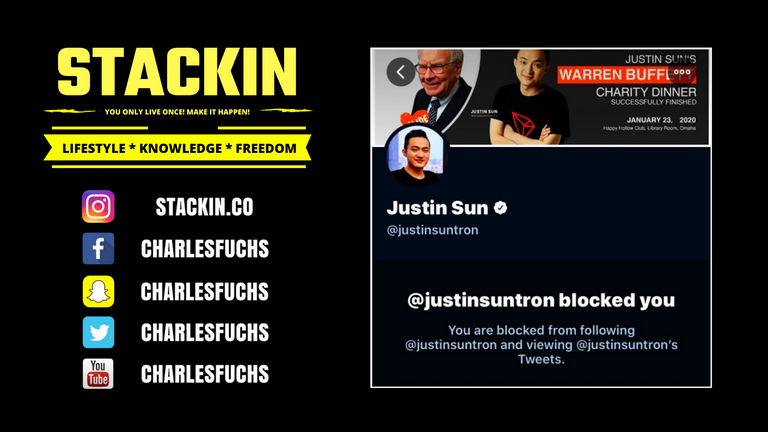 Well, it finally happened. Justin Sun and the Tron Organization are now "blocking" our voices on Twitter to save face.
With his constant lies and deceit throughout the years, it seems that Justin and his team is taking massive to silence the Steeem Community. 🤦
People should realize Justin really isn't a good marketer at all. 99% of this Twitter followers are "fake" as fuck and they can be bought for a few hundred bucks.
Marketing Genus my ass... more like a scammer to me.
Why did Justin Block me? Who knows, maybe it's this picture I posted on his twitter account and told him to stop lying. 😅

It's kinda funny that he wants to be involved with Steem as our platform is all about decentralization and non censorship content.
What a dumb fucking moron! 😅
Did Justin "block" you on Twitter Yet? If not, it looks as if he will start blocking us all in the next few days to keep us quit.
With his current voting (using steemit pre-mine stake) to vote in his scammy sock puppets witnesses... it seems he will not ever stop or compromise.
Where does Steem go from here? No one knows for sure but this battle may continue for a very long time.
Keep on STACKIN! 😎
~ Charles Fuchs
For those who's interested in following my "Content" and "Daily" Posts... you can just follow me @stackin to get my updates.
You Can Follow Me Here:
➡️ UpTrennd: https://uptrennd.stackin.co
➡️ Facebook: https://facebook.stackin.co
➡️ Twitter: https://twitter.stackin.co
➡️ Instagram: https://instagram.stackin.co
➡️ Steem: https://steem.stackin.co
---
PI NETWORK: Pi is a new digital currency you can mine on your mobile phone for free without draining the battery or using data. Use The Referral Code: ( stackin ) to be on my personal team.
---
Crypto.com: Get The World's First ELITE Cryptocurrency MCO Debit Card and we both get $50! NOTE: You must stake 50 MCO to get the $50 + 2% cashback on all purchases. Must use Ref code: ( mqanqykcym )
---