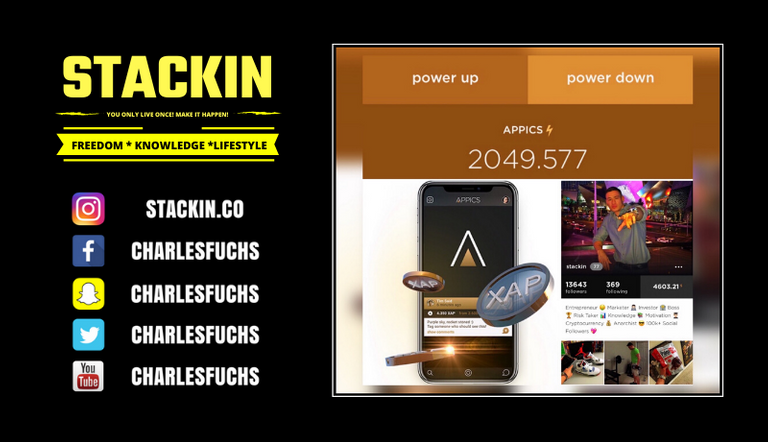 In the past few weeks, I've been slowly posting stuff on the Appics App and the longer I'm on it... the more I'm liking it! 💁‍♂️
APPICS has actually become my #1 APP! 📲
I'm planning on using it a lot more oof it in 2020 while slowly building up my APX Tokens... Gotta get that influence factor up! 😂
So far I was able to accumulate over 2049+ APX Tokens from just posting my "lifestyle" pics on there... not to shabby in my book!
Some of you may already know this... The cool thing about APPICS is that its also built on the Steem Blockchain.
What that means... if you post on APPICS, it will also appear on Steemit! Earning APX and Steem Tokens at the same time with just one post is always awesome to me.
I recommend that everyone give APPICS a try. You can download the free app on their website right here.
But let me warn you, if you love Instagram and you're good at lifestyle pictures... you are going to do very well there! 🙋‍♂️
I have to admit, my posting game on there isn't as good... it's too hard to compete with all the "Hot Chicks" there. JK 😂 😅
Keep On STACKIN! 😎
~ Charles Fuchs
For those who's interested in following my "Content" and "Daily" Posts... you can just follow me @stackin to get my updates.
You Can Follow Me Here:
➡️ UpTrennd: https://uptrennd.stackin.co
➡️ Facebook: https://facebook.stackin.co
➡️ Twitter: https://twitter.stackin.co
➡️ Instagram: https://instagram.stackin.co
➡️ Steem: https://steem.stackin.co