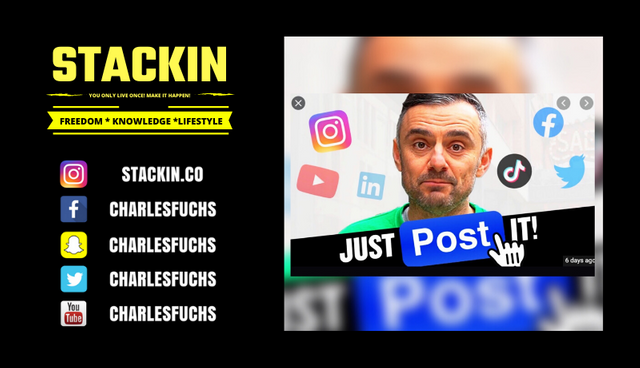 I've been following Gary Vaynerchuk for about a decade. Why? Very Simple, I wanted to become "Good" on social media. 💁‍♂️
I'm not saying that I'm the "greatest" social media person but over the years, I've easily accumulated more than 100k+ followers on my social media platforms combined.
Many will think that is awesome but it was easily done by promoting my content on every single platform known to man. 😅
However, in the last few years... I've decided to somewhat leave facebook, instagram, twitter, linkedin, youtube, snapchat etc... etc... and decided to focus on crypto and blockchain activities.
With 2020 already here, I can see crypto based decentralized social media to rule this decade. Who will it be? No one knows for sure.
With platforms like Steemit, UpTrennd, LBRY, Publish0x, Appics, and Voice just to name a few leading the way...
I believe in the next few years, these types of platforms will dominate over centralized ones.
So what does this have to do with Gary Vaynerchuk?
Well guys, you know that crypto-based websites like steemit, publish0X, Appics, and Voice.... you get paid in crypto by the content you post and yes, it will also be a popularity contest also but you need to get GOOD, I MEAN GREAT at it... if you want to start earning tons of crypto on social media websites in the future.
Yes, The Hot Chicks Will Have A Huge Advantage over all of us... its just the way it is. 😂
The main reason people are not posting or doing content is based on their insecurities. Most are worried what people will say. 🙇
You know what? Who gives a shit... all you have to do to be great on social media is build a brand, be consistent, have tons of good shit to say, post frequently everywhere.
I'm the worse fuckin' writer known to man but still out perform 99% people out there on Social Media. Why, because I'm just consistent and don't post shitty content. It's that simple.
Check out this Gary Vaynerhuck video below, it will open your eyes.
The future is social media and if you suck at it... your social connection, business, friends, lively hood, income, dating, and all that will also be affected.
Hate it or love its the direction society is heading.... thats just plain reality. Yes, we do live in the matrix... be part of it or just get left out.
Keep on STACKIN! 😎
~ Charles Fuchs
For those who's interested in following my "Content" and "Daily" Posts... you can just follow me @stackin to get my updates.
You Can Follow Me Here:
➡️ UpTrennd: https://uptrennd.stackin.co
➡️ Facebook: https://facebook.stackin.co
➡️ Twitter: https://twitter.stackin.co
➡️ Instagram: https://instagram.stackin.co
➡️ Steem: https://steem.stackin.co

PI NETWORK: Pi is a new digital currency you can mine on your mobile phone for free without draining the battery or using data. Use The Referral Code: ( stackin ) to be on my personal team.

Crypto.com: Get The World's First ELITE Cryptocurrency MCO Debit Card and we both get $50! NOTE: You must stake 50 MCO to get the $50 + 2% cashback on all purchases. Must use Ref code: ( mqanqykcym )
---