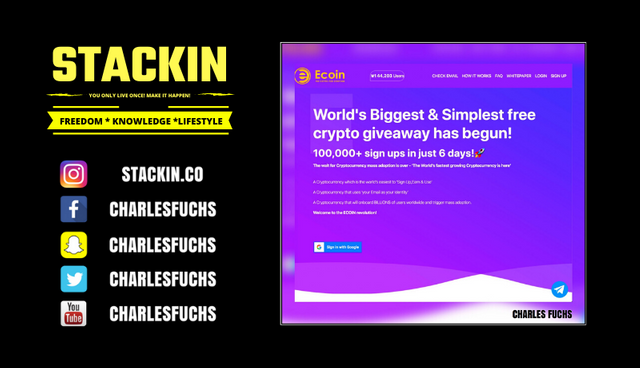 What's up STACKERS!
I'm always on the lookout for new and interesting things in the crypto space... and recently one of my social media cryptocurrency buddies sent me a new project called Ecoin.
What is this so called "Ecoin" all about?
Ecoin is the world's fastest growing Cryptocurrency powered by world's first 'AI driven email based proxy identity engine' which aims to do launch world's biggest airdrop. [ Get 1000 Free Coins Here ]
Ecoin's main focus is create the "Biggest Mass Adopted Crypto" in the world by creating the biggest network they can.
How will they achieve this? Easy, with their lucrative and insane Ecoin Ambassador Program! 👑
Everyone who signs up for a "Free Account Will Receive 1000 Ecoins" and instantly and the other cool thing is that for every friend you tell, you will also get 1000 Free Coins. 🙋‍♂️
Yes, It's that easy... There will be No ICO, No KYC, No "Crazy" Verifications, and No "Useless" Tasks... All you need is an email address to get started and automatically get your coins.
Ecoin's cutting edge AI-driven email based identity engine (which ensures one person can only use one email) to claim the airdrop and stop fraudsters who create multiple emails to claim this airdrop.
Sounds too good to be true? Maybe.... Check out the video here:
I remember many years ago... people were airdropping cryptocurrencies to everyone and many thought they were just worthless shitcoin. 🤷‍♂️
Want to know something crazy?
I blew many of them off and didn't participate... As of today, I totally regret it as those coins are now worth tens of thousands of dollars which only only took a few minutes to get. 🤦
So til' this day, I will never ever pass up on new projects or opportunities... because you just will never know which projects will become successful.
Can Ecoin become the next successful cryptocurrency project?
Who knows, only time will tell but in the meantime... get signed up today by following the simple steps below:
1.) Sign up for your Ecoin Account here and get 1000 Ecoin Tokens.
2.) Tell your friends about Ecoin and get 1000 additional Tokens.
3.) Stake your tokens and earn up to 15% APR.
There you have it.... another interesting cryptocurrency project! Only time will tell if this will become the next big cryptocurrency of the future.
Keep on STACKIN! 😎
~ Charles Fuchs
For those who's interested in following my "Content" and "Daily" Posts... you can just follow me @stackin to get my updates.
You Can Follow Me Here:
➡️ UpTrennd: https://uptrennd.stackin.co
➡️ Facebook: https://facebook.stackin.co
➡️ Twitter: https://twitter.stackin.co
➡️ Instagram: https://instagram.stackin.co
➡️ Steem: https://steem.stackin.co
---
PI NETWORK: Pi is a new digital currency you can mine on your mobile phone for free without draining the battery or using data. Use The Referral Code: ( stackin ) to be on my personal team.
---
Crypto.com: Get The World's First ELITE Cryptocurrency MCO Debit Card and we both get $50! NOTE: You must stake 50 MCO to get the $50 + 2% cashback on all purchases. Must use Ref code: ( mqanqykcym )
---