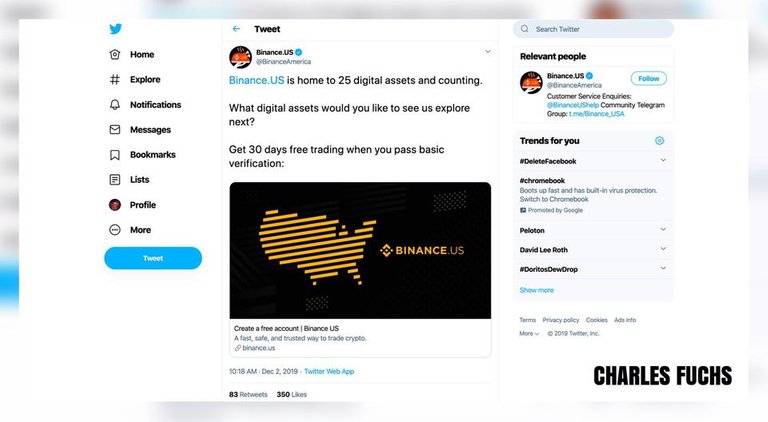 I just seen a post from @theycallmedan and I wanted to "spread the message" to all my followers.
Binance US did a twitter post a few hours ago asking a simple question, "What digital asset would you like to see us explore next?" 🤷‍♂️
You already know what the answer is.... STEEM of course! 🙋‍♂️
People who live in the United States are currently having a tuff time purchasing Steem as Binance restricted us from using the original Binance exchange.
If you want more people from the west to start investing in the Steem using Binance, this must be done ASAP!
So this is a simple "Call To ACTION" post and we would like to see your support on this.
Go to Binance US on Twitter and comment #STEEM!
Here is the twitter post:

With our huge active community, this should be a no brainer and help entice Binance US to list Steem in 2020! Lets Go! 🦸‍♂️️ 🦸‍♀️️
Keep On STACKIN! 😎
~ Charles Fuchs
For those who's interested in following my "Content" and "Daily" Posts... you can just follow me @stackin to get my updates.
You Can Follow Me Here:
➡️ UpTrennd: https://uptrennd.stackin.co
➡️ Facebook: https://facebook.stackin.co
➡️ Twitter: https://twitter.stackin.co
➡️ Instagram: https://instagram.stackin.co
➡️ Steem: https://steem.stackin.co
FREE HEX TOKEN - The first high interest blockchain Certificate of Deposit (time deposit) designed to go higher, faster and retain its value. Get rich this bull market! Programmed to pump. Stake it till you make it!
Crypto.com: Get The World's First ELITE Cryptocurrency MCO Debit Card and we both get $50! NOTE: You must stake 50 MCO to get the $50 + 2% cashback on all purchases. Must use Ref code: ( mqanqykcym )
PI NETWORK: Pi is a new digital currency you can mine on your mobile phone for free without draining the battery or using data. Use The Referral Code: ( stackin ) to be on my personal team.
BYBIT: Want To Trade Bitcoin with 100X Leverage? Create Your Free Bybit Account 30 seconds and claim your $60 Welcome Bonus!