Přemítal jsme si to v hlavě, ale nejsem přehnaně paranoidní ze strachu. Myslím že by se to prostě na lehkou váhu brát nemělo a lidé co to dělají jen zhoršují situaci. myslím že @krakonos/ův scénář se mi zdá celkem pravděpodobný. Nákaze se nebude dát moc zabránit už jen protože je prostě opatření jsou navržena tak aby zmírnila nástup epidemie a ne ji zamezila.
To by jsme se museli všichni začít chovat jinak.
Ten postoj myslím celkem shrnuje tenhle obrázek: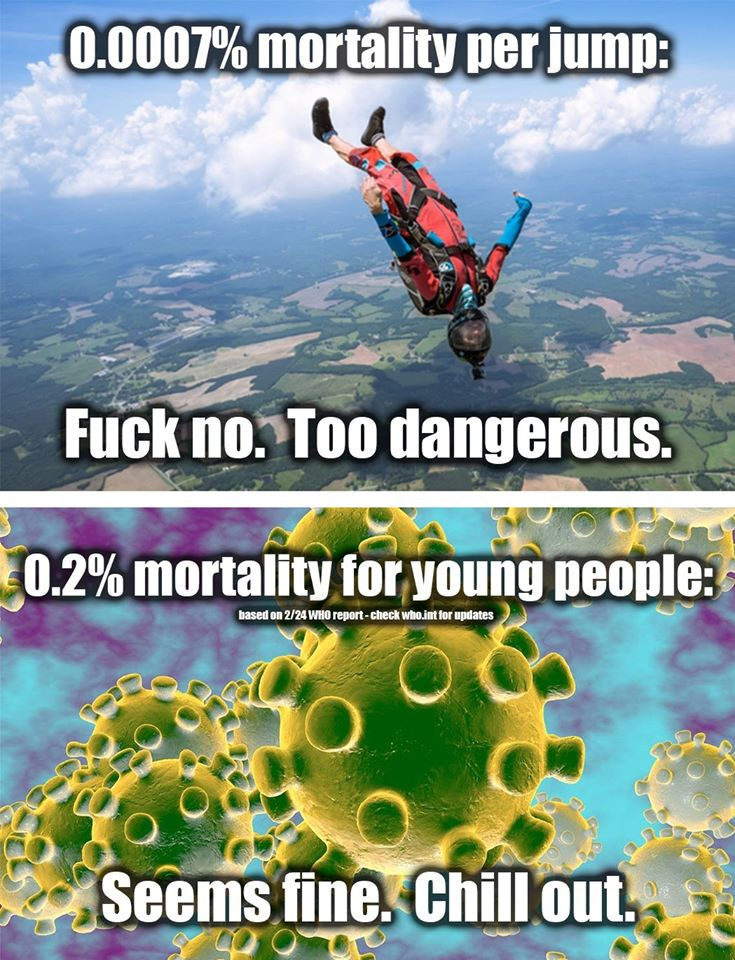 Protože tahle nízká úmrtnost není ten největší problém, problém je jak rychle se nakazí populace. A když už jsme u těch čísel tak můj velice lajcky udělaný výpočet (když tak mě opravte) říká že lidé ve špatné stavu (starší, nemocní) mají úmrtnost navirus kolem 6%. A odhaduju tak zhruba že třeba v čr může být 1 milión lidí ve špatné kondici. Takže to je 60 000 mrtvých jen z téhle skupiny. takž to klidně nakonec může být 100 000 mrtvých ve velice krátké době. Další problém je se zdravotnictvím, které by pak nezvládlo nápor nemocných a selhalo by i v péči o jinak nemocné.
Panika jistě není namístě a asi není potřeba mít doma velké zásoby jídla, ale tak na 3 týdny jo kdyby člověk skončil v karanténě tak ať má co jíst. A je v pohodě a věnuje se uzdravení. Což ostatně asi u mnoho lidí nebude vypadat hůře jak obyč nachlazení...
Ale jak říkám. Přijde mi to dost mimo když lidé z "konspirativní sféry" říkají že strach je blbost a je to proto aby se zavedla světovláda atd... myslím že jsem protřelý dlouholetý konspirátor, ale konspirace kolem viru by měli vést spíše k jeho původu a ne k průběhu pandemie. Na té moc nic konspirativního není. Je spíše totálně nevypočitatelná.
Ale ještě jedna úvaha mě tak trochu děsí. v západním světě jsme celkem v pohodě, máme zdravotnictví na dobré úrovni celkem promakané systémy a hlavně populace celkem dost dodržuje hygienu. Ale co takové rozvojové oblasti. Nebo představa že jsme v Mexico City. Tam to bude docela mazec, nebo Indie, Venezuela nebo Afrika. No nic.
Tak se nebojte. Ničemu to nepomůže, ale chovejte se více opatrně než vám přijde vhodné, pomůžete tak mírnějšímu průběhu pandemie a vůbec...