Jak říká @krakonos vykradl jsem Márqueze. Snad to není přestupek proti artourskému právu.
No začnu tím že mě Google nemá rád. Jak už jsem psal Google ml problém s mojí reklamou na steem. No trvalo to dva měsíce. @steempeak odstranil ninja skrip a po další komunikaci s podporou Google Ads jsem měl zase kampaně zase puštěné. Neuplynuly ani 4 týdny a tentokrát mi projistotu pozastavil celý Google Ads účet, bez liššího vysvětlení. A podle toho že zase aktivně začal banovat krypto youtubery tak tuším e za tím zase budou ony reklamy na můj steem blog. Grrrrrrrrrr jo přesně grrrrrr.
No pokud nejste nad věcí a pro jistotu si neříkáte že dostat coroňáka je méně pravděpodobné než srážka s autem tak určitě máte zvláštní pocit. Takový jako byl za časů cholery. Přemýšlím že virus rozhodně není rasista napadá každého bez rozdílu pleti. A tak jdete po ulici a už nedáte pusu kamarádce na tvář kterou potkáte. A ani si nepotřesete s kámošem rukou.
Lidé jsou pro mě strašidelně nezodpovědní, jako příklad uvedu dnešní fotku jedné takové nálevny na Palmovce.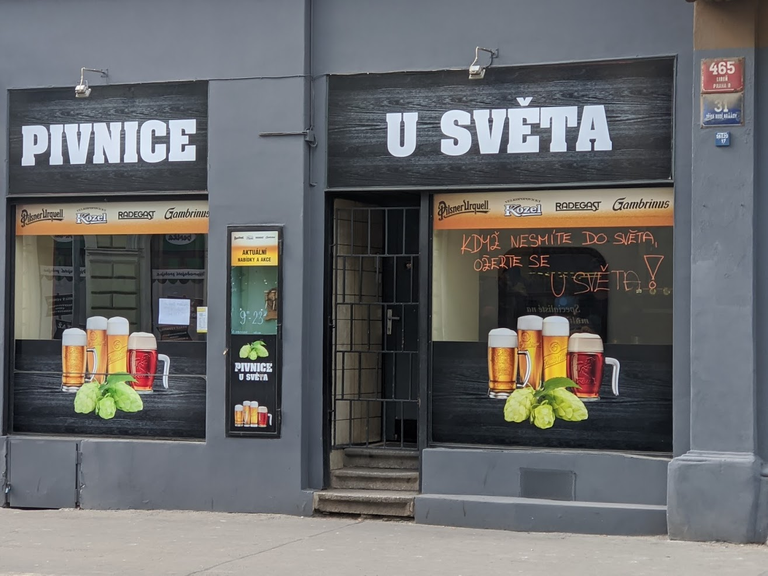 Je to takový ten druh podniku kam chodí na pivo lidé už od rána. No a dnes by měli mít správně zavřeno. No oni mají, mají zavřenou mříž. Ale uvnitř hafec štamgastů holdujících pivu.
Osobně se kloním k tomu že lidé to stále berou na lehkou váhu a ani ten strach je nepřinutí přemýšlet opatrně. Takže to dopadne jak to dopadne. Bude zakázáno vycházet. Itálie a Španělsko s tím už začali. Kdo asi bude další? A tahle to diletantství mě zkrátka přijde zbytečné. Kdyby jsme se všichni chovali od začátku ukázněně tak by se to možná přehnalo velice rychle a pak se to pomalu s nějakými přesnějšími pravidly začalo vracet do normálu. Ale ono to tak asi nebude, právě pro to jak jsou lidé laxní a neopatrní. Jasně neumírají nám tu denně dvě stovky lidí takže je to pohoda. A ona nemusí. To se uvidí za 14 dní.
A láska za časů covidu bude tou která bude zkoušena nejvíce. Ono i to lidství bude vystaveno pěkné zkoušce. Ale snad tím projdeme s nejméně šrámy. Už teď je jasné že to bude ekonomický průšvih. Který jak se zdá centrální banky odsunou zase dopředu na další generace. Aby ekonomika nezkolabovala totálně tak se jen vytvoří další obrovské dluhy, které se budou muset v budoucnu splácet. A je celkem jedno jestli to budou půjčky bezúročné nebo ne. Zaplatit to budete muset.
Co mě více děsí je to že je dost znatelně vidět jak skoro nikdo v době blahobytu nemyslí na budoucnost a budoucí krizi. Většina lidí a firem na vrcholu výkonné ekonomiky nemá na to aby přežila bez přijmu více jak 3 měsíce. Velice smutné. Ukazuje je to jen na to že tenhle systém inflační spotřební ekonomiky je dost nelidský. A tak možná to lidství se bude znovu muset probít na povrch v úplně nové podobě.
Takže láska přátelé. To bude oříšek ne pro ty co už jí mají, ale pro ty co jí teprve hledají. Mají to totiž ukrutně stížené. Ale snad ten internet pomůže nejen jim.