Počítačové hry už mě moc nebaví protože dneska jsou vlastně hodně jednoduchý protože lidi u nich nevydrží moc dlouho se soustředit a přemýšlet. A tak když srovnáte starou Civilizaci nebo Heroes nebo jiný strategický hry s těma dneska tak zjistíte že jsou hodně barevný a grafický a hogo fogo ale že jednotlivý mise jsou vlastně jednoduchý a nezaberou tolik času. Lidi se prostě chtějí víc bavit asi. A platí právě za ty hogo fogo grafické vychytávky protože inteligence počítačem ovládaných hráčů se moc nezlepšuje. Spíš naopak. Super výjimka z tohohle je Battle of Weshoth.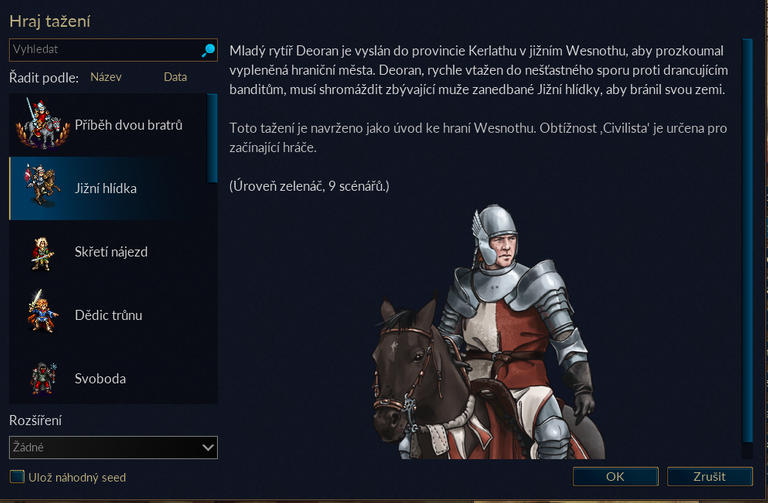 Hra je opensource a tak je naprosto legálně a zdarma. I když samozřejmě je fajn přispět na její tvůrce když vás třeba chytne. Taky je celá přeložená do češtiny a navíc hezky pokud máte rádi RPG a hry na hrdiny třeba Dračí doupě a čtete třeba fantasy bude vás bavit i překlad.
Ale nejdůležitější je že mám co hrát minimálně do vánoc , hra je totiž strašně komplexní a nabízí spoustu strategií. Je to válečná hra , máte hrdinu a ten sestaví vojsko se kterým plníte nějaký úkol. Ve hře je 6 frakcí a každá má několik desítek svých jednotek které mají několik typů útoků a zvláštních dovedností a dalších charakteristik. Takže je třeba přemýšlet jakým způsobem vůbec chcete hrát a co má za výhody a nevýhody protivník a až potom stavět armádu.
Naštěstí je hra tahová a tak nezáleží na tom jak rychle umíte klikat myší jako u spousty nových strategií ale opravdu na tom jak umíte taktizovat a využívat terén a různý typy jednotek.
Ve hře máte asi dvacet scénářů a na internetu je spoust dalších. Jak už jsem psal nahoře všechno je hezky přeložený do češtiny.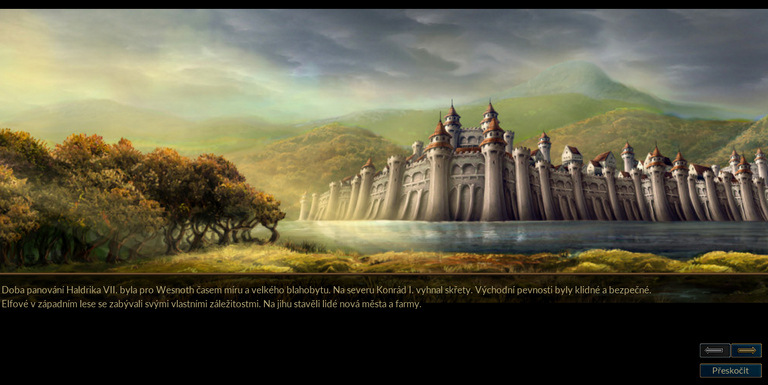 Grafika není nijak extra spíš vypadá jako deset patnáct let stará ale to mě nevadí aspoň je to celé přehlednější. Hru samotnou vám přerušují příběhový prvky co jsou samozřejmě taky v češtině když se dostanete do nějakýho bodu v příběhu. Těm bodům se navíc můžete vyhnout když něco nesplníte nebo naopak uděláte něco co jste dělat neměli.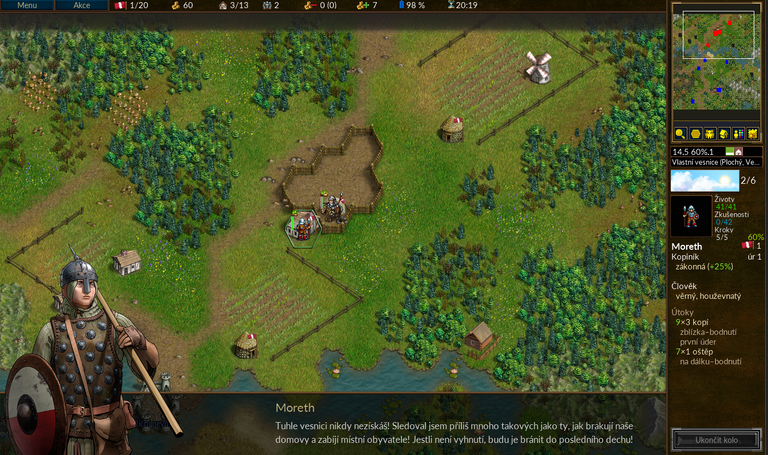 Jak už jsem psal vaši strategii by jste měli připravit podle terénu a charakteristik. Důležitá je navíc taky denní doba protože třeba skřeti a zlé postavy mají lepší útok i obranu v noci. Tohle je třeba seznam atributů lidského těžkooděnce. Ten může být dobrý i padouch takže tady není bonus za denní dobu který se počítá zvlášť.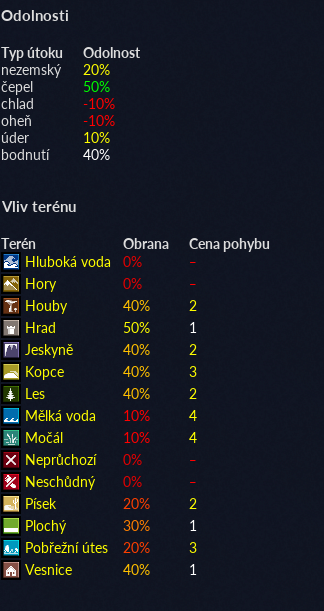 Takže lidksý těžkooděnec v hradě má bonus 50% na obranu a dalších 50% když na něj útočí někdo s mečem což je útok s čepelí. Takže těžkooděnec je pak skoro nesmrtelný protože sám o sobě má vysokou obranu. Ale když na něj bude někdo útočit magicky ohněm nebo chladem tak už se porazit dá. No a když třeba nějaký mág potká skupinku těžkooděnců někde v horách tak z nich snadno nadělá fašírku.
To ale není všechno. Když rekrutujete jednotku, tak má nějaké obecné předpoklady ale každá je ve skutečnosti jiná a unikátní. proto má dokonce každá jednotka ve hře své vlastní jméno a není to třeba jen Lučištník 1. Když je třeba jednotka chytrá tak získává víc zkušeností a rychle se dostane na další level. Když je jednotka rychlá tak ujde za jedno kolo dál ale má o trošku míň životů než by měla mít. A tak dále. Vlastností je celkem 11 a ne všechny jdou míchat.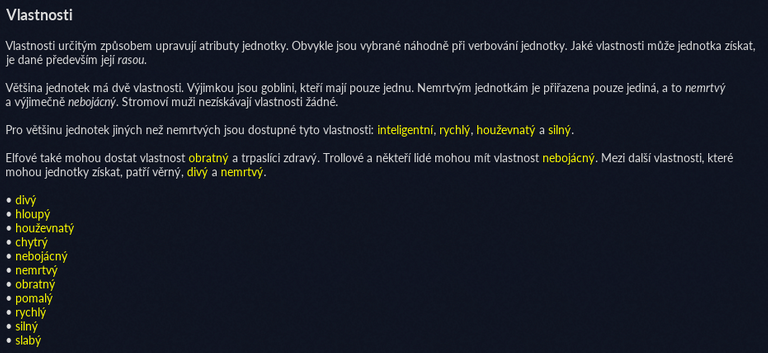 Závěr
Battle of Weshoth je super těžká ale zábavná hra. Zadarmo si užijete spoustu zábavy a přemýšlení ale když vás to chytne tak je fajn aspoň trochu přispět tvůrcům. Akorát to teda zatím nejde kryptem. Hru rozhodně doporučuju.