Google translate from Czech.
Many of us use ACTIFIT, and some are going to try it. The app has come a long way since its launch and has been improved over time. Not all existing users have captured all changes.
I will try to present a few changes here so that existing users can revive memory and new users get some idea of ​​the possibilities of the application.
The Czech manual for installing the mobile application and editing the daily report has already been created and can be found at steem.center.
Actifit market:
is a relatively new application feature. Here you can purchase 'enhancements' for your AFIT account. Individual Gadgets allow you to earn additional AFIT tokens, increase your daily report reward, help your friends, or increase your RANK.
How to do it?
Sign in to your account at actifit.io and right-click on your icon.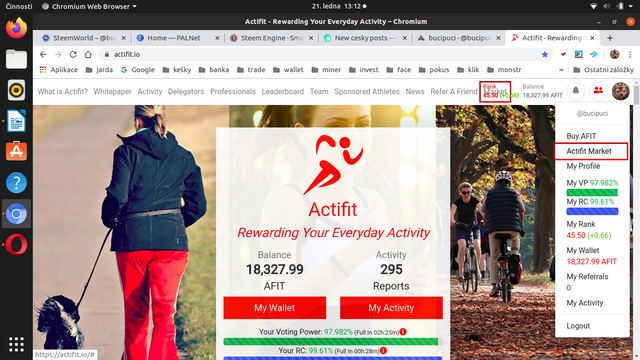 Select Actifit market from the drop-down menu.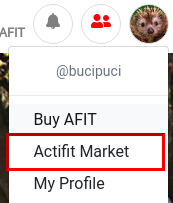 In the market window, choose your desired gadget.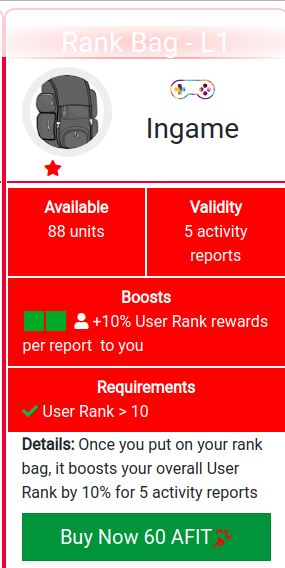 Click BUY GADGET and Confirm popup window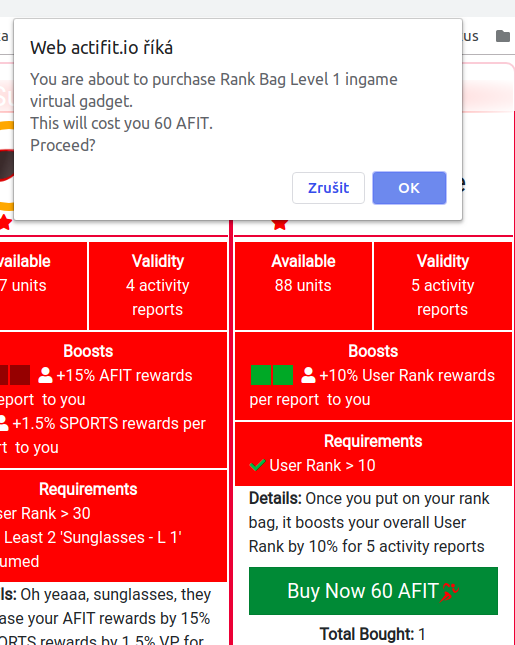 Activate a purchased gadget.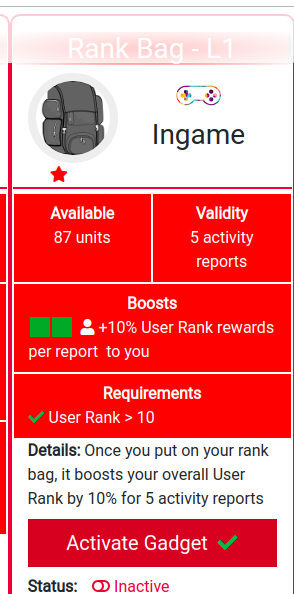 That is all. You've spent some AFIT, but the embedded AFIT will return to you profitably during the gadget's validity.
Friends:
When you sign up for an account with actifit.io, you are usually offered the option to find and add a friend. But what if I want to add someone else?
Type actifit.io/NAME in the browser's address bar, where NAME is the username of the user you're looking for
The user's profile page opens


Click on the red plus sign to add users to your friends. If your chosen user agrees, they will also confirm their friendship with a red stick figure.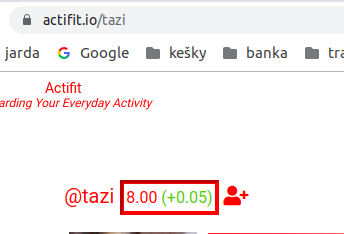 What is it good for?
If you are better off than your friend, you can help him grow faster either by purchasing a gadget on the Actifit market or by sending him an AFIT to support it :-).
Sending AFIT to another account:
You can find this box in the profile of your chosen user on actifit.io



Select AFIT Tip
Enter the amount of AFIT in the fields, enter the password for funds transfer and confirm (Procced).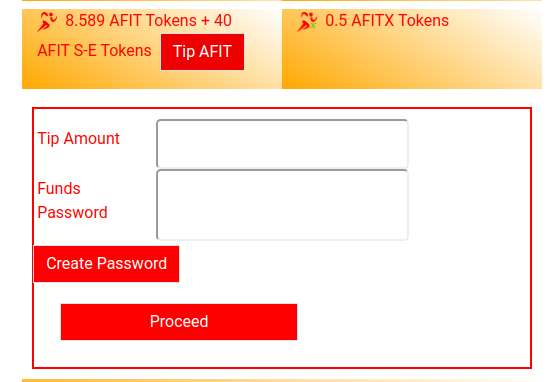 Any questions will be answered in the comments :-)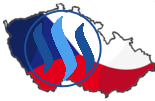 Mnoho z nás používá aplikaci ACTIFIT a někteří další se chystají ji vyzkoušet. Aplikace od svého spuštění ušla velký kus cesty a v průběhu času byla vylepšována. Ne všichni stávající uživatelé zachytily všechny změny.
Pokusím se zde několik změn prezentovat, aby si stávající uživatelé oživili paměť a noví uživatelé dostali nějakou představu o možnostech aplikace.
Návod v češtině na instalaci aplikace na mobil a editaci denního hlášení je již vytvořen a najdete jej na stránce steem.center.
Obrázky k níže popsaným akcím najdete v anglickém překladu.
Actifit market:
je relativně nová funkce aplikace. Zde si můžete za své AFIT nakoupit 'vylepšení' pro svůj účet. Jednotlivé Gadgety vám umožní získat navíc tokeny AFIT, procentuálně zvýšit odměnu za denní hlášení, pomoci přátelům nebo si zvýšit RANK.
Jak na to?
Přihlásit se do svého účtu na stránce actifit.io a pravým ukazatelem kliknout na vaši ikonu.
Z rozbalovacího menu vybrat Actifit market.
V okně marketu si zvolit vámi požadovaný gadget.
Kliknout na BUY GADGET
Potvrdit vyskakovací okno
Aktivovat koupený gadget.
To je vše. Utratili jste nějaké AFIT, ale v průběhu platnosti gadgetu se vám vložené AFIT se ziskem vrátí :-).
Přátelé:
Při přihlášení na účet u actifit.io je většinou nabízena možnost vyhledat a přidat přítele. Co však udělat, pokud chci přidat někoho jiného?
Do adresního řádku prohlížeče vepište actifit.io/NAME, kde NAME je uživatelské jméno vámi hledaného uživatele
Otevře se stránka profilu hledaného uživatele
Kliknete na červeného panáčka s plusem a tak si uživatele přidáte k přátelům. Pokud vámi zvolený uživatel bude souhlasit, potvrdí přátelství také červeným panáčkem.
K čemu je to dobré?
Pokud jste na tom lépe než váš přítel, můžete mu pomoci rychleji růst buď nákupem gadgetu na Actifit marketu nebo mu přímo zaslat AFIT na jeho podporu :-).
Zaslání AFIT na jiný účet:
V profilu vámi zvoleného uživatele na actifit.io naleznete tuto kolonku


Vyberete Tip AFIT a do kolonek vepíšete množství AFIT, vložíte heslo pro převod prostředků a potvrdíte (Procced).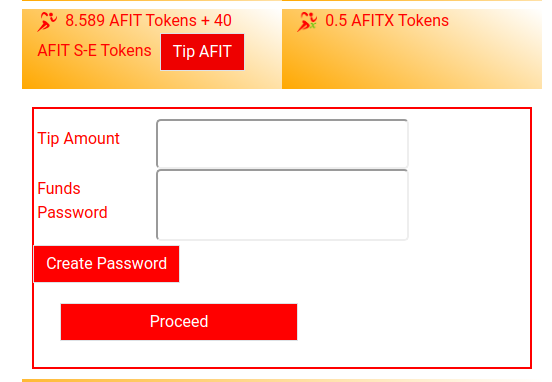 Případné dotazy zodpovím v komentářích :-)