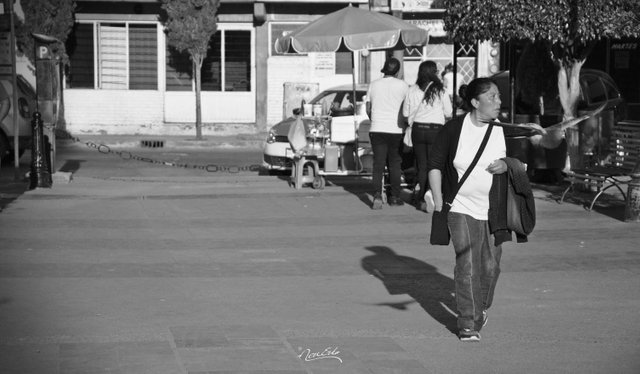 | | |
| --- | --- |
| Category | monochrome streetphotography |
| Settings | ISO640 71mm f/5.0 1/2500 |
| Lens | Canos EF-S 18-150mm f/4.0-5.6 IS STM |
| Camera | Canon T7i |
| Location | Tula de Allende, Hgo. |
¡Hola Stemians! Nuevamente de vuelta con una foto más.
Aquí estamos después de casi una semana sin subir un solo post sobre fotografía.
La verdad es que estos últimos días me he enfocado más en subir contenido sobre mis actividades diarias y he dejado un poco relegada esta sección, no por que haya dejado de hacer fotografía, sino por que muchas veces la facilidad que nos dan apps como la de @actific hace más conveniente compartir el contenido.
Y es que una vez que se haya un estilo de post para, por ejemplo, comunidades como la de @actifit, hace más complejo y demandante el desarrollar Post sobre otros temas.
O eso me parece a mí.
Tratando de hacer un mejor trabajo
No sé si alguno lo habrá notado, pero estoy tratando de cambiar el estilo de mis post de fotografía. Dejar de subir una simple foto, con poco o nulo contexto, y más bien platicarles un poco sobre lo que me provoca dicha foto, alguna experiencia, algún recuerdo,ó cómo en este caso, un post con ideas un tanto random.
También quisiera advertirles que estoy tratando de diversificar los temas sobre los que escribo, próximamente me gustaría empezar a escribir un poco sobre mis experiencias y desventuras en mis inversiones y gaming, que tan bien es algo que últimamente me e dedicado un poco. Pero ya se verá en unos días.
Por el momento voy a dejar este post hasta aquí. Espero que les haya gustado y nos leemos pronto.
Hello Steemians! Here again with one more photo.
Here we are after almost a week without uploading a single post about photography.
The truth is that in recent days I have focused more on uploading content about my daily activities and I have left this section a little relegated, not because I stopped taking pictures, but because many times the ease that apps give us, as the one of @actific, makes it more convenient to share content.
And once you find a post style for communities such as @actifit, it becomes more complex and demanding to develop posts on other topics.
Or so it seems to me.
Trying to do a better job
I don't know if anyone has noticed, but I'm trying to change the style of my photography post. Stop uploading a single photo, with little or no context, and rather tell you a little about what provoques on me this photo, some experience, some memory, or as in this case, a post with some random ideas.
I would also like to warn you that I am trying to diversify the topics I write about, soon I would like to start writing a little about my experiences and misadventures in my investments and gaming, something that lately I have dedicated a little bit more time. Hope you've seen it in a few days.
At the moment I will leave this post here. I hope you liked it and we will read soon.

Steemit | Twitter | Facebook
Instagram | Movescount | Strava
Posted using Partiko Android