Hello, Steemians!
It's been a while since I've posted anything. I was long overdue.
As many of you know, I'm a huge fan of #caturday and cats in general. Yesterday I went to have my summer tires swapped for winter tires, and on my way back, I stopped at my friends' place. They have three cats. I took the opportunity to take a few photos with my phone in order to make a #caturday post.
If you've been following me for long enough, you will probably remember me posting about them before.
This first one is named Oscar.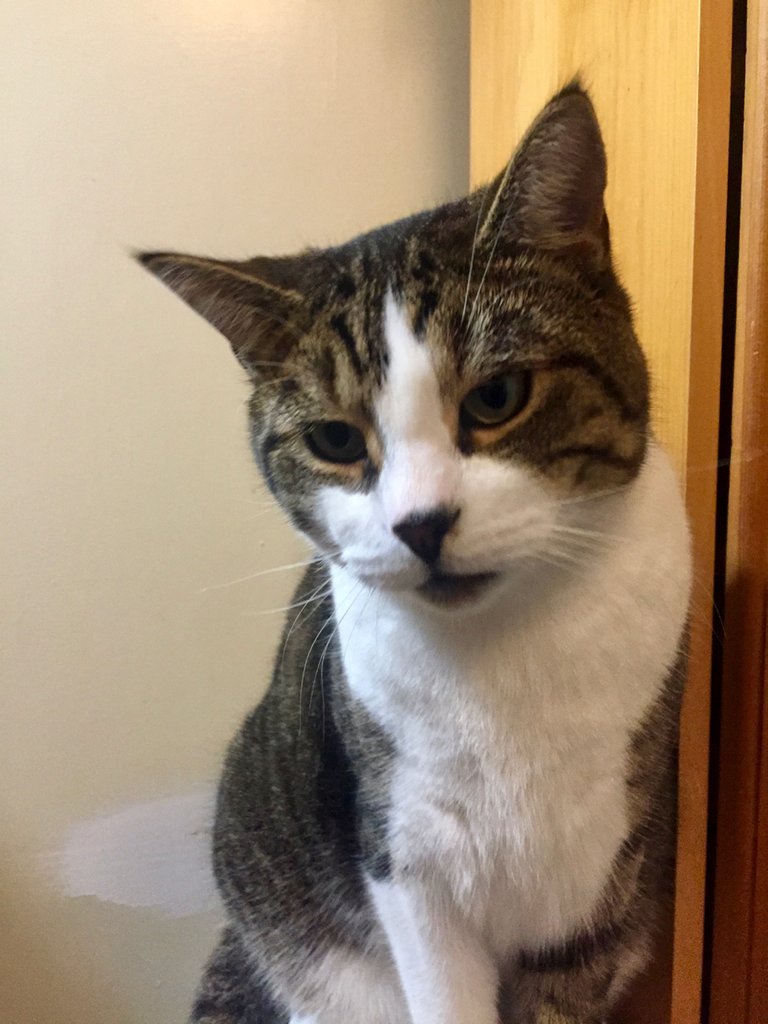 He's very social and usually hangs around people and he likes to climb up onto people's laps.
He tried to climb on me while I was eating, but I didn't let him. "No, Oscar! This is my food!" So he decided to go take a nap on the couch until I was done eating.
When I was done eating, I went over to the couch to give him a good petting.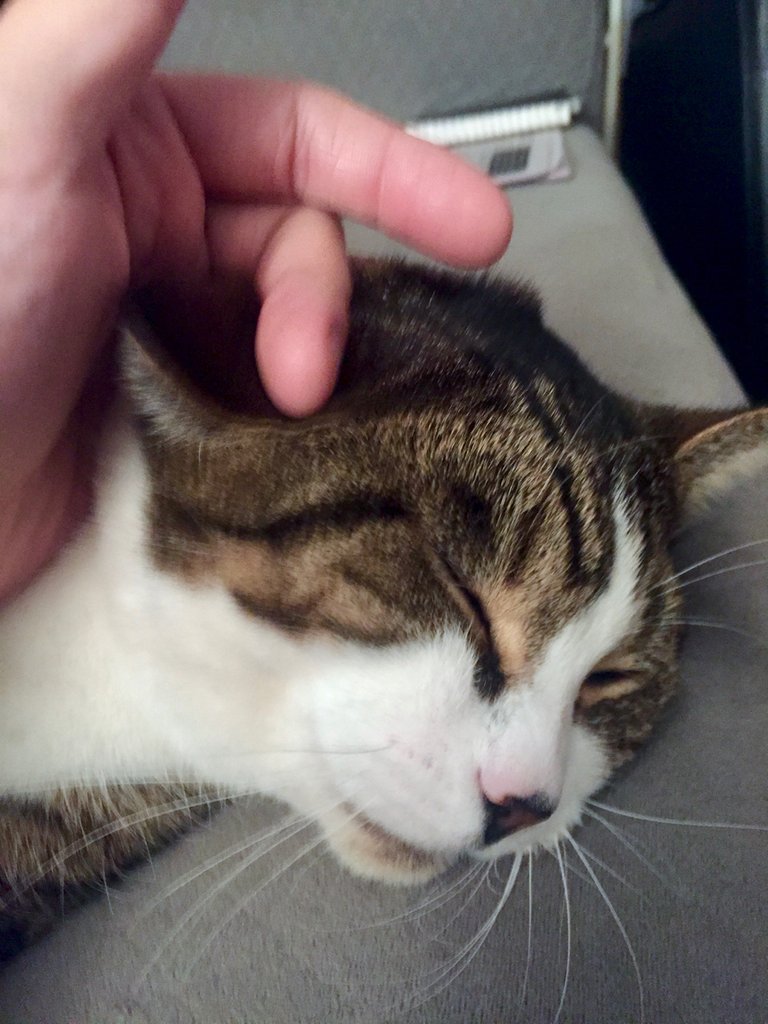 "Mmm… ear massage! Prrr, prrr, prrr!"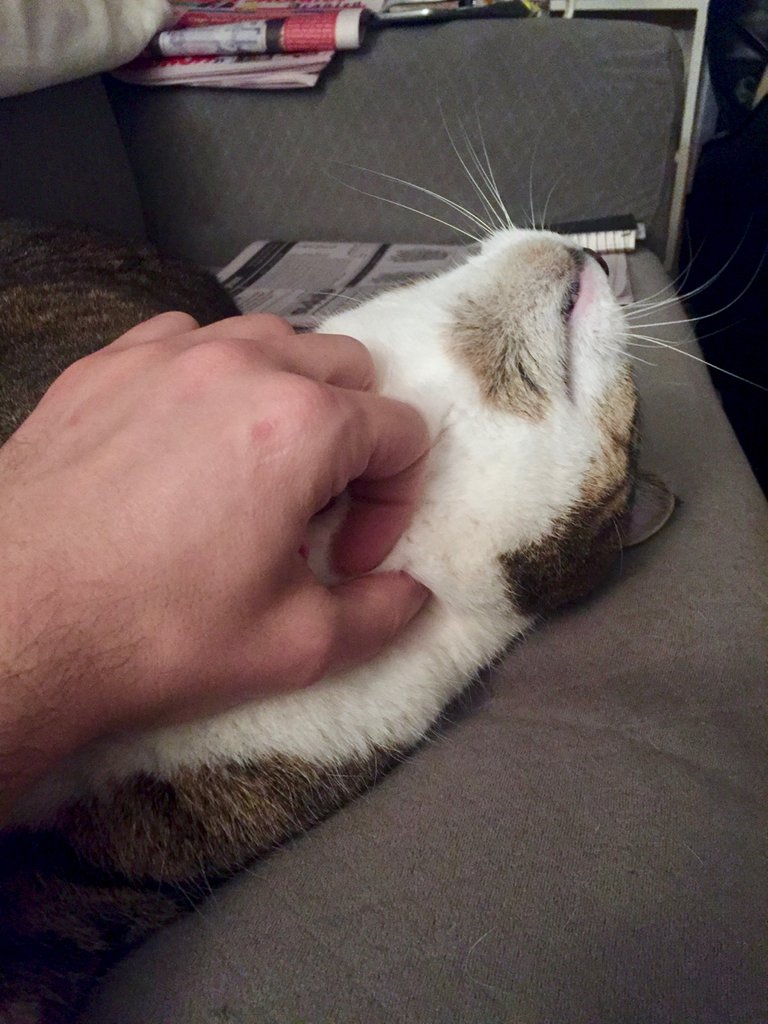 "Mmm… neck massage! Prrr, prrr, prrr!"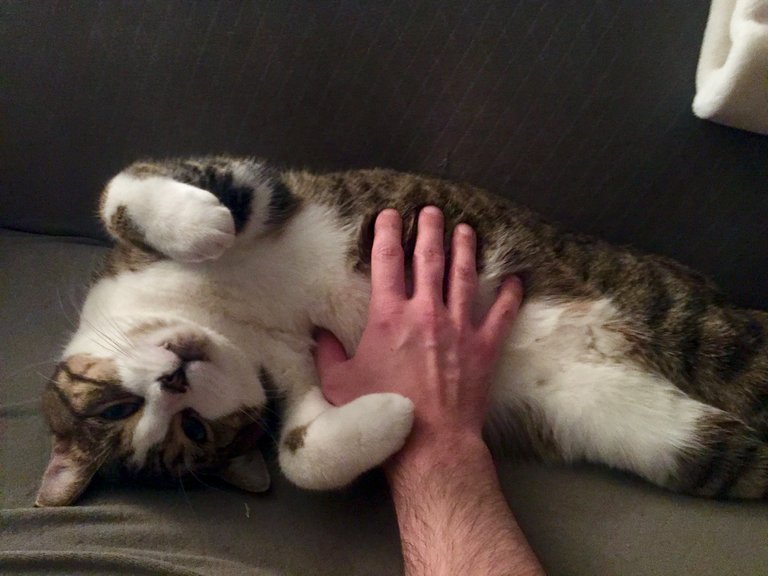 "Mmm… belly rub! Prrr, prrr, prrr!"


After that I decided to let him continue with his nap. After all that's what cats do best.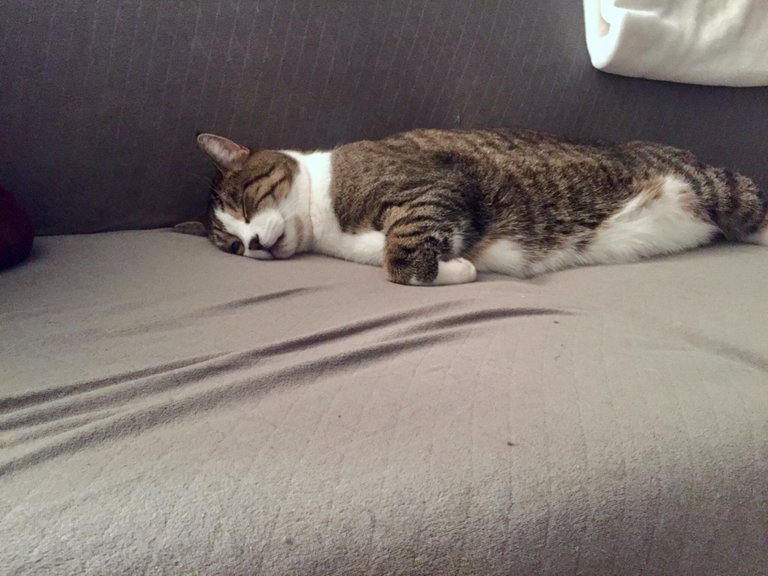 I then made my way to the kitchen an found Fluffy.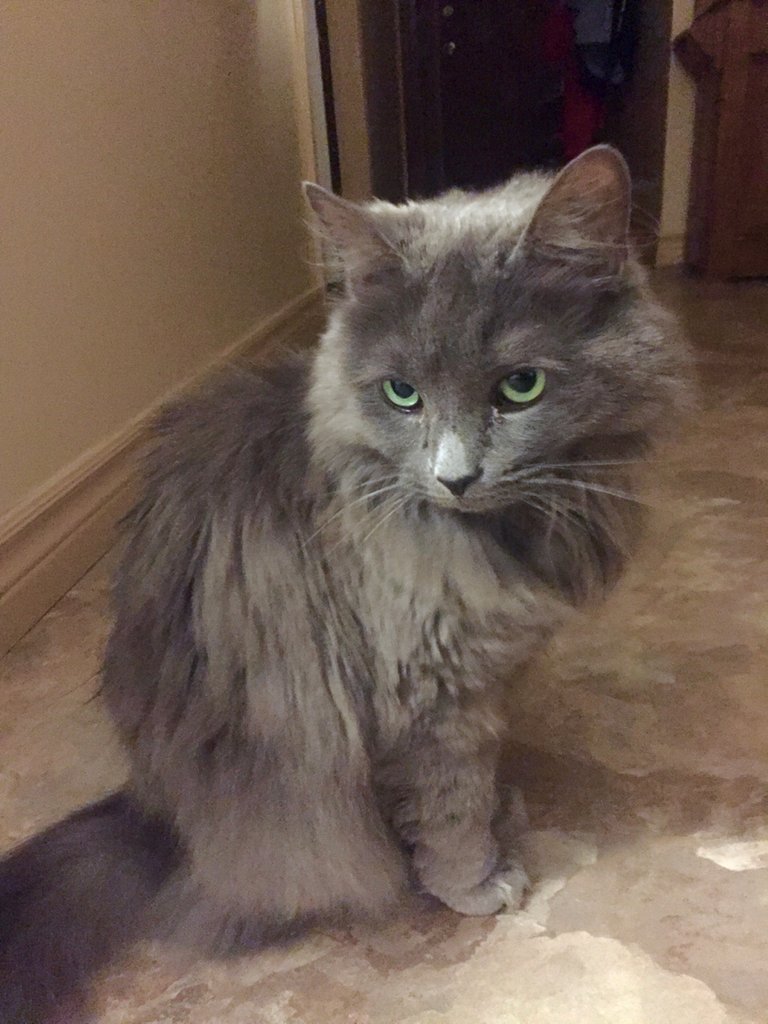 She is the oldest one of the three cats. She is not as social as Oscar. Most cats push up against you when you pet them. Fluffy does the opposite; she ducks down.
She is usually quite the elegant cat, but at the moment, she's quite disheveled and in need of a good brushing.
You can see what I mean in this next photo.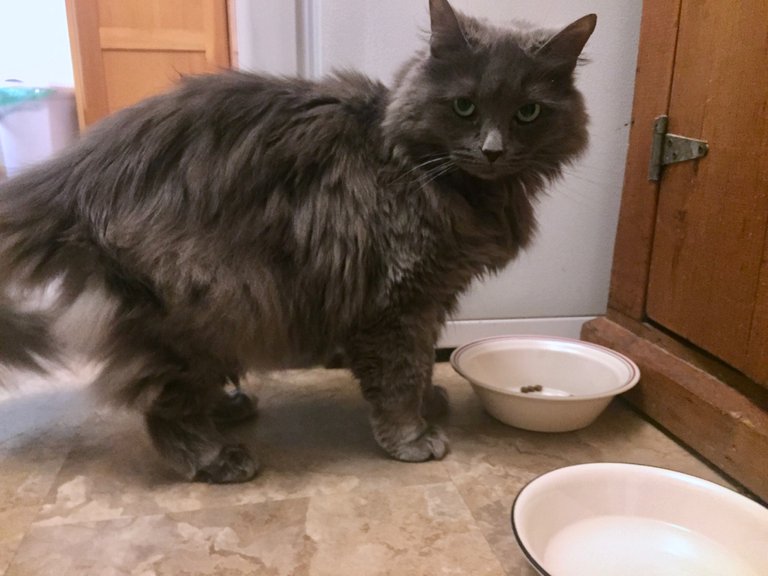 After that I went back to the living room and sat in the reclining chair and chatted with my friends.
Oscar was finally done with his nap and decided it was time to climb onto my lap.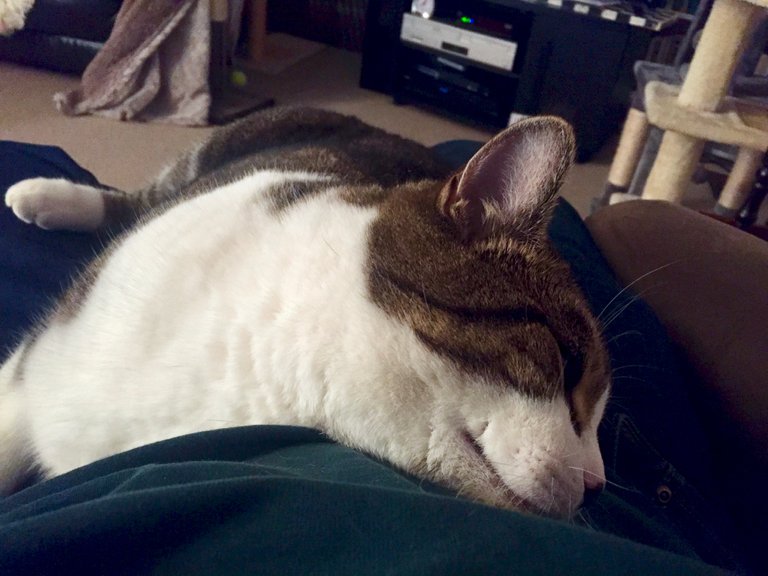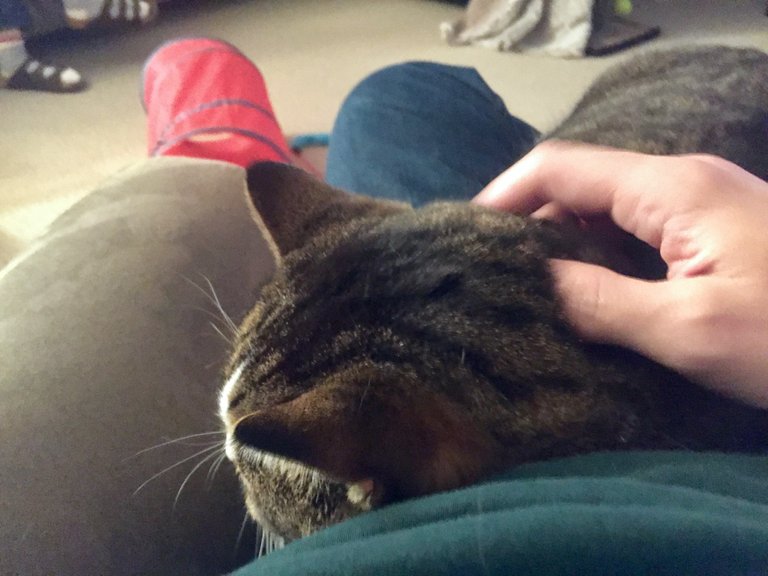 And now it's time to meet the last of the three cats. She is also the youngest and newest member of the family.
If you regularly post cat photos on Steem, you've probably received some votes from @ticketyboo. This next cat is the cat in @ticketyboo's profile picture. Her name is Skimmer.
She's not as trusting of humans as the other two, so I had to approach her carefully, and I only was able to take a few shots before she disappeared again for the rest of the evening.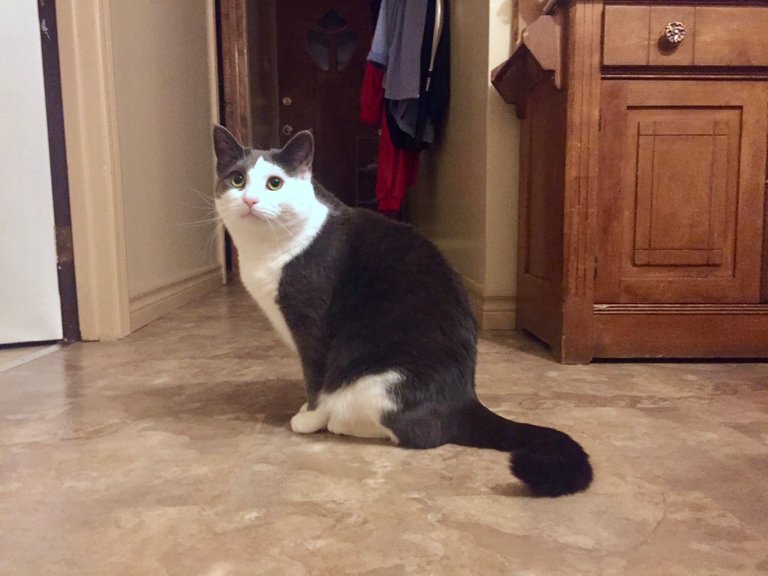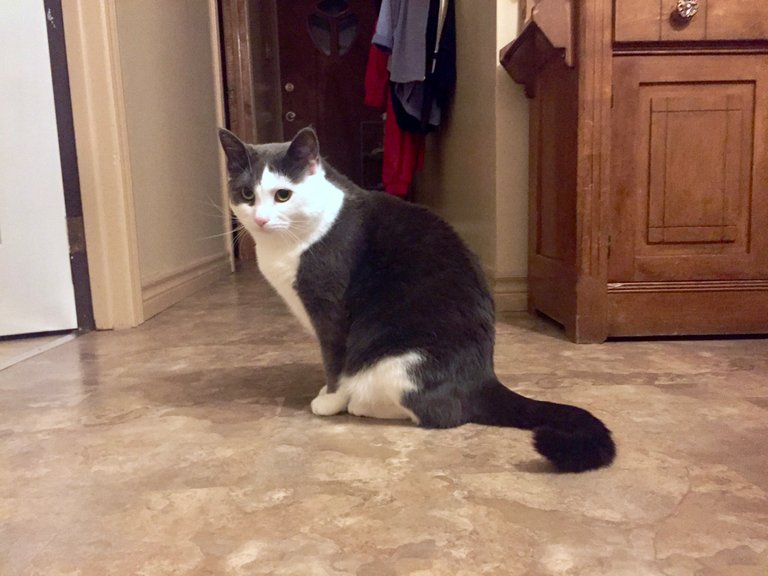 Well, folks, there you go! Those are my #caturday photos for this week.
All photos were taken by me with my iPhone 6, and enhanced in the Apple Photo app that comes with Mac OS X.
---
CAT and the Catnet project
I'd like to talk a bit about the Catnet project and CAT tokens for those who aren't yet familiar with them.
CAT stands for Cat Apreciation Tokens. And its name pretty much gives a good clue what it's about. It's for rewarding (or showing appreciation) for cat related content on the Steem blockchain.
But it has more utility than just being a coin for trading and for tipping content creators. If you hold CAT in your Steem-Engine wallet, it gradually turns into CATnip, and it will attract three kitten-bots (@cuddlekitten, @steemkitten, and @steemeow) to come and give you "cuddles" (upvotes) and leave cute comments on your posts. They also appreciate it when you return the favour. And I'll leave it to you to guess how they show their appreciation. 😁
There are also more features for the Catnet project and uses for CAT tokens that are being planned. There is currently a tipping service in beta. There are a few of us beta testing it and it seems we have found and fixed most of the bugs.
You can find out more and get updates by visiting and/or following @catnet.
---
Caturday Discord Server
I'm inviting anyone who is a cat lover to come and join the Caturday Discord Server. It's a good place to meet and chat with other cat lovers. We have a post promotion channel for promoting cat related Steem posts. We also have CAT and we use it for rewarding people for their participation in the chat and also for promoting their (or other people's) cat related Steem posts in the post promotion channel.
---
Happy Caturday, everyone!