The sky has been rumbling with suddenly grey tone sky during the last fifteen minutes. My two orange cats are inside the house, one is still sleeping while the bigger one has gone into the garden. Yesterday I decided to take a walk to my neighbours' house a few minutes walk away. That is the place where my first orange cat has willingly migrated to about two years ago. I tried to visit her every few months to see how she has been enjoying a new life of luxurious pampering by the new owners. The pandemic and previous lockdown had made it impossible to visit her as often as I would love to. A few times I was standing in front of the house, no one was there to greet me; I shouted for the cat with no response.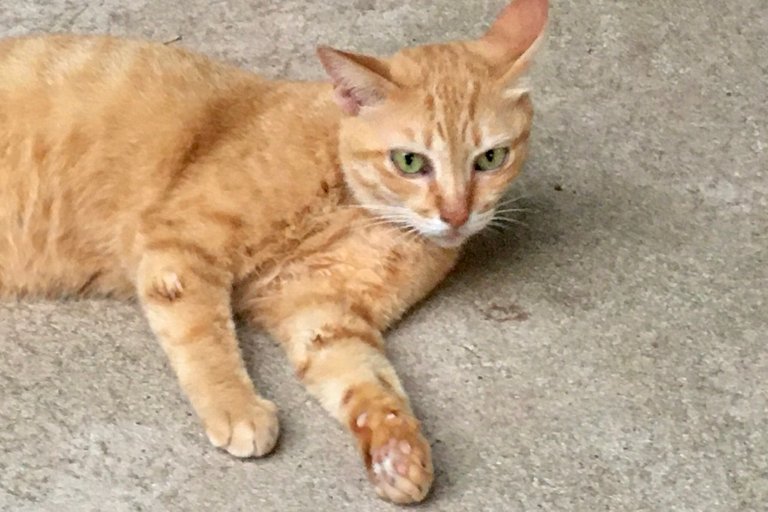 The cat kept on moving towards me; I could not get her to stay on the ground for me very long.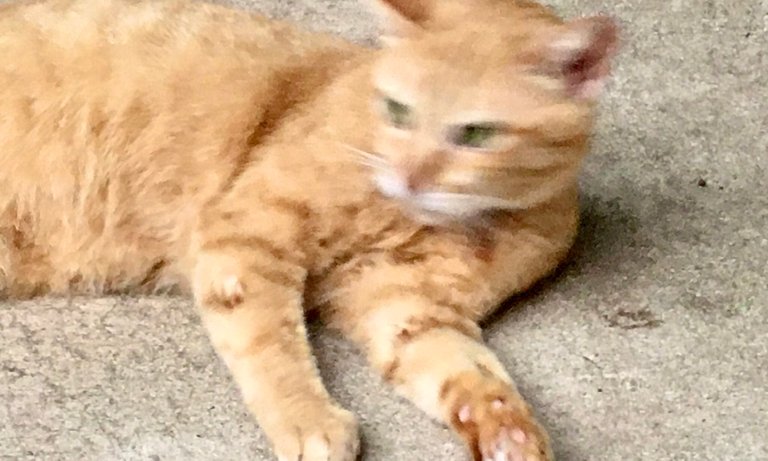 This time I was lucky; my neighbours were both in the garden. The elderly gentleman opened the sliding gate with a remote control. The lady of the house is a retired professor at a teachers' college in another town. The gentleman used to work for a company working on the gas pipeline connecting between Thailand and Burma. They are very kind folks with lots of wealth abs plenty of land as their ancestors have settled around here for over a hundred years. My cat decided to leave my house during the time when the three kittens were about one year's old. The process of taking my cats to be sterilised at the vet had affected my cats' sense of smell. They became strangers; the grandmother cat become hostile towards her grand kittens. But the kittens got much bigger. The big male kitten fought back so the grandma cat felt threatened and moved to my neighbours' house.
Luckily they became very fond of my orange cat and started to spoil her. But the old lady was allergic to cats' hair so she would never cuddle the cat or give her a body massage. My grandma cat gets two mackerels everyday! Now she would not eat dry food or rice mixed with fish any more. She has done very well at this house; that was an excellent choice! My cat was very smart!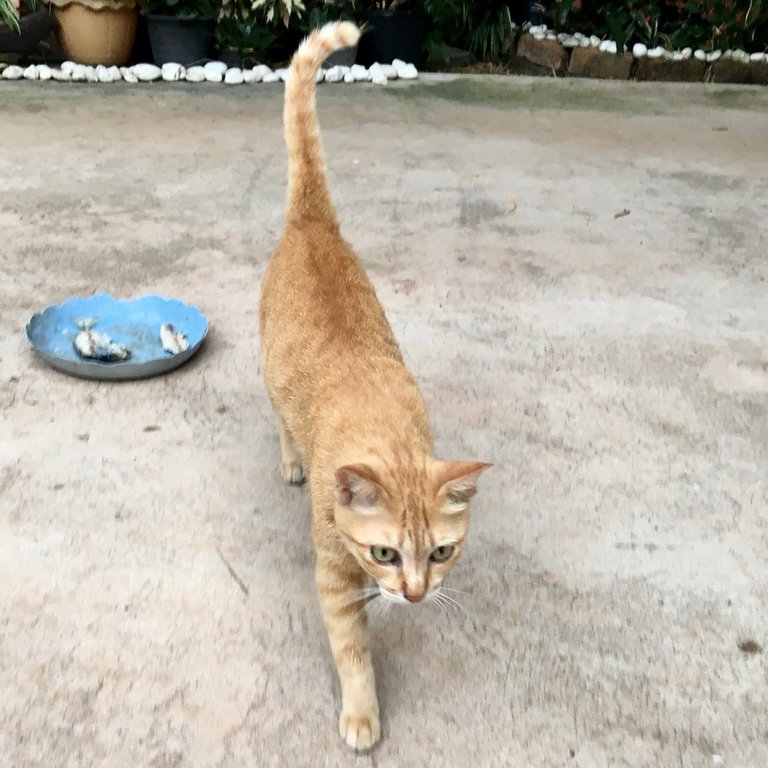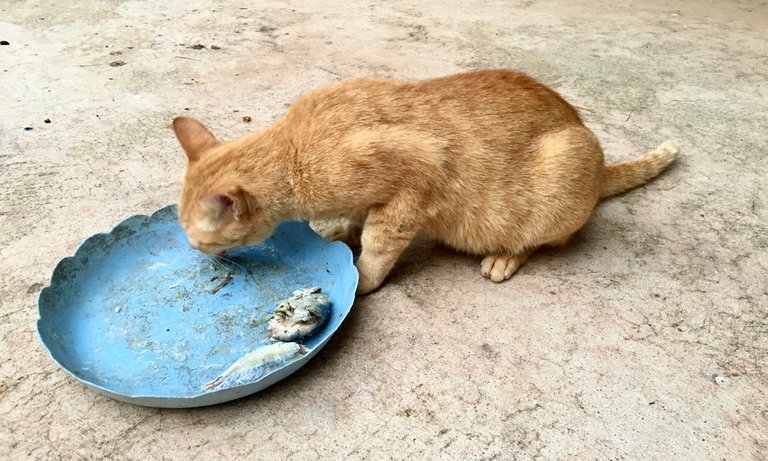 I was so glad that she still recognise my voice and face. She would run up to greet me and asked me to give her a massage. This time she looked much older than last year; her body seems to be less muscular and her colour is a bit paler. The lady said the cat looked less beautiful than last year. I didn't know the real cause of this sudden change; four years' old cat should still look young and energetic. But she has become much slower as well. At least she's well fed and looked after. I would not be able to give her two mackerels everyday.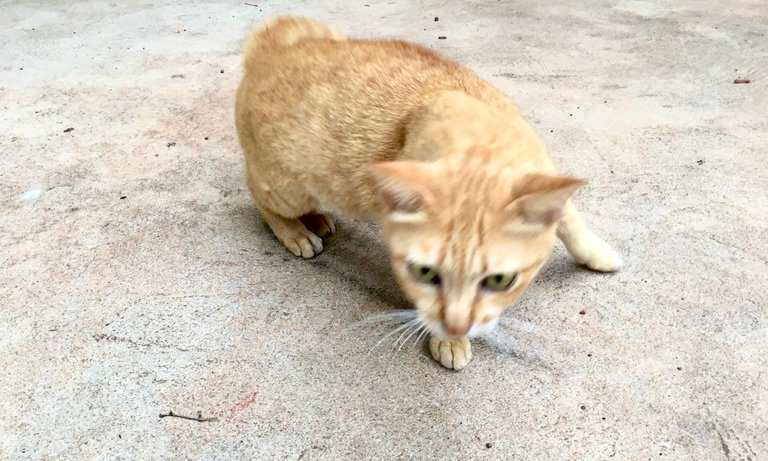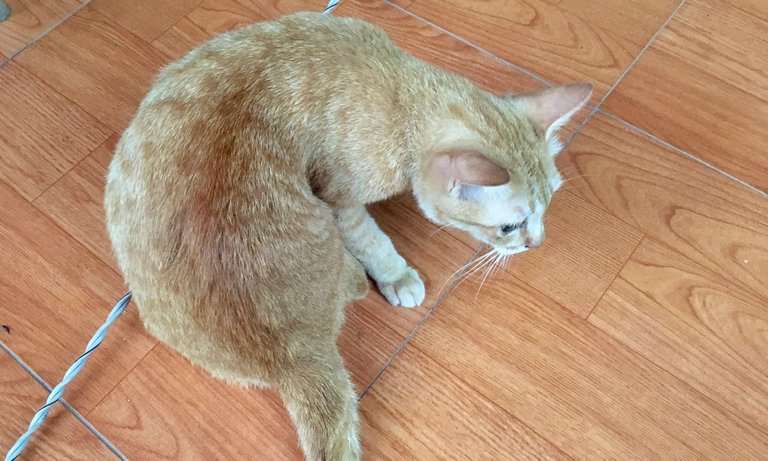 วันนี้เราอยากให้ฝนตกมาก เพราะ อากาศร้อนจัดมาสองวันแล้ว เราได้ยินเสียงฟ้าร้องมาสักพักแต่เรารอให้ฝนตกหนักๆสักที แมวสองตัวกำลังนอนหลับอย่างสบายใจ เราคิดถึงแมวส้มตัวแรกของเรา เมื่อวานนี้เราได้มีโอกาสไปเยี่ยมแมวของเราที่ได้ย้ายบ้านไปเอง วันหนึ่งสองปีก่อน แมวตัวแรกของเราก็เดินออกจากบ้านเราและไปอยู่บ้านคนอื่น มันฉลาดเลือกบ้านมาก ไปอยู่บ้านคนรวยที่มีจิตใจดีมีเมตตา สองตายายเกษียณแล้วและมาอยู่บ้านสวน เขาชอบแมวส้มของเรามาก และดูแลให้อาหารดีมาก แมวได้กินปลาทูวันละสองตัว แมวเคยตัวมาก จนไม่ยอมกินอาหารแห้ง หรือข้าวคลุกปลาทูแล้ว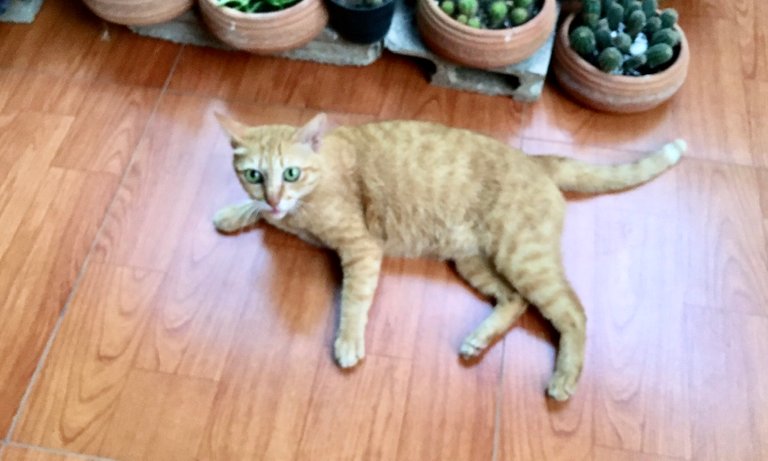 เราดูแมวส้มแล้วก็เห็นว่า แมวเริ่มแก่ลงไปมากแลดูตัวเล็กลง และกล้ามเนื้อไม่แน่นเหมือนแต่ก่อน สีขนก็ดูจางลงไป เราไม่คิดว่าแมวจะเริ่มแก่ตอนอายุสี่ปีเอง เจ้าของใหม่เป็นคนแพ้ขนแมว แต่เขาก็ชอบแมวมาก เขาใช้แปรงในการเก็บขนให้แมว เราก็เลยนวดตัวให้แมวส้ม มันชอบมากและเดินตามเราไปทั่วบ้าน เราคิดว่าแมวตัวนี้โชคดีมาก ที่มาอยู่บ้านนี้ แม้ว่ามันจะขาดการถูกอุ้มและลูบตามตัว แมวอยู่บ้านนี้จนกบายเป็นแมวบ้านนี้ไปแล้ว เราเดินคุยกับเจ้าของบ้าน และชมสวนไปเรื่อย ตอนแรกเขากลัวเรามากเพราะ ระแวงเรื่องโควิทมากไปซึ่งเป็นผลจากสื่อกล่อมทุกวัน คนส่วนใหญ่ไม่ยอมค้นคว้าหาความจริง และความรู้ด้วยตนเอง และมองเกมส์การเมืองที่มีผลประโยชน์และอำนาจซ่อนอยู่เบื้องหลัง การทำให้คนกลัวมากจนคิดเองไม่เป็น ทำให้เขาใข้อำนาจและงบประมาณโดยไม่มีการตรวจสอบเลย เศรษฐกิจพังแน่เพราะ มาตรการควงคุมพฤติกรรมของคนเกินความจำเปีน เขาคิดกันตื้นเกินไป มันจะพาเรือล่มในอนาคต น่าเสียดายที่คนส่วนใหญ่เข้าไม่ถึงข้อเท็จจริงอีกหลายอย่าง หรือว่าพรหมลิขิตมาให้คนไทยต้องทนทุกข์ทรมานอย่างมากในอนาคต เพื่อเป็นการชดใช้กรรมเก่าของประเทศ เราก็ได้แต่หวังว่าจะมีบางอย่างทำให้ความจริงปรากฏก่อนที่ทุกอย่างจะสายเกินไป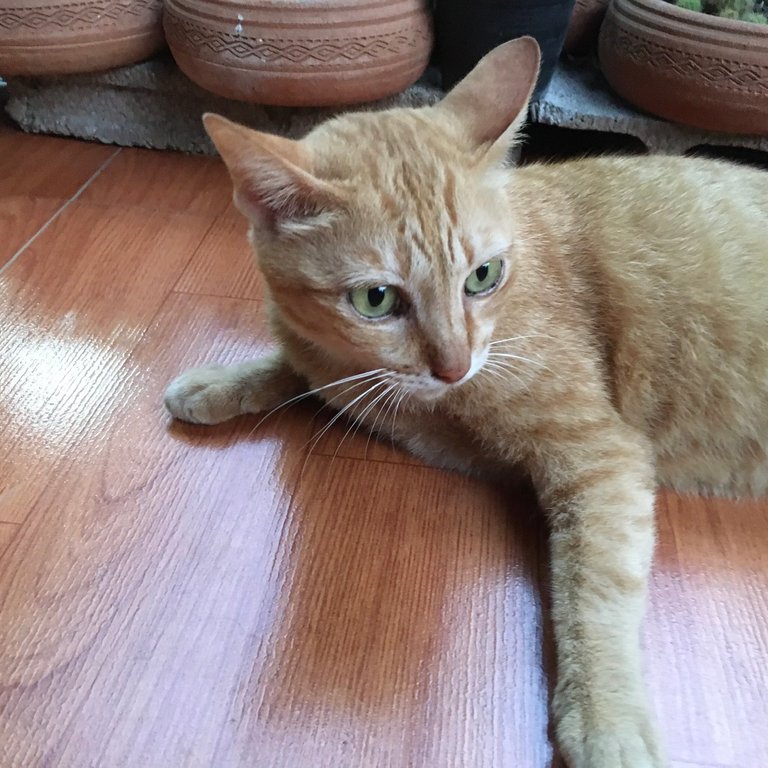 Hoping that my orange cat will be living happily and healthily for several more years at this house.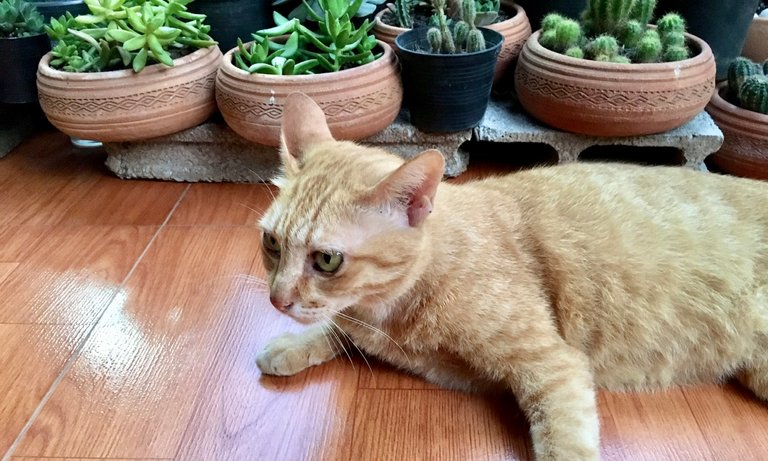 Wishing you all a very nice day,
Stay strong and cheerful.