Time flies by too fast, unexpected encounter disrupting intended timeline; so I have to post the following day. Life is quite perplexing; sometimes nothing seems to be happening then all of a sudden one is caught up in a series of activities and movements. The same thing always happen when I see some cats along my walk. The cats that I expect them to be friendly turned out aloof and cold while those looking unapproachable turn out to be nice and gentle. So, expectation is really a useless thing in my case!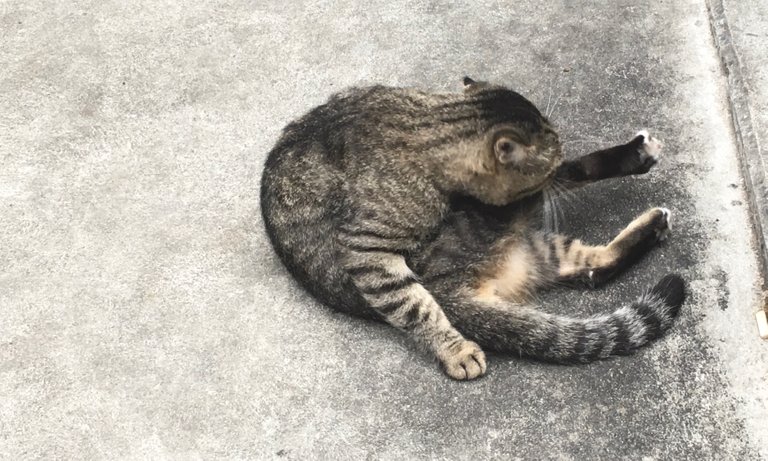 On my way to an old but famous Chinese restaurant for lunch with old friends, I stumbled across two very nice cats. They looked well fed and quite secured as they were not at all frightened by strangers. This cat took a look at me and continued to clean herself. She did not mind me getting quite close to her. Walking along the old shop-houses I got a glimpse into other people's lifestyle and daily routine. It's very good for grounding my sense of reality and getting in touch with the physical world. I hovered too much in my mental plane in different dimensions of reality.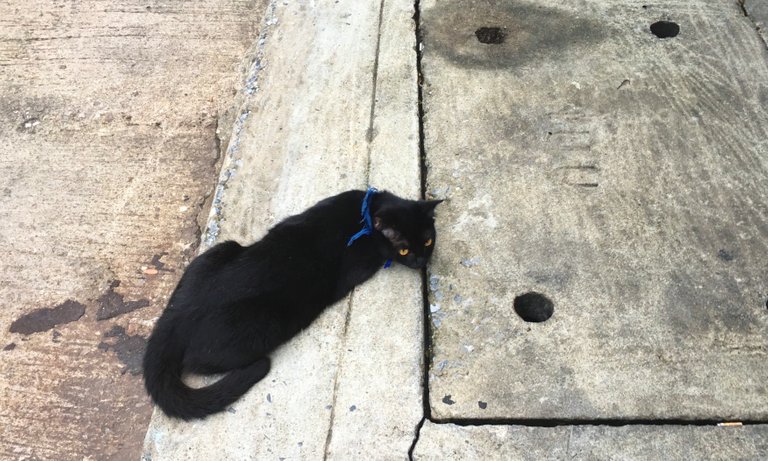 This black cat was taking a nap in the middle of my path. I thought he was going to tell me off for waking him up. On the contrary, he got up and started to greet me. I could not believe how kind and nice this cat could be. He did allow me to touch him and take his photos! I had to tell him to stay still but he was too keen to get close to me. I was so glad that these house cats were in good health and very friendly which reflected the love and care of their owners and neighbours in this area. No wonder, I enjoyed the vibes while walking joyfully around this old Chinese shop-houses.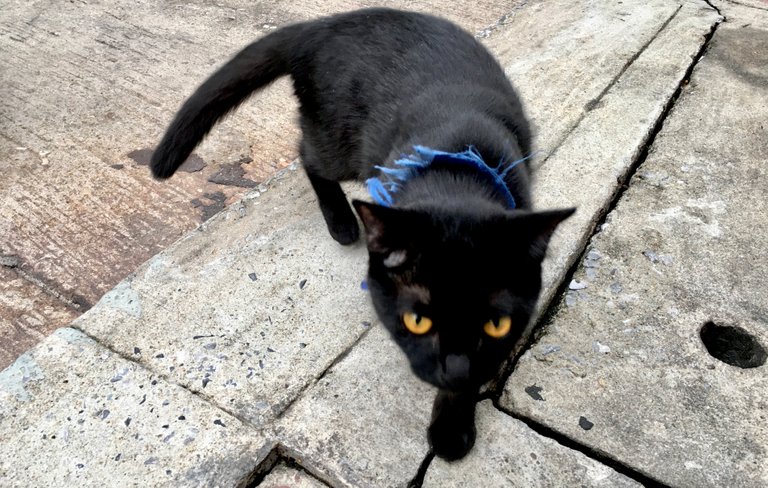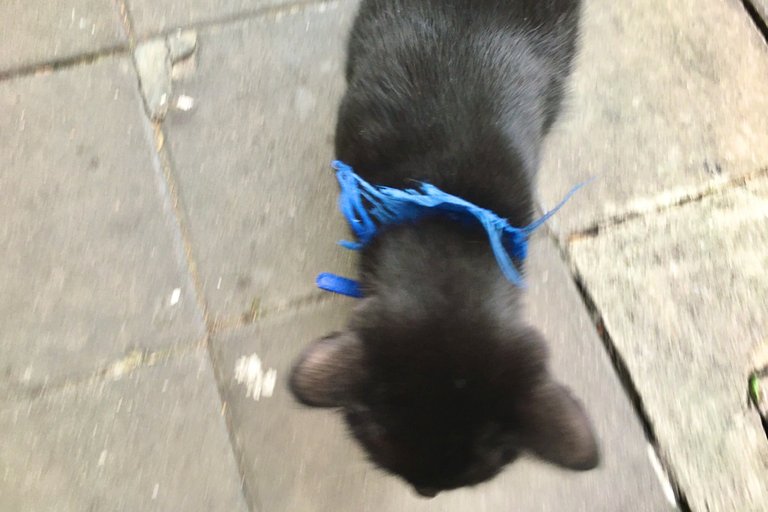 เราไปเดินเที่ยวแถวชุมชนคนจีนแถวบางรักเมื่อวันก่อน เราไปเดินหาร้านอาหารจีนโบราณที่เคยมีชื่อเสียงมากเมื่อสามสิบปีก่อน ร้านนี้อยู่ที่ย่านคนจีนเก่าแก่มาก ร้อยปีแล้วกระมัง เราเดินไปก็แอบดูวิถีชีวิตของคนแถวนั้น มันทำให้เราคิดถึงปู่ย่าของเราที่จากไปตั้งแต่เรายังเด็ก บรรยากาศดีมาก มีความเป็นมิตรและความเรียบง่าย เราเดินไปเจอแมวของชาวบ้านสองตัว ตัวแรกใจดีมากแต่ว่าไม่มีเวลาคุยกัน เขาบอกว่าต้องแต่งตัวก่อน เดี๋ยวต้องแอกไปเจอแฟน เราก็ขอถ่ายรูปไว้ แมวก็ไม่ว่าอะไร ใจดีมากๆ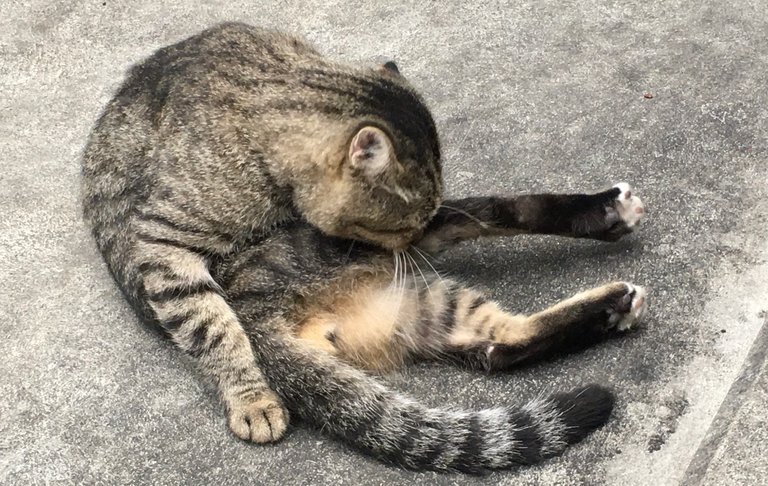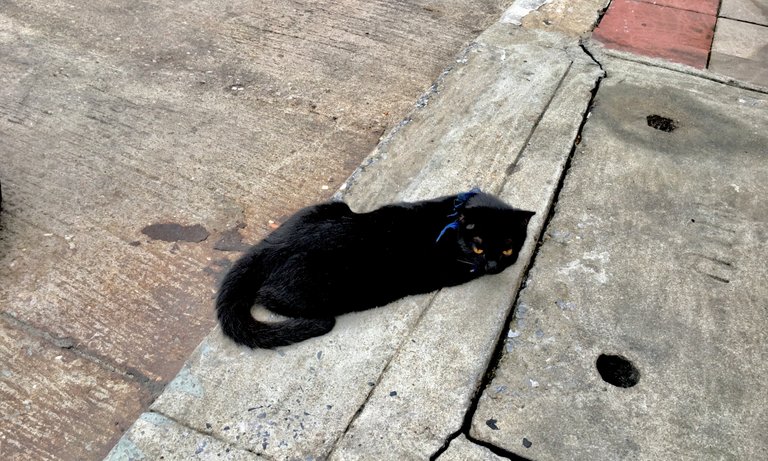 เราเดินต่อไปอีกหน่อยก็เจอแมวสีดำขลับ นอนขวางทางเดิน เราคิดว่ามันต้องการเก็บค่าผ่านทางแน่นอน เราสงสัยว่ามันต้องดุเอาเรื่อง เพราะเราไปทำให้มันตื่นขึ้นด้วย แต่ผิดคาด แมวดำทักทายเรา และลุกมาหาเรา มันยอมให้เราจับตัวและเล่นด้วย แมวดำกลายเป็นแมวที่ใจดีและมีความนุ่มนวลที่สุด นี่สะท้อนให้เห็นว่าคนแถวนี้รักและดูแลแมวดีมาก แมวแต่ละตัวจึงมีนิสัยดีเป็นมิตร และไม่มีความก้าวร้าวเลย มิน่าเล่าเราจึงเดินเที่ยวแถวบ้านเก่าๆเหล่านี้ด้วยความสบายใจ พลังของที่เก่าแก่แห่งนี้ดีมาก คนแถวนี้คงใช้ชีวิตแบบเรียบง่ายและสมถอย่างพอเพียง เราจึงชอบมาเดินตามชุมชนชาวจีนโบราณมาก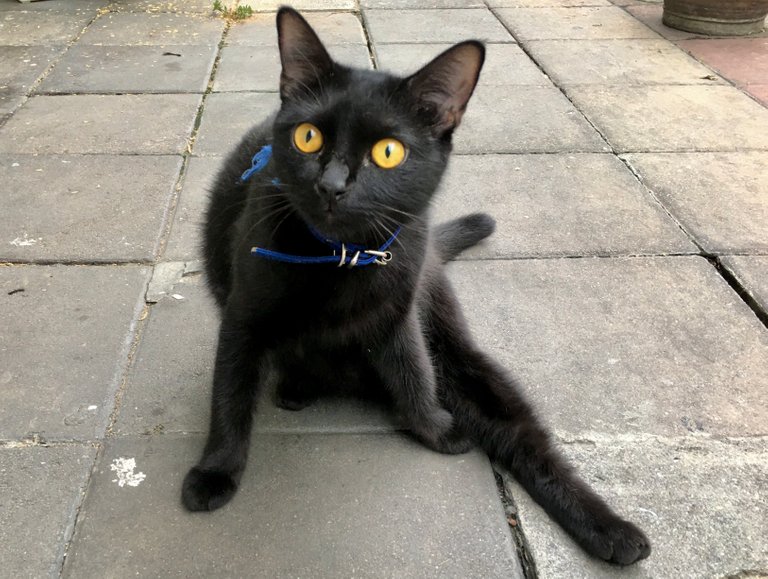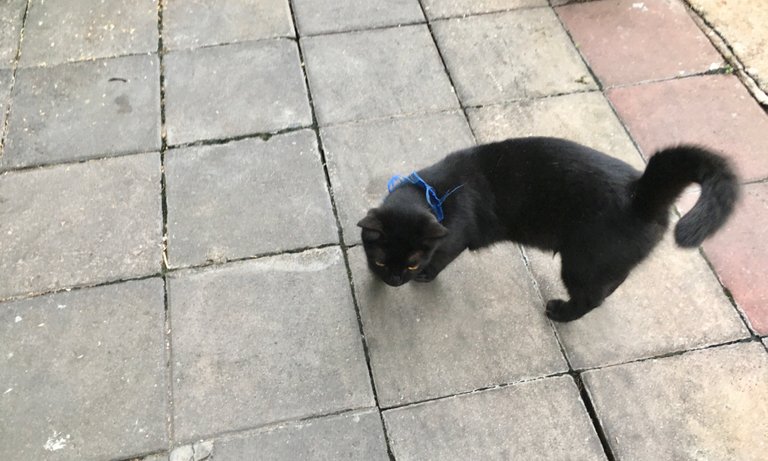 Wishing you peace, good health and prosperity.
Cheers.
[//]:# (!pinmapple 13.719055 lat 100.517657 long Two cats near Sanyod restaurant d3scr)