ProximaX. Blockchain Reimagined and Evolved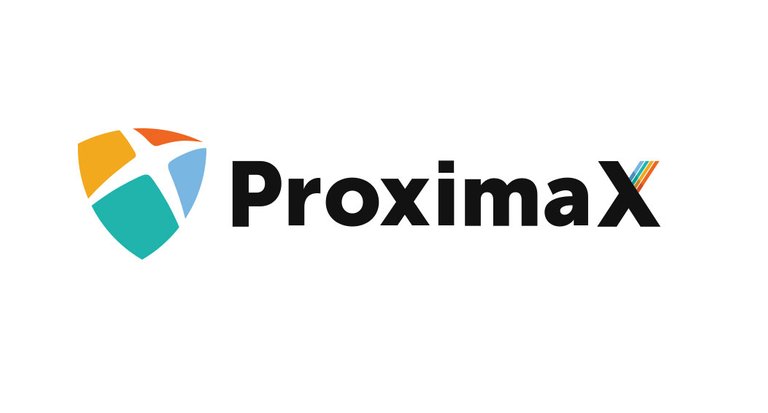 ProximaX
Normally the internet represents a fundamental aspect of our lives. Every day we are continuously accessing information, social networks, watching or transmitting a video. However, most people know the internet as what you see through a web browser, smartphone, or tablet.
But most interesting of all is that the most common internet applications consist of authentication systems, data storage, administration and access to databases and video streaming media or what is commonly known as streaming.
The biggest problem with these platforms is that they are controlled by a few global companies and to top it all, the information is centralized. The consequence, besides limiting growth, is that they represent a central point vulnerable to DoS attacks (Denial of Services) or attacks by hackers or malicious agents.
As an example, not long ago, one of the world's largest web service providers, Amazon Web Services, had a drop that knocked the Internet over in many parts of the world for several hours.
Obviously another consequence is the high costs for the services offered by these internet applications.
With the emergence of blockchain technology, several decentralized solutions based on this technology have been proposed that provide security, immutability and obviously pose an anti-fall scheme by not having a central point of attack. However, this technology is not perfect.
ProximaX is the next step in the evolution of decentralized technologies.
ProximaX is a next-generation network protocol that offers an ecosystem that combines the power of blockchain (with advanced consensus methods, totally green, Proof-of-Stake, PoS, and Proof-of-Greed, PoG), decentralized storage (DFMS/IPFS), peer-to-peer (p2p) streaming, distributed database and more.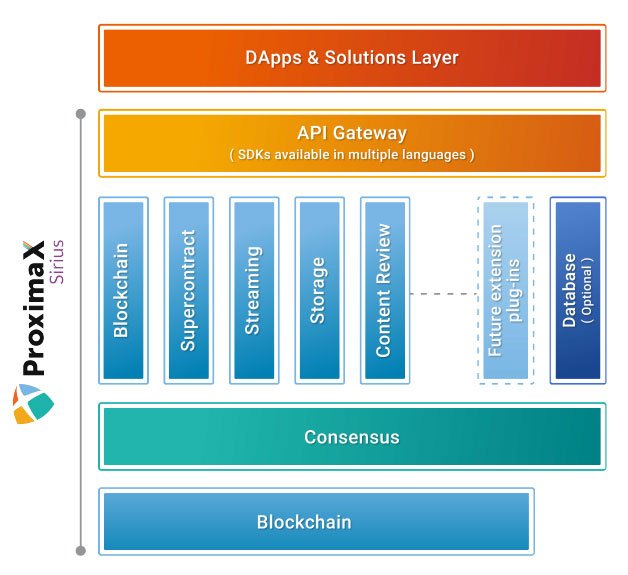 Source Whitepaper
All this forming an ecosystem, within a single platform to offer business solutions. In addition to this, its SDK and API comes in a wide range of programming languages, thus facilitating the development of decentralized applications or DApps.
ProximaX is based on NEM blockchain technology, called Catapult. Offering speed in transactions, security, transparency, scalability, with low costs, easy to use.
ProximaX is ready to generate solutions for companies and entrepreneurs at all levels, as can be seen in the following image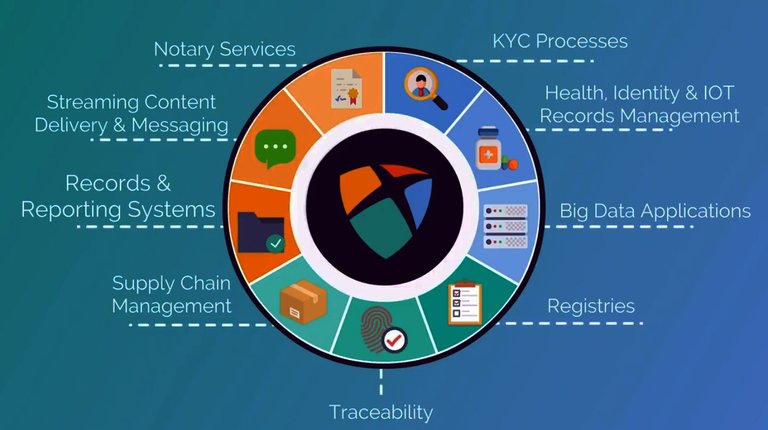 Source Whitepaper
ProximaX Advantages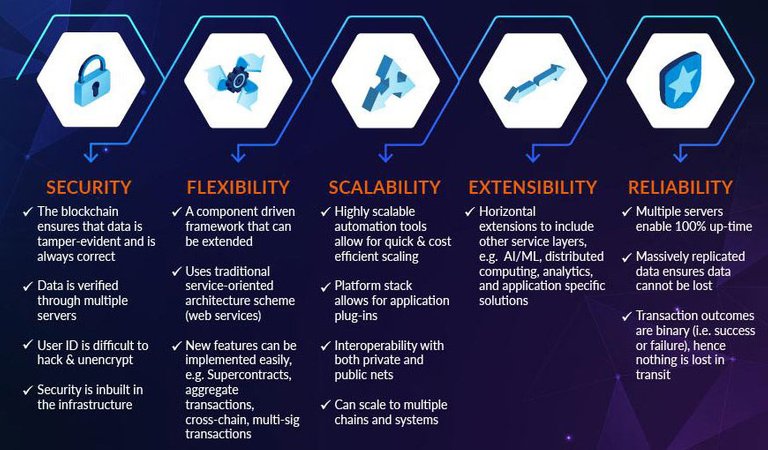 Use Cases
Security System. It is a company that offers installation services of security webcams to companies and provides web streaming services so that their customers can see their assets 24 hours a day. However, due to the growth of customers of the company, fears that its servers (centralized) not only do not have enough capacity to emit the required by their customers but may also be victims of a DoS attack and therefore its streaming service may be offline.
Thanks to ProximaX, this company can use its decentralized streaming services and in this way, its clients can visualize their assets constantly without the fear that the video transmission service of the security cameras will fall down and regardless of the number of clients since ProximaX assures scalability and speed.
Public Notary I. The notary's office has decided to digitize the notarized documents but requires a platform that ensures the immutability, security, and transparency of the processes. For this, it has contracted the services of ProximaX, to create a decentralized system totally resistant to attacks and intrusions; that allows to keep the notarized documents and thanks to the advantages of the blockchain technology, the documents will be totally immutable, assuring their validity in any part of the territory.
Any user who requires a copy of the notarized document must pay the fee on the native token of the ProximaX platform, the XPX.
Department of Cadastre of the State of Aragua. This department has problems with its web service provider, as it constantly requires more space to store the gigantic plans of cadastral structures, houses, apartments, roads, etc.. Due to the constant exchange of currency, prices become more expensive to continue with the web service. This department has decided to use ProximaX storage services to create a decentralized application that allows you to store structural plans. ProximaX offers the ability to store large sizes of information and also allows access from anywhere to these data. Thanks to their speed advantages, they can quickly store plans and give constant access to this information without loss of service drops.
As we can see, ProximaX offers an unlimited amount of solutions for all types of companies. It is important to emphasize that it also has its own applications for customers and companies ready to use and fully configurable.
ProximaX Applications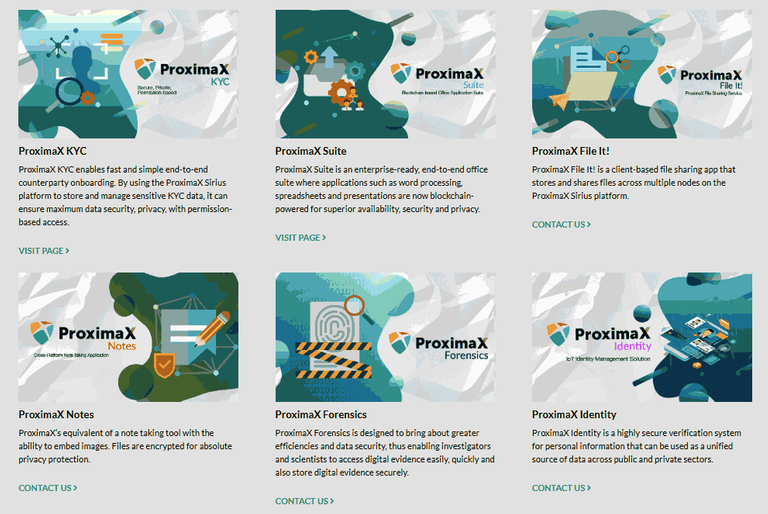 Source Link
Video
Roadmap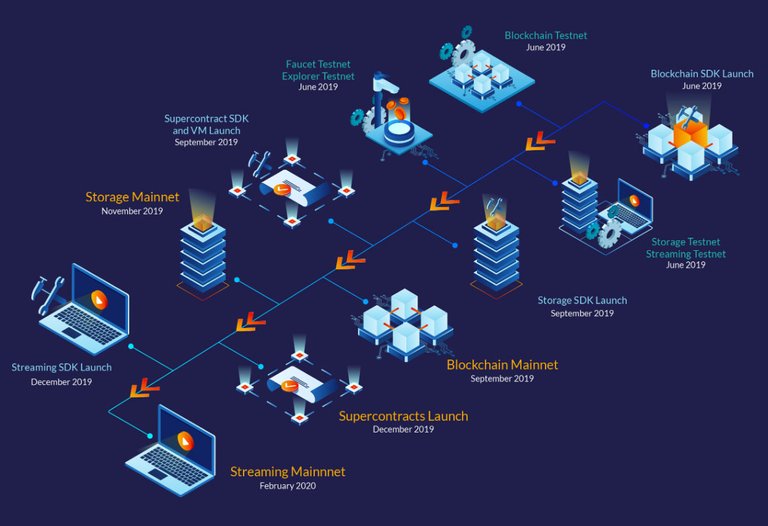 More Information & Resources
---
As always, if you are interested in participating in this contest, you can check the following link:
---
---