Steem based UGC to Commerce Platform
BUZZi is what the title is. UGC is simply User Generated Content. On Social media, daily, we post pictures, videos, GIFs, memes, reviews, blogs etc. That's all is user generated content. Most of us have decent micro influence among our friends and family on social media. Now when you review a product, there is a good chance you will get a call or a comment from your friend to know more about it. That's how word of mouth works.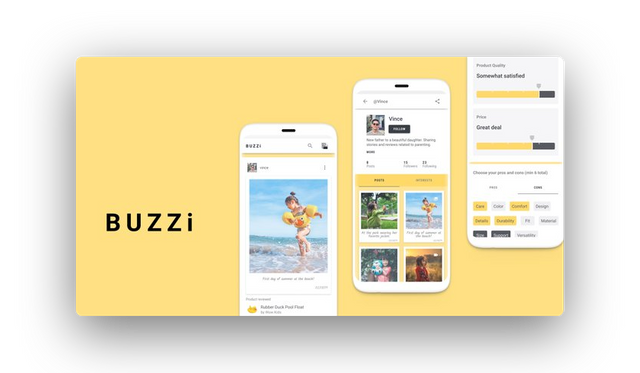 What would BUZZi do?
Reward creators to share their experience with the e-commerce product. Simple! Read more about it on their introduction post: Introducing BUZZi - A Steem based UGC to Commerce platform
. BUZZi is definitely not STEEMHUNT. Because Steemhunt lists down everything - Products, Services, DApps, etc. On Buzzi, you can review the price, quality and various pros/cons of the e-commerce products.
How it works
Let me sum it up for you in simple words:
Reviewers will get rewarded for sharing their experience.
BUZZi will also reward on the basis of sales generated through someone's post.
Their app will allow you to review the product, price and mention their pros and cons. A buzzi score will be created for a particular product which can help buyers to decide the quality. Basically community will decide what product is worthy buying.
Product discovery or say, content discovery has been made really easy with recommendations based on interests.
You can also connect with other reviewers and ask them questions directly about the products they have reviewed or using.
Launch details
Date: Mid of July. To Be Announced.
First version of BUZZi will be BUZZi Kids.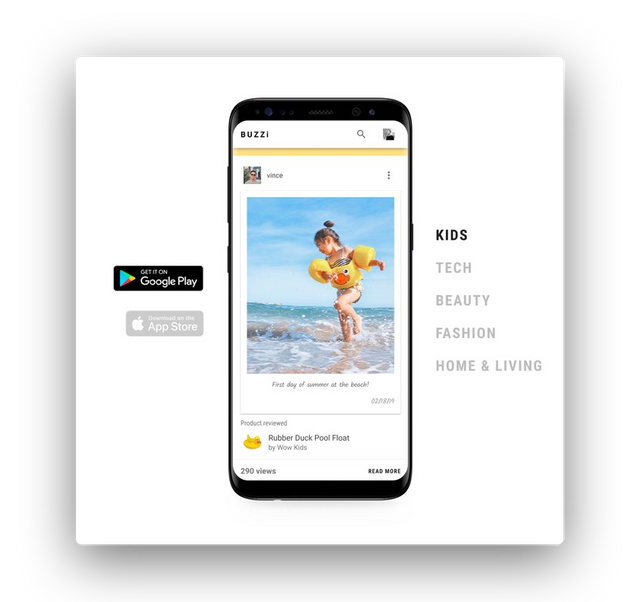 What we don't know
Business mode of BUZZi: While it is clear that BUZZi will make money through product purchase but how, we do not know. Maybe they will use affiliate links of the e-commerce websites and earn through Affiliate income.
BUZZi tokens? No information on that in the intro post.
Will they advertise products or brands in the future? I think they should.
Who is behind the project? At least I couldn't figure out so far. :D Btw the team is based out of seoul. Another value Korean addition to STEEM.
What to like
Their UI. Seems slick in the screenshots.
Would help reviewers to purchase products they like and earn some more to review them.
Product discovery made easy through the BUZZi score and interest based search.
They are hitting the space with ANDROID. There are 2.3 billion android phone users worldwide. Do the math to see the potential.
STEEM. Yes, they are on STEEM! That's a bonus for all of us.
Looking forward to their future updates and test their Beta app - BUZZi Kids.
---
Regards,
@HungryHustle and @HungryPB
YT: https://www.youtube.com/c/hungrypb
3Speak: https://3speak.online/user/hungrypb