Hi everyone! It is that time again...Thursday is Butterfly Day and Insect Day Giveaway- Week 34! Gather around the Insect Pub to see butterflies and other insects from around the world, and to make new friends. Post your butterfly and other insect photos, or art work for a chance to win Steem Basic Income shares. A minimum of 2-SBI will be given away; 1-SBI for photos and 1-SBI for art work. If no art work is submitted, then 2-SBI will be given away for photos. Depending on how many entries there are, I might be able to give away more. Entries will not be judged and winners are chosen at random. You have 6 days for entries in this post and then a new one will begin. Thanks to all for your entries. I have really enjoyed your photos. There are 3 winners for Week 33 and they are: @sunscape, @hangin and @annephilbrick. Congratulations!
Here are the rules for the Giveaway.
1-One submission per person per week.
2-All photos and art work must be your own work. Photos and art work from the internet will not be accepted.
3-Make your own butterfly or insect post and use one of these tags: #butterflyday or #insectpub.
4-Important! To be entered in the Giveaway, you MUST put the link to your post in the comments below.
5-Upvotes to this post are not necessary but would be greatly appreciated, and might allow me to give away more prizes.
I am looking forward to seeing your butterflies and other insects!
Last week I showed you the Banded Woolly Bear Caterpillar. This week I will show you the Giant Leopard Moth Woolly Bear Caterpillar.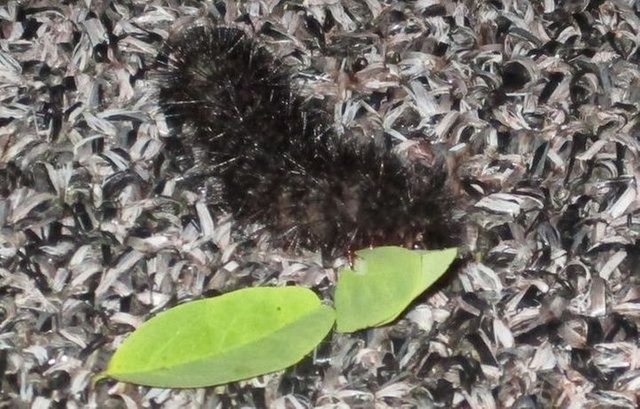 I found this woolly bear caterpillar one night on my back porch that has outdoor carpeting, in case you are wondering about the weird looking background. I gave it some violet leaves to eat which allowed me to get a few photos. The Giant Leopard Moth Caterpillar has shiny black bristles called "setae". Its body has red bands which can be seen when it stretches or curls up in a ball. This is to inform predators that they don't taste good.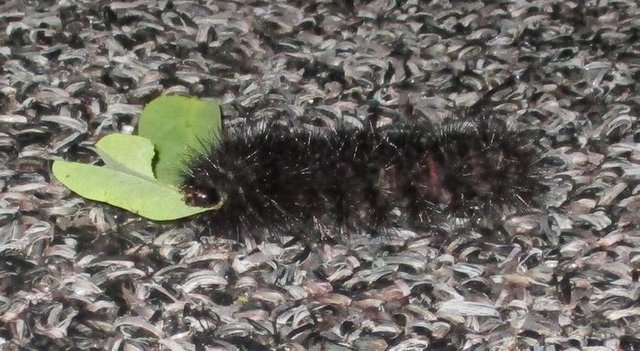 A very hungry caterpillar.
These caterpillars like to eat the leaves of violets, dandelions, sunflowers and pokeweed. These are all available in my yard and my neighbors yards. This is a large caterpillar. When full grown it is 3 inches long.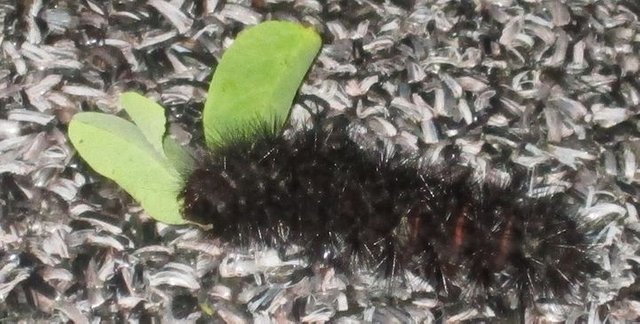 Look closely and you will see a few of the red bands.
When warmer weather arrives, it will emerge as a beautiful Giant Leopard Moth.
Thanks for stopping by!
All photos are my own.
Information Source: ufl.edu, sciencing.com
This pretty butterfly gif is brought to you by @brisby. Thank you!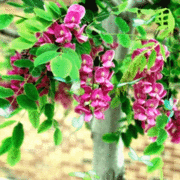 Proof of transfer.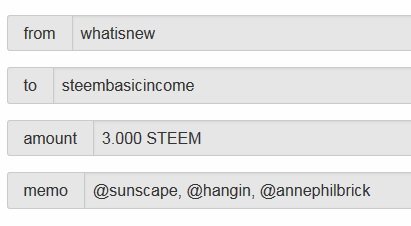 Are you looking for a caring community where your creativity and imagination can run wild? A place where you have the opportunity to win prizes for your participation? Are you looking for support or for a place that you would like to support? Then head on over to the Freewrite House and have some fun.