Sweet Potato Tortillas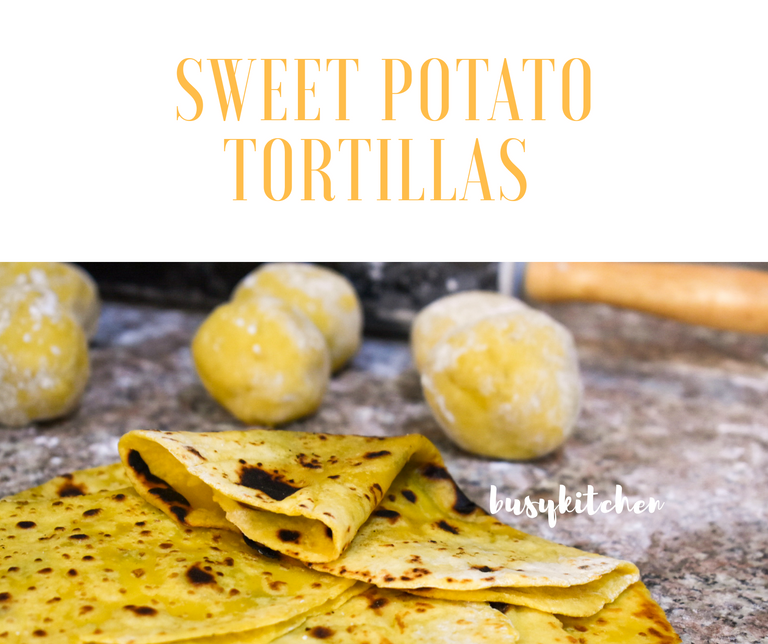 Nothing's worth rewarding than making your food at home, like these sweet potato tortillas as soft, chewy and simply delicious, you'll forget about store-bought tortillas!
One thing I love about this recipe is the smokey flavor, it's almost like you cook it on the grill and the sweet potato gives a fun taste compared to plain flour tortillas. So if you are a fan of sweet potato this might just be your new fave!
This recipe is healthier than regular tortillas where we use more sweet potatoes than using all flour. If you have any unbleached flour at home then I would recommend using it, but if you have just the regular flour, don't stress it out, feel free whatever flour you have available.
Although you can use all sweet potato in my experience it didn't come up the way I want my tortillas, soft and chewy, but rather it was quite dense and dry.
Also, the reason why am using some flour it's because I found the plain sweet potato tortillas hard to work with even with the rolling pin. So you need something to hold the sweet potato together.
When buying the sweet potato, it's better to get the freshest ones, some potatoes have a bitter taste when they're old and you don't want that bitterness in your tortillas.
The sweet potato I use for this dish is bought from a local market, called carbon. It is the biggest open market in Cebu where you can buy very affordable, fresh vegetables and fruits.
I found a sweet potato flour at one of the grocery stores but it's so white that it didn't look right to me because I haven't used any sweet potato flour before and am not sure how an organic sweet potato flour should look like, am assuming yellowish? I ran out of unbleached flour so I went for whatever I have available in my pantry which is bleached flour. So, if you're a total health freak, like as in- super strict with it then this recipe isn't for you, hehe.
Steaming the sweet potatoes with help it not to become too watery. If it's too watery you're going to need more flour, so I would suggest once you're done boiling the sweet potatoes to let it sit steam longer without the flame. I learned that this helps remove the excess water in the sweet potatoes from steaming it.
Btw, we switched to pink Himalayan salt recently because we wanted to try this kind of salt. I've heard a lot of good benefits of this salt and it is said to be the purest salt you can buy but the main reason why we bought this salt is that we were just curious about how it differs from other salts. I like this salt because it's not as salty compared to other salts, that being said, I can use a little more salt to my dish without it getting salty.
I remember one time I accidentally poured about a teaspoon to one of my dishes and I thought it would be very salty hence, I often use just pinch of salt to most of my cooking but it came out not salty at all but just enough to flavor the dish.
Okay, so, shall we start getting busy in the kitchen?
Ingredients:
1/2 sweet potatoes (peeled and steamed)
1/2 cup of flour (and more if needed)
1 tsp baking powder
1 tbsp vegetable oil
a pinch of salt
Tools needed:
Rolling pin
Stand mixer or handled mixer, or if you want a free arm workout, you can use your hand or even a fork! :D
Instructions: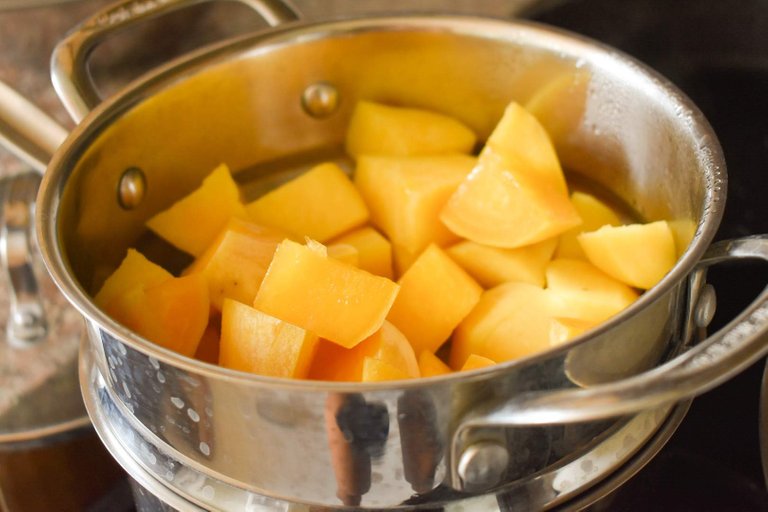 Peeled the sweet potatoes and cut into about two inches size. Boiled water in a pot and steam the sweet potatoes until they're soft. Use a fork to test if they're cooked through, the softer the sweet potatoes are the better. Once cooked, turn off the stove but leave the sweet potatoes steaming for another five minutes

Transfer to a big bowl and use a fork to mashed the potatoes. If you have any stand mixer or handheld mixer you can use it to mashed the potatoes. Note: If there's still lumps in the mashed potatoes, you can use a fork to mash it to make sure the mixture is smooth.

Add salt, baking powder to the flour, and mix well. Add the mixture to the mashed sweet potatoes, little by little, and add the oil. Use both of your hands to mix everything folding in the flour into the mashed sweet potatoes to make a dough until almost everything is incorporated. Once the dough is starting to form a big ball, sprinkle some flour on a clean counter and transfer the dough so you can start kneading. (Tip: pour a tiny bit of oil on your hands so the mixture won't stick)
-To knead the dough: Fold the dough inwards, then use the heels of your palm to press the dough moving it forward, next turn the dough the counterclockwise and fold it again, press the dough moving it forward, just like the first step. Repeat this process until the dough gets soft but not sticking to the counter. Avoid using too much flour as this will make the dough dense.
Let the dough sit for at least ten minutes.
After resting the dough, sprinkle some flour on the working counter and divide the dough into equal parts, making - about 16 pieces.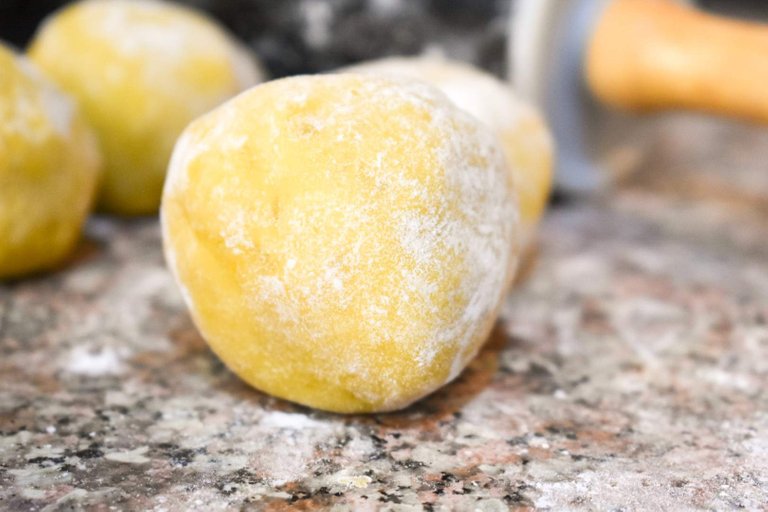 Start rolling each small dough pretty thin, not way too thin but just almost translucent. The dough will keep shrinking back every time you roll it, be careful not to rip the dough.
To cook the tortillas, brush the pan with a tiny bit of oil, and put the tortilla right away. The pan should be very hot and once you start to see bubbles flip the tortilla and cook for about 10-15 seconds. Don't overcook it because it will leave a very hard tortilla instead of a soft one.
Wipe the pan if the oil or any flour substance burns a little.
Use a kitchen cloth to cover the tortillas, it will help the tortillas stay soft while you are cooking the other pieces.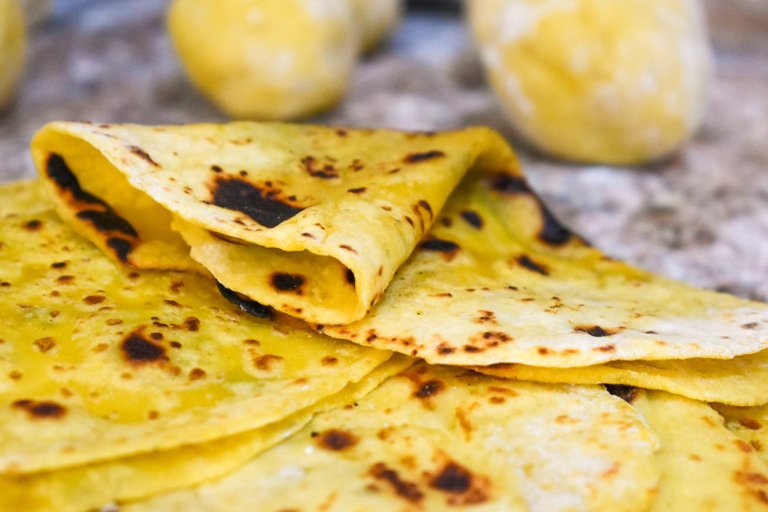 Now, it's time to enjoy your soft sweet potato tortillas with any of your favorite toppings, or you can even have it as it is and perfect for a light snack!
It might sound a little too complicated to roll each dough but once you make this often, you'll get the hang of it and it'll be easy, peasy and pie!
Frozen tortillas can last up to 3 months if stored properly. To freeze the tortillas, put it in an airtight container, only leave it out to thaw at least 30 minutes before you start cooking.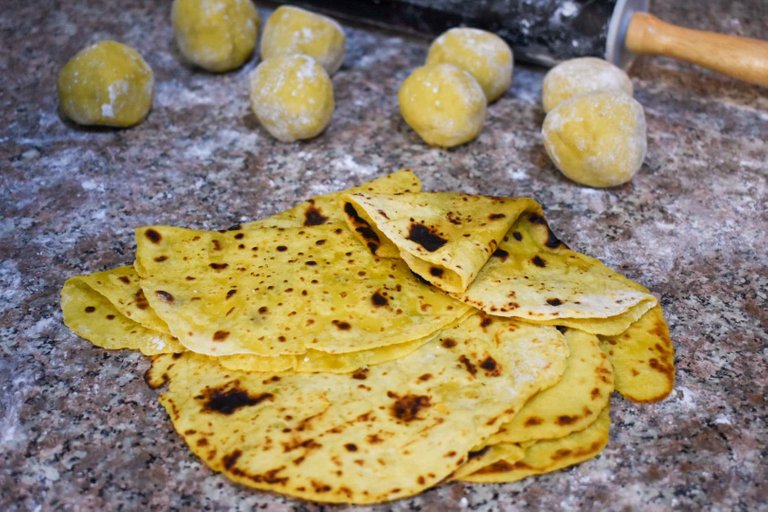 I would love for you to try this recipe, and come back here and let me know any comments and of course if you think this recipe could still be better tips or suggestions are welcome!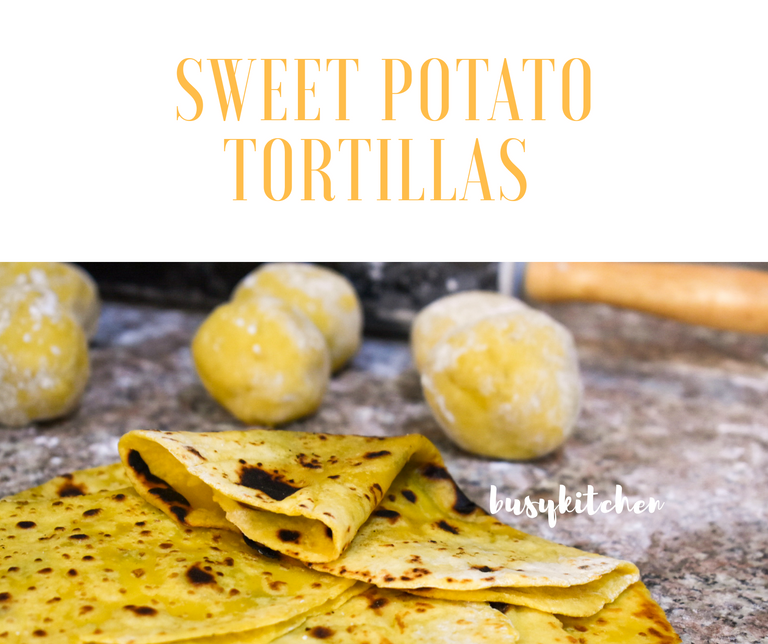 Sharing is caring!
Do you have any recipes you would like to share with us? Please leave it in the comment section so it's easier for me and others to curate your recipe blogs.

Be sure to follow, @busykitchen to not miss any recipes!
Also, if you enjoy this recipe, and you have a Steemit account, you can re-steem it so others can see it and who knows, maybe they want to try out this recipe. Your upvote is much appreciated and will help me motivate more to continue and even improve my work.



Do you have a passion for blogging or simply want to become an aspiring blogger like me? Join the Steemit community! Create one here.

Congratulations to @akhyar36 for winning 10 Steem for resteeming this blog!
---
---