Jaegerschnitzel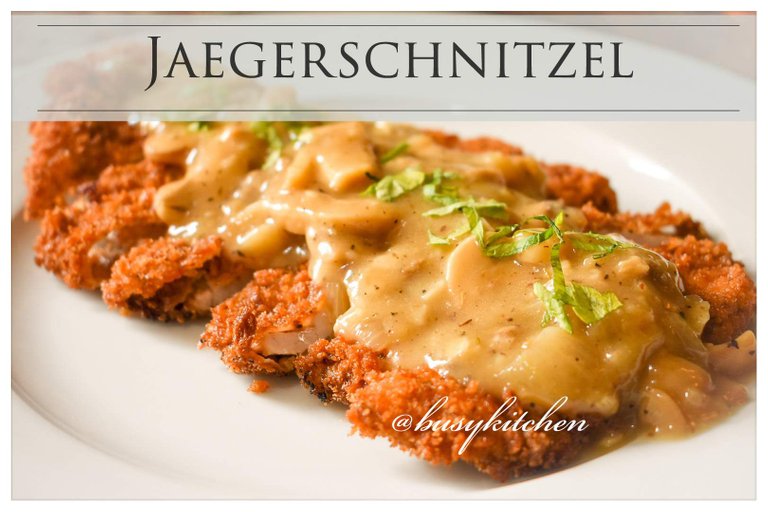 A few weeks ago, my sister, @gerel asked me to make her a pork cutler since she's been craving for it however I keep forgetting to buy some pork. Now, that she left to go visit my family, she said she wanted to make it at home so I am making this recipe for her and you too can make it at home.
There's a lot of pork cutlet recipe and this time I went for schnitzel (means boneless cut of meat) with creamy mushroom sauce. Jaeger means hunter in English language and for whatever reason they called this dish Jaegerschnitzel, I do not know yet though if you have any idea, if you do, save me some time from Google and please share it with us in the comment section. =D
I've had my first pork schnitzel when I traveled to Palawan a few years ago from a German restaurant/pub. For what I remember, we really enjoyed the dish and went back the next day. Another time I've had this dish was in Phuket, Thailand, we had it the first night we arrived and I have always been wanting to the same cutlet at home.
You can buy the pork that's already tenderized or flattened at the grocery store or if they don't have it available, you can buy any boneless pork and just flatten it at home with a mallet if you have one.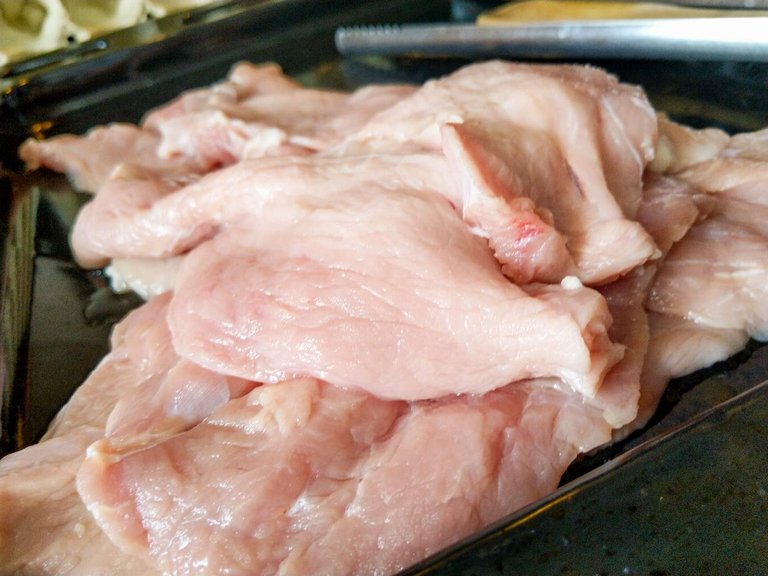 No mallet? Not a problem... Here are some life hacks for you on how to flatten your meat without using a mallet:
flatbottom saucepan
cast iron pan
rolling pin
cutting board
hammer (make sure to wrap your meat with a saran wrap)
any heavy canned food
The traditional Schitnzel uses panko breadcrumbs. Panko breadcrumbs give it more a crunchy texture than regular breadcrumbs since it doesn't absorb as much oil.
Since I only have regular breadcrumbs, I coarse grind it to using my coffee maker (though I could have used my food processor but the coffee maker is easier to clean and it doesn't take as much space on my counter, haha).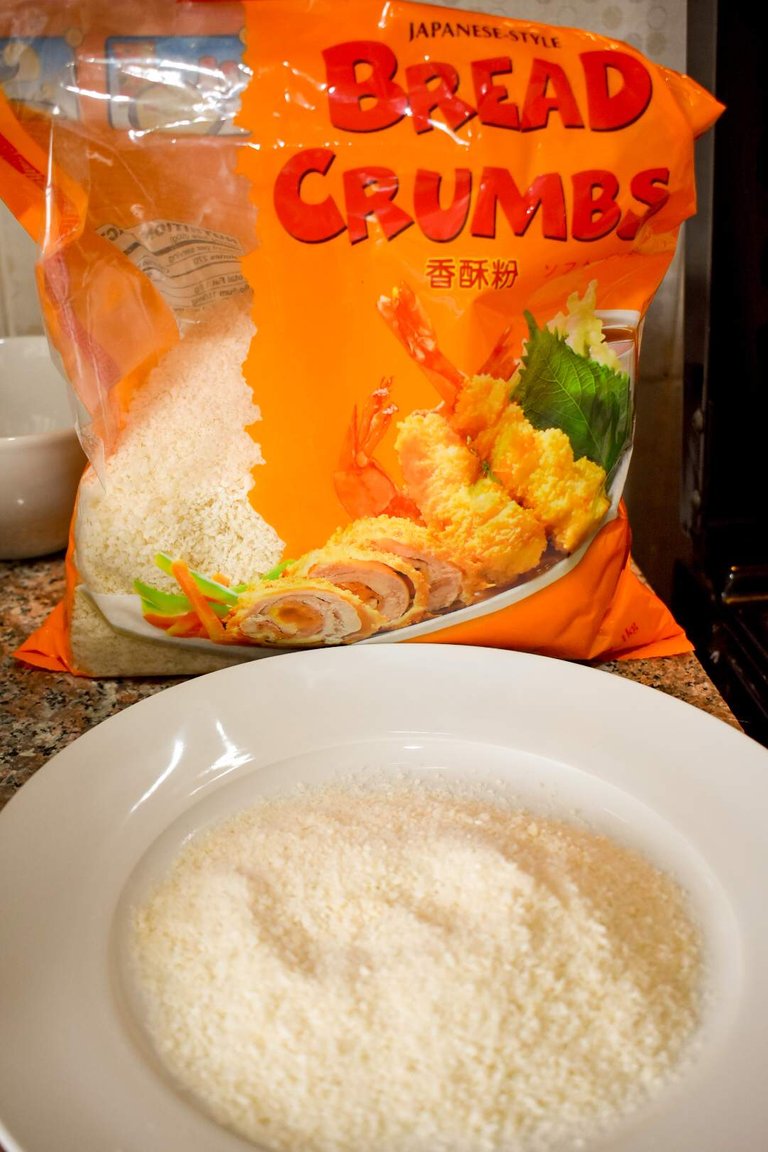 While having a food processor isn't common in the Philippines, there's still another way to achieve the panko texture. If you put the breadcrumbs in a plastic bag, wrap a towel and use something heavy to crush it.
Always... Always... Always... Taste your food whenever you are cooking! (except for raw meat!) This is where you can always adjust any recipes to your liking. Now, let's go to the kitchen and get busy!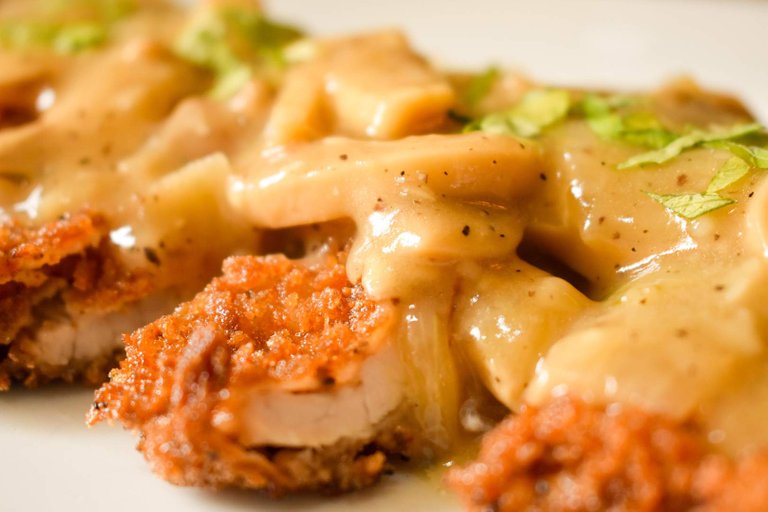 Ingredients:
6 pcs pork cutlet steak or pork cutlet flattened
panko bread crumbs
flour
cornstarch
2 eggs
For the sauce:
-1 cup heavy cream (I use all-purpose nestle cream)
1 beef broth cube
1 big onion, diced
1 canned mushroom, or 1 cup fresh mushroom (sliced)
1 tbsp flour
1 tsp lemon juice
1 cup hot water
1 tbsp white wine (or more if you want a strong flavor)
salt & pepper
1/3 cup oil for frying
Instructions
Mix flour and cornstarch on a plate and mix well. On a separate plate, prepare the cornstarch and a bowl for the (beaten) egg.

Drain mushrooms if using from a can, diced onion and set aside.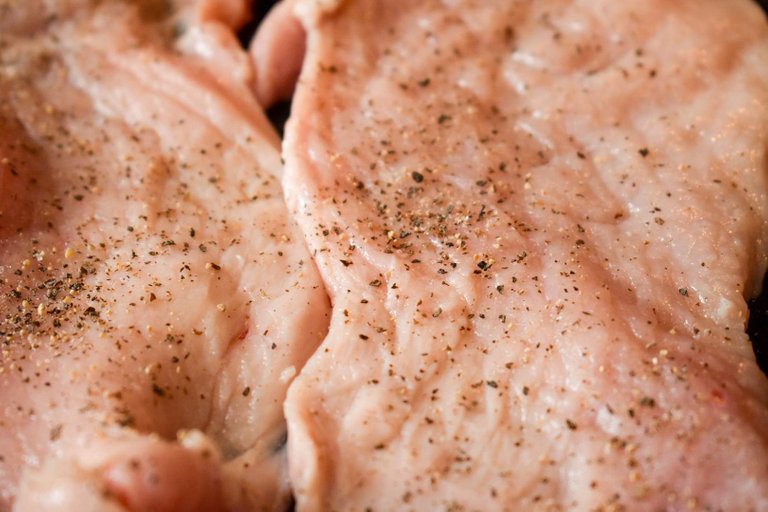 Season pork with salt and pepper on both sides, patting lightly so it coats well, and start heating the oil over medium-high heat.

Coat the pork in flour and cornstarch mixture on both sides and shake gently to remove excess flour.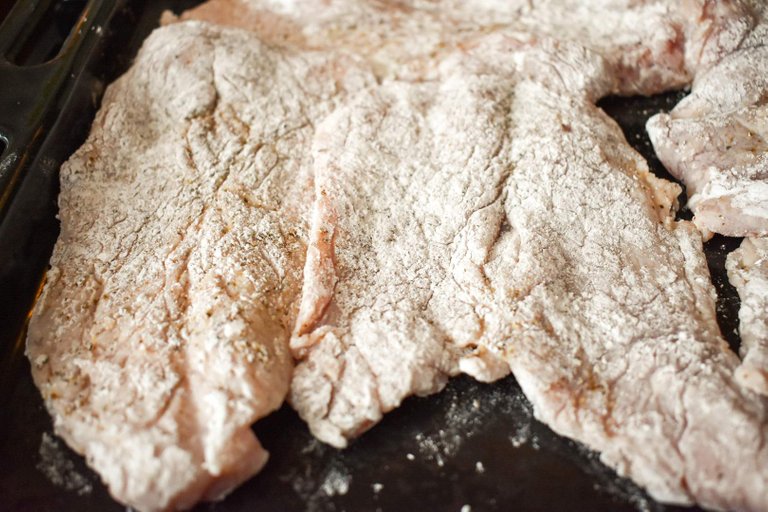 Dip in egg, then coat both sides in bread flour and press lightly so coating sticks well.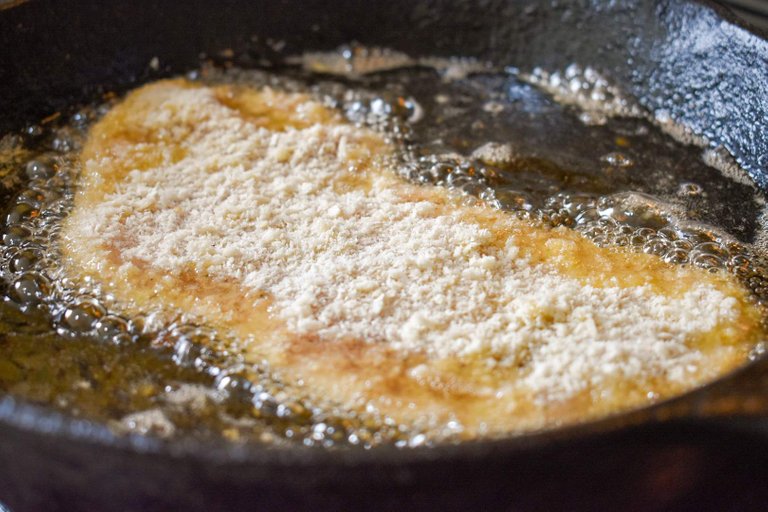 In a pan, heat 1/3 cup of oil. Once the oil is hot enough, fry the pork for 2-3 minutes or until golden brown. The oil shouldn't be extremely hot, it'll burn the breading very easy, using a chopstick or any wooden spoon, test the oil. If it bubbles steadily then it's the perfect temperature to fry. Do not overcrowd the pan.

Transfer to a rack or plate with paper towels.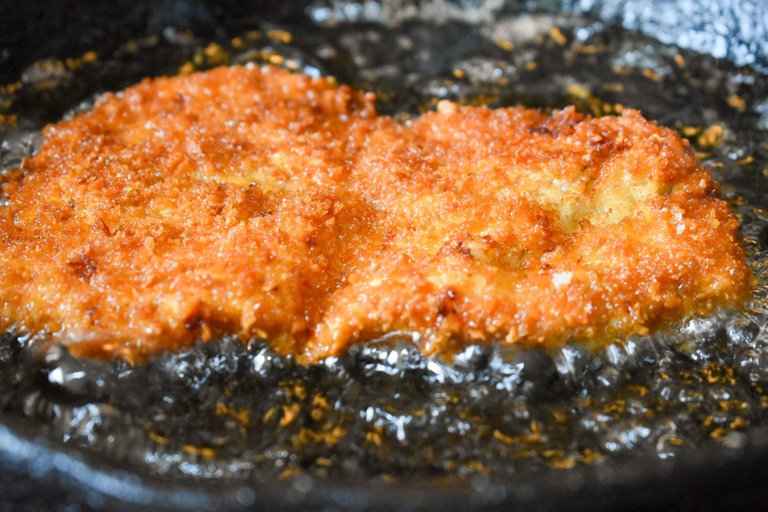 To make the sauce: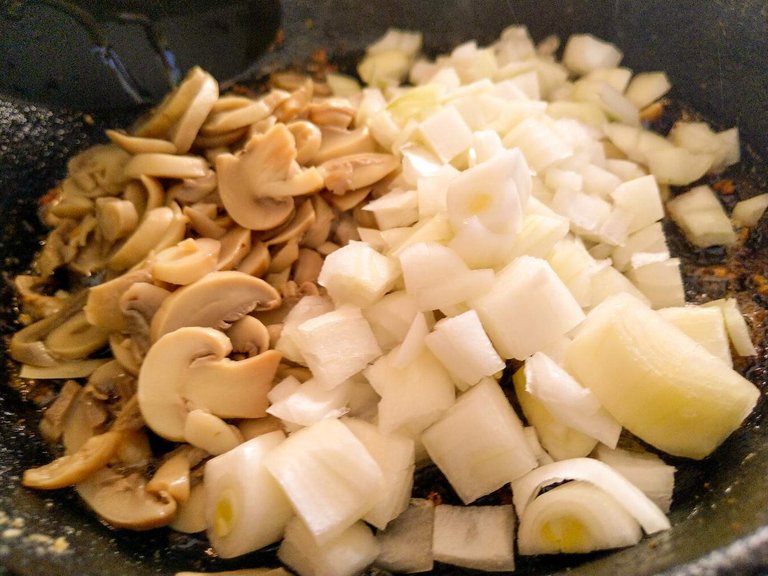 Turn the heat on low and add the diced onion, cook until translucent. Add the mushrooms and cook for 8 minutes or more until the water evaporated on the mushrooms. Then add the wine and stir well.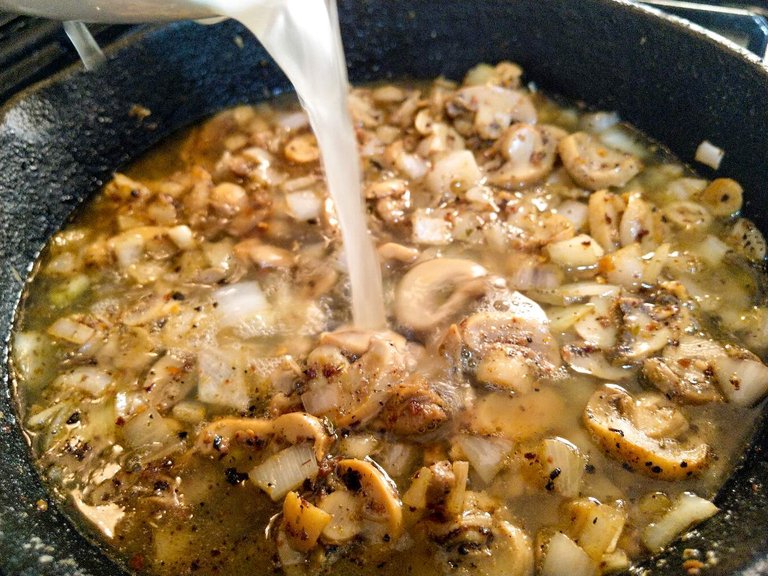 Add the beef cube, water, and simmer for 15 minutes.

Add the cream, and lemon stir well
Mix the flour with a little bit of water until it's all dissolved before adding to the sauce (so it doesn't get clumpy). Now add the dissolved flour to the sauce, and simmer for another 5 minutes stirring continuously.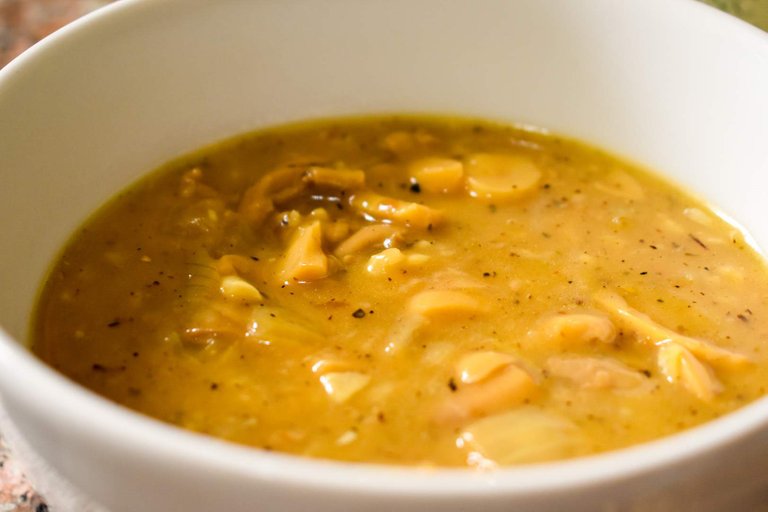 Once sauce gets thick, remove from the heat and serve on top of the pork cutlet.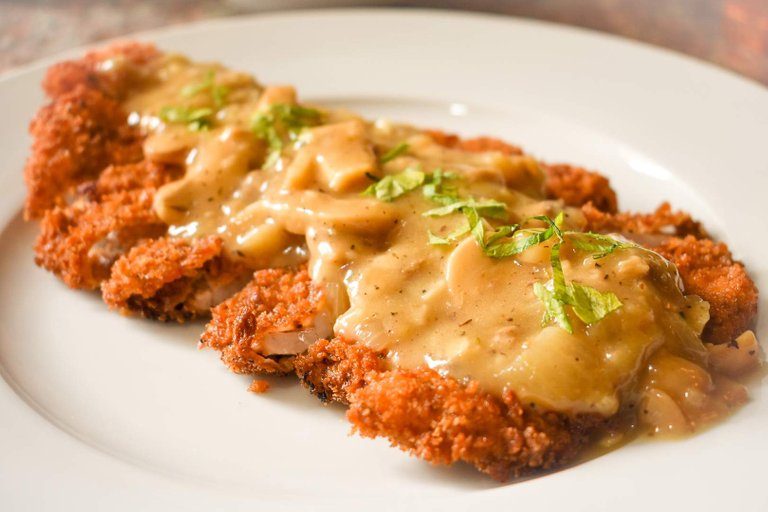 Best served with mashed potatoes and fries... Or you could also enjoy this with some greens like broccoli or green beans and if you're a Filipino who can't skip his/her plain white rice, go ahead, just don't go overboard with the rice eh! ;)
I would love for you to try this recipe, and come back here and let me know any comments and of course if you think this recipe could still be better tips or suggestions are welcome!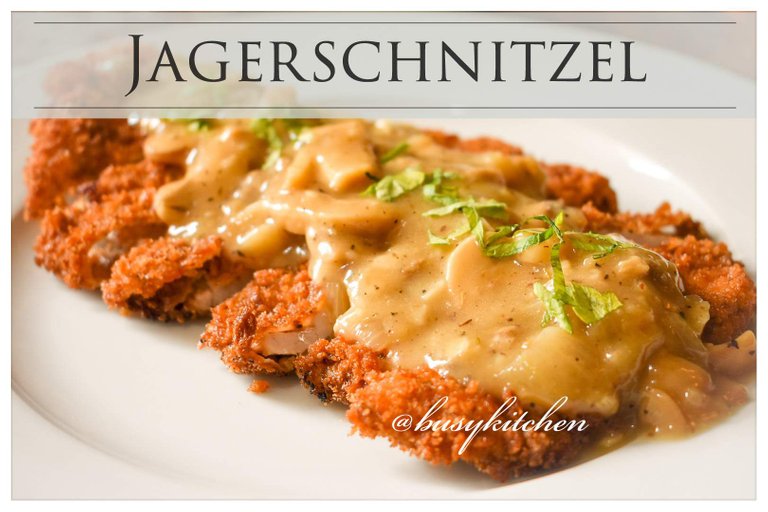 Sharing is caring!
Do you have any recipes you would like to share with us? Please leave it in the comment section so it's easier for me and others to curate your recipe blogs.

Be sure to follow, @busykitchen to not miss any recipes!
Also, if you enjoy this recipe, and you have a hive account, you can share it so others can see it and who knows, maybe they want to try out this recipe. Your upvote is much appreciated and will help me motivate more to continue and even improve my work.



Do you have a passion for blogging or simply want to become an aspiring blogger like me? Join the hive blog! Create one here.

For this week's contest: Resteem this post and tag at least two friends in the comment section.
Two Winners of 5 Steem will be selected through wheelsofname.com
---
---